And he said to them, "Go into all the world and proclaim the good news to the whole creation." Mark 16:15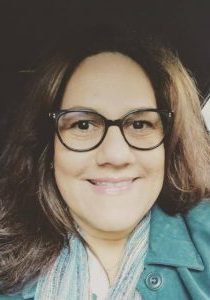 Class Year: 2021
Ministry Focus: Pastoral Care, Congregational Ministry, Missions & Evangelism, and Practical Theology
Ministry and Service: Associate Pastor at Sterling UMC, VA (Present); leads a worship service in Spanish each Sunday, and two small bible study groups.
Languages Spoken:English, Spanish
Why I chose Wesley: Because, I wanted to be in a seminary that had diversity not only in courses that will deepen my understanding as a believer, but also that would help me to strengthen my skills as a human being.  Being surrounded by people from all over parts of the world and different religious backgrounds has given me what I hoped for.  Wesley is a great place to be and belong! 
What people don't know about me: Marcela's favorite Bible verse is 2 Timothy 1:7 (TLA), "Porque el Espíritu de Dios no nos hace cobardes. Al contrario, nos da poder para amar a los demás, y nos fortalece para que podamos vivir una buena vida cristiana."
Marcela is originally from Bogota, Colombia, is married with two children and is currently pursuing her Masters of Divinity at Wesley Theological Seminary. Her passion for ministry is to interact with others so that she can be a witness to her faith and help others to find Christ in their midst.
Contácteme si tiene alguna pregunta o si desea obtener más información sobre Wesley.