The Wesley FlexMA will make it possible.
Called to both a professional plus ministerial life? Making a difference in non-profit/advocacy ministry but want more theological grounding? Looking for a graduate degree you can design? 

Your Master of Divinity experience awaits in Washington, D.C. at Wesley!
Study your way! Traditional residential program or the new, innovative Hybrid MDiv Experience, Wesley's first non-residential MDiv program
Can't move to Washington? Complete your 4 yr. MDiv Experience degree with only 8 total intensive weeks on campus – complete the rest of your degree online
On campus and online – be part of Wesley's diverse and spiritual learning community
Both ways give you the resources, networks and experiences of studying in Washington, D.C. community that is possible only at Wesley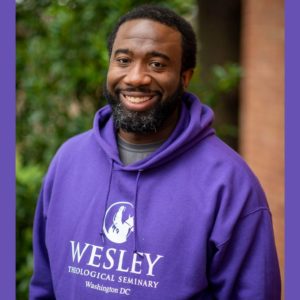 Meet first-year Master of Arts student and Community Engagement Institute fellow Donovan Anderson, Ph.D..
Originally from Jamaica, Donovan spent many of his formative years in NYC. Donovan earned a B.A. and an M. A. in History (Howard University, Washington, DC) and a Ph.D. in City and Regional Planning ( University of North Carolina at Chapel Hill, NC.) Donovan is now full-time at https://zionchurch.org and will be ordained a Deacon in April 2022.
Donovan's heart for ministry to share the Gospel and connections brought him to Wesley, but our Community Engagement Institute's vision to equip persons for innovative leadership to transform communities on the ground confirmed for Donovan that Wesley was the place to be formed for ministry. "I knew that I wanted to share the Gospel beyond the four walls of the church. After hearing about Wesley while my wife taught at AU and learning more from Wesley alumna Kenda Dean, I knew Wesley was the community for me," said Donovan.
As a CEI Fellow, Donovan is working to advance leadership strategies to serve and transform the lives of men and, in turn, impact their sphere of influence. "I am encouraged to pursue innovative ways to serve Christian men through my non-profit Thirty Mighty Men Ministries (30MMM). 30MMM is a Christian men's leadership program designed to see the manifestation of men who are complete and equipped to transform households, the church, communities, and the world to the glory of God," shared Donovan.
Something we don't know about Donovan:
"I am a proud participant in Ministry Incubators, a hub for social innovation, which Kenda Dean co-founded," said Donovan.
A scripture that inspires Donovan is Matthew 23:26, 'Blind Pharisee! First clean the inside of the cup and dish, and then the outside also will be clean.' "This verse is foundational to 30MMM's flagship program's "Clean: the Tools to Achieve Sexual Integrity for the Christian Man objective," shared Donovan.