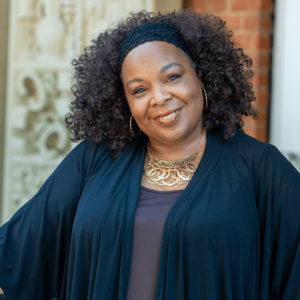 Meet first year Master of Divinity student Lea Gilmore. A Baltimore, MD native, she serves as the Minister for Racial Justice and Multicultural Engagement at Govans Presbyterian Church in her hometown.
Lea earned a BA in Political Science at Morgan State University (Baltimore, MD) and is a member of Pi Gamma Mu, an international honor society for the social sciences.
"I heard about Wesley from a colleague and alumnus, Rev. Billy Kluttz," said Lea. "As a nontraditional student with years of life experience, I knew I wanted to attend a welcoming and deeply spiritual environment that fully embraced where I am at this time in my life," she said.
"After extensive research, including Ivy League universities, I was incredibly impressed by Wesley's holistic approach to Christian education; empowering students with superior scholarship and real-world experiences -- creating informed and compassionate ministry leaders."
 "I know that my education and experiences at Wesley will greatly inform my work," said Lea. 
Something we don't know about Lea? "I co-created (with a fellow musician from the UK) an international initiative called Umoja Musica ("Umoja" means "unity" in Swahili). We mix African American traditional music with traditional music from around the world to inspire unity, peace and love. Our first project was a recording recorded live in Kilmarnock, Scotland "Umoja Gaelica." The recording featured award winning African American, Scottish, English and Northern Irish musicians.
I've also led Gospel choirs in Siberia (Russia), France, Belgium and beyond. It still blows my mind… :)," said Lea. Lea was also named by Essence Magazine (2005) as one of "25 Women Shaping the World," for her long history of social justice activism, nonprofit management and international music performance.
The words that inspire her most? "The quote that I embrace most for my walk in this life is from a song made famous by singer and civil rights activist Mahalia Jackson: "If I can help somebody as I pass along, then my living will not be in vain…," said Lea. #umoja #music # socialjustice #Baltimore #NewFacesofWesley