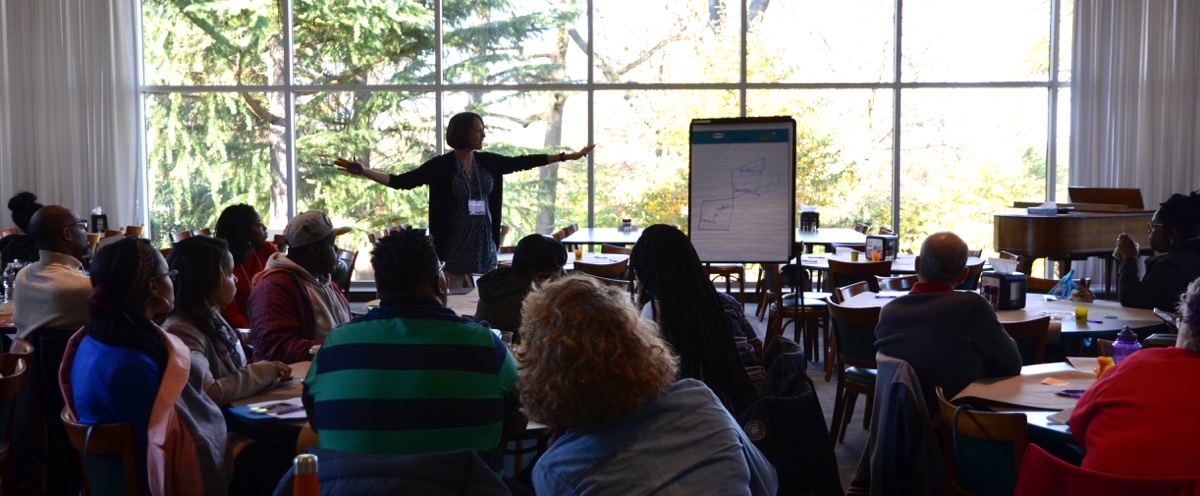 Wesley Theological Seminary's Innovation Hub
Young Adults and the Church
The Wesley Innovation Hub seeks to connect two populations: young adults ages twenty-three to twenty-nine and local church communities in the DC metro area.
DC has a large population of young adults diverse in age, socio-economic status, race and ethnicity. Many are seeking ways to make a positive difference in the world, so they are volunteering, creating nonprofits and running in charity races. Their native language involves digital collaboration and innovation, essential elements to successful mobilization and social change. But many are struggling to find community and meaning in a competitive, political environment.
Meanwhile, the church maintains diverse community, human capital, financial resources and an essential theological narrative which gives purpose and continuity to its work in the world. But whereas the Christian movement was once the primary social innovator for the common good, too many churches in DC now have a larger physical footprint in the city than they have spiritual or social impact—and they're missing an entire generation of young adults.
There's a disconnect. But the Wesley Innovation Hub sees this gap as a space for creative thinking—and the Hub aims to train churches to see this "problem" as an opportunity for innovation. Four local congregations joined the Wesley Innovation Hub as a pilot cohort in September of 2017. Setting out on a two year journey, the congregations came on board to engage young adults for social change. 
The Hub provides training, including seminary classes, seminars and retreats. Each church brings a team of lay and clergy leaders to head up their projects. After six months of learning, teams create proposals for their method of engagement and apply for a $20,000 grant. In their second year with the Hub, teams turn proposition into action. Hub leaders and cohort churches support each other through adjustments and challenges as their ideas make the bumpy shift into reality.
This past fall, the Hub welcomed fourteen churches as a second cohort—to train, apply for grants and mobilize new plans through spring of 2020. 
As appropriately named, the Innovation Hub focuses on inventing new strategies. Utilizing human-centered design thinking, Hub leaders Beth Ludlum and Dr. Emily Peck-McClain train church team members to think of themselves as designers. Relying on neighborhood research—including interviews, demographic studies, and self-assessments—Hub curriculum encourages churches to listen to young adults and meet young adults where they are. Ultimately, the goal is for congregations to create collaborative platforms for social transformation based on their own assets and the skills of young adults in and outside their congregations. 
The Innovation Hub offers:
Engagement of young adults with a larger goal of social change, in and outside the church

Collaborative work across generational, clergy/lay and denominational lines

A posture of listening to young adults

Data-focused research methods

Human-centered design thinking as a method for congregational innovation

Financial support through access to a Lily Endowment grant

Relational support from cohort churches, Hub staff and other Innovation Hubs across the country
Wesley Innovation Hub also utilizes seminarians as Student Research Associates. As liaisons between the seminary and smaller clusters of cohort churches, these students provide support for innovation teams and, as participant observers, document the innovation process. 
The Innovation Hub sees potential for churches and young adults to work together and love each other. Wesley Theological Seminary is proud to partner with the Lily Endowment Inc. to offer this program for our community as we all seek to genuinely value the young adults in our communities.