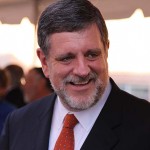 From The President
Welcome to Wesley!
I'm David McAllister-Wilson, president of Wesley Theological Seminary. I was someone like you, looking for my path. I believed God wanted me to make a difference in the world and I thought a seminary in Washington was the place to do that. That's why I am still here.
When I first arrived from California, I left my bags unpacked for two weeks, unsure if this was the place for me. I had doubts about my faith and the church, but it didn't stop the diverse faculty, classes, and student body at Wesley from being like Jesus on the shore for me, calling me into a new and different life. I'm proud to say that Wesley is still full of these kinds of people—like you will never meet anywhere else.
These days, I get to be in meetings in places like the White House and at the Central Union Mission and I still go with my wife Drema (whom I met here) to the Smithsonian on the weekends. Many people have found their path at Wesley and you can too. It begins with a step. So take a moment to look around this site and then come and look around our seminary: Wesley in Washington.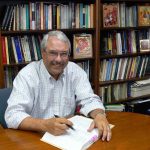 From The Dean
As Dean at Wesley, I want to welcome you to this website as a portal to the rich area of programs, people, and projects that are a part of the Wesley community.
We offer possibilities for Masters degree studies in three different degree programs and possibilities for focused certificate programs in the arts, public theology, and African American Studies.  Our Doctor of Ministry program is a avenue of additional study for those already engaged in ministry, and offers a wide range of focus areas in several tracks beginning each year.
The rich curriculum at Wesley is also available to those who may not be interested in a degree program but would like to take courses for personal enrichment.  Please contact us if any of these possibilities fit your needs and calling.
In addition to formal academic programs Wesley sponsors numerous special events and conferences each year.  Watch this website for announcements of these programs open to the general public.
Wesley is a place rooted in the texts and traditions of our biblical and historical heritage, but constantly engaged in thinking and acting in the midst of modern challenges in our world.  Join us for any of these programs or events as they fit into your own journey.  We welcome any and all to be a part of our community.
From The Student Council President
Wesley's new Student President is James Turner. Please check back here for his welcome message soon.