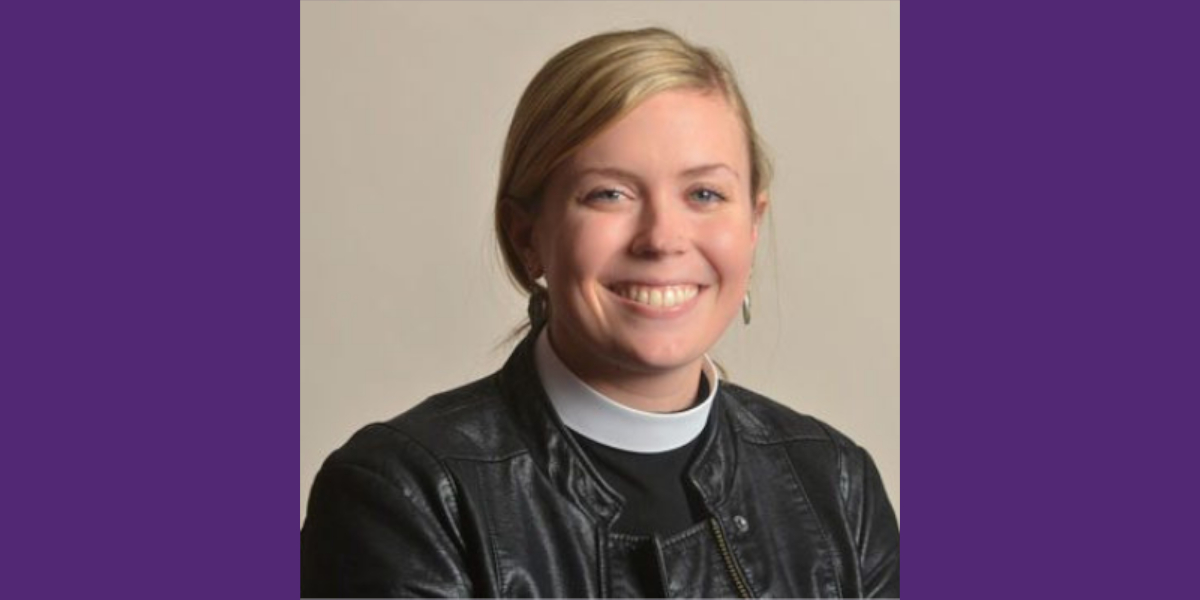 Community Engagement Fellow Graduates From Wesley, Using Skills Learned in Daily Ministry
Rev. Lindy Bunch (M.Div., 2004) and her journey to Wesley Theological Seminary, and eventually to her current ministry setting, took a different path than anticipated.  It was at Wesley that she found that path, and deepened the skills she uses every day in ministry.
A native of Columbia, South Carolina, Rev. Bunch, now an Episcopal priest serving a parish in Palo Alto, CA, explains: "I was doing some community organizing/social justice work in South Carolina and I felt like I needed more mentorship and experience. I took a job in Thailand with a study abroad program that worked on community engagement and education from a student-centered model, which looked at globalization and development from a grass roots perspective.", she said.
After a year of this work, Rev. Bunch pondered the future: "I was looking at what my next step would be and I decided that, if I wanted to do social justice work in the South, I needed to learn how to talk to Christians about justice work.", she said.  Raised in the Presbyterian church (PCUSA), Rev. Bunch was not acquainted with Christians who might be doing justice work.  "They were two different worlds to me." 
"In my undergrad at Wofford College in Spartanburg, SC, which is a Methodist school, I worked for the campus chaplain setting up site visits for seminaries coming to do recruitment and Wesley was one of those seminaries." This was how she first heard about Wesley. She continued: "Beth Ludlum (Vice President of Strategic Initiatives) was doing admissions at the time and I remember meeting her and thinking that she was pretty normal, which seemed a good sign to me."
Several years later, when considering schools for her next step, Rev. Bunch remembered that meeting and, even though she hadn't been active in any church for years, decided to apply to Wesley and was accepted into the Urban Fellows Program.  "In my Urban Fellows program interview,  I felt like they were using a lot of the same language around community, around engagement, around education that I knew, and I felt that Wesley be a better step into the church world for me." Based on that interview with, among others, former Community Engagement Institute Director Sam Marullo, Rev. Bunch decided that, "sight unseen" she would choose Wesley and began her studies in the Fall of 2011.
For Rev. Bunch, the transition from working in Thailand to the daily reality of seminary life was challenging.  Not having a particular church affiliation, the constant talk around annual conference affiliation and ordination track progressions was often confusing. "At the same time, Urban Fellows was definitely a grounding place for me and somewhere, in the midst of all the adjustment to seminary life, Urban Fellows was a place that felt more familiar,"  she said.
Among her early project work at the Community Engagement Institute was helping to create a restorative justice conference with a classmate.  "We later traveled outside Nashville, TN to participate in SALT, a restorative justice program based at Riverbend Maximum Security Institution.  We had a connection to SALT through another Urban Fellows colleague, Doug Walker," she said.
When asked how CEI helped to prepare her for being involved in projects of this nature, Rev. Bunch shared "it gave a space for interesting things to happen and put a group of folks together who were diverse racially, politically, economically, and in their levels of experience in that space."  Though there were occasional disagreements, the group learned to work together, which created a rich environment for growth.  "Even though we were from different denominations, theological perspectives and backgrounds it was a really important environment in which to build community and form relationships," she said.
Yet, with all this rich diversity of experiences, one question remained: how did someone who came to Wesley with no denominational affiliation end up as an Episcopal priest? "I had also been going to the early service at the National Cathedral.  At first, I went because well, it's the National Cathedral and it was right down the street but, there was something about the liturgy that kept drawing me. One Sunday they made a generic announcement that, if you're a newcomer, stop by the newcomers table after services.  I suddenly had this really powerful sense that this is where God wanted me to stay.", she said. 
Despite that tug, Rev. Bunch was unsure as how to proceed: "I didn't know anyone there or anyone in the Episcopal church and it was just such a big place.  My background was in grassroots organizing in very rural communities so it was a weird idea for me to stay in a place like the National Cathedral but I felt it very deeply.  I just prayed 'God, if this is where you want me to be, please send me a guide'.  Sure enough, one of the priests came and stood a couple of rows behind me to do the greeting and I decided to talk to her," she said. 
That priest was the Rev. Canon Jan Naylor Cope, another Wesley graduate.  "It was pretty incredible that here was one of the few Episcopal priests who graduated from Wesley who could help me navigate the complexity of Episcopal ordination process as well as Wesley's process. It was truly providential. Rev. Canon Cope became my sponsoring priest and continues to serve as a mentor and the Cathedral was my sponsoring church,"  she said.Upon completing her studies at Wesley Rev. Bunch went through the ordination process and was later called to her current position as St. Mark's. 
When asked how her experiences at CEI have translated to her current ministry, Rev. Bunch indicated that among the skills she developed and uses regularly is "appreciative inquiry."
"Those skills, about how to listen and how to ask questions, which is a really big part of any kind of parish ministry.  For example, St. Mark's has begun a revisioning of our outreach ministry, how we can be more in our community, identify what the needs are, etc.  Some of the tools that I learned during my Urban Fellows studies have been quite helpful," she said.
Wesley's Community Engagement Institute is celebrating its 10th Anniversary this year! Watch our website and social media for further profiles of Wesley Fellows and upcoming events to mark this special anniversary!