Explore Wesley Highlights
Friends of Wesley use professional expertise in pitch session with Community Engagement Fellows
Editor's Note: This reflection is by Rev. Haley dos Santos.
In his letter to the church in Rome, the apostle Paul reminds the Romans that as individual Christ followers, they were given gifts that work best with the gifts of others. Paul wrote, "For as one body we have many members, and not all the members have the same function, so we, who are many, are one body in Christ, and individually we are members of one another. We have gifts that differ according to the grace given to us: prophecy, in proportion to faith; ministry, in ministering, the teacher, in teaching; the exhorter, in exhortation, the giver, in generosity; the leader, in diligence; the compassionate, in cheerfulness." According to Paul, the individuals of a gathered community comprise this body of Christ, each one analogous to a different part. Similarly, each person's gift contributes to the betterment of the whole community.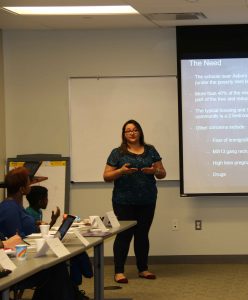 It is a beautiful passage that I did not expect to find modeled in class project pitches. For two class sessions in February, second and third-year Community Engagement Fellows from Wesley's Institute for Community Engagement presented their projects before a panel of advisers. These community projects are the culmination of each student's fellowship and are implemented over the course of their study.
The fellows pitched their projects to a room full of experts and mock investors who are friends of Wesley. For these "pitch sessions," loosely modeled on the TV series Shark Tank, students presented their innovative ministry endeavors and received feedback. These ministry ideas included a college and career readiness non-profit organization, nascent church plants, liturgical resources for sex trafficking victims, a storytelling ministry, a social justice student organization, and an inter-generational mentorship program.  
The panelists, a gathered group of social entrepreneurship and business experts who care deeply about God's desires for the world, offered their best guidance for the projects. They named project components that could be strengthened and asked questions highlighting areas for further exploration. The panelists drew from their expertise in offering critique for each pitch.
These informal pitch sessions embodied Paul's articulation of the body of Christ. Our distinguished experts offered wisdom gleaned from their day jobs and their own successes and failures. They gave time and experience to students whose passions drive them to work for the Kingdom of God in unique ways.
Jaleesa Hall, a second-year Master of Divinity student and Community Engagement Fellow,  praised the session. "The Pitch Session Event was great!" she said. "It was wonderful to get such valuable critique and advice from leaders across industries."
Students gave a window into their holy passions, inviting strangers into their callings. Through the gift of the panelists' expertise and time, the students refined their projects and were affirmed in their efforts.
"Faith-friendly pitch sessions bring business-school-caliber networking to the seminary environment," said John Clardy, panelist and Wesley Board of Governors member. "Students get to show off their hard work and best thinking for a supportive audience.  Panel members are exposed to tomorrow's church leaders and the projects that will transform our community."
These two parts of Christ's body, united by their shared vision of God's desire for the world, offered a glimpse of God's kingdom in which my best gift improves your best gift, which creates a better community for us all. 
For more information about the Community Engagement Fellows program, please visit here. 
Want To Try A Class At Wesley?
Join us and experience studying at Wesley!