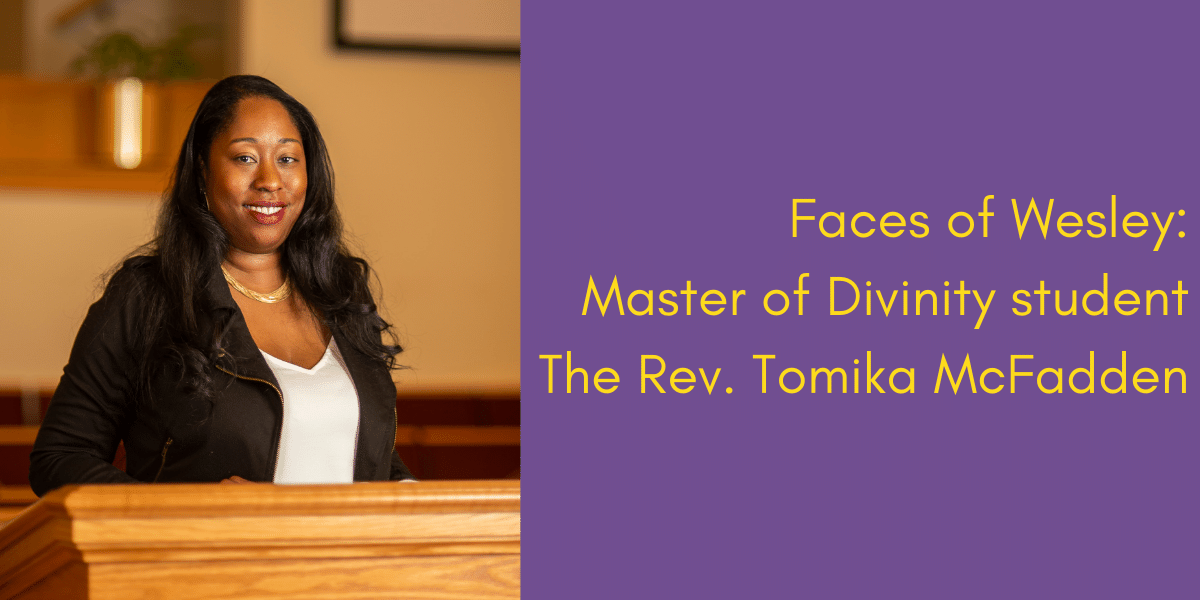 Faces of Wesley: Meet soon-to-graduate AME Master of Divinity student Rev. Tomika McFadden.
Tomika was raised in Baltimore, MD., and is very fond of South Carolina as she spent much time there as a youth. Tomika earned a Bachelor of Science degree in Psychology with a minor in African American Studies at Bowie State University. (Bowie, MD) She currently serves as Minister to Young Adults at Greater Mount Nebo AME Church in Bowie, MD.
What brought Tomika to Wesley?
A close connection and Wesley's Try a Class option sparked Tomika's journey to Wesley.
"I actually came to Wesley 'kicking and screaming' --frankly, because I knew I was still running from my calling. However, after many "no's" and conversations with my close sister-friend and learning of others' experience at Wesley, I agreed to tour the campus and sit in a class," said Tomika.
"Considering my experience and others', I knew without a doubt that Wesley was the place I needed to be. My first semester with Professor of Biblical Theology Dr. Denise Dombrokowski Hopkins challenged me and yet confirmed that God had me in the right place at the right time. Wesley is a place that allows my sense of call to be expressed in a myriad of ways," reflected Tomika.
As Wesley works to serve students' academic needs during the COVID-19 pandemic, offering a variety of socially distanced in-person, hybrid, and virtual courses, Tomika has opted to continue her seminary journey in community virtually this semester.
"Wesley is a beautiful place that is warm and welcoming. The professors and staff create learning environments that allow you to explore and wrestle with your theology in a safe space. I appreciate this intentional space of exploring your 'why' for ministry," shared Tomika.
As I reflect on our community and the pandemic which has created much uncertainty for everyone, especially students and staff at Wesley, I find that our school has done an exceptional job with ensuring that the last year of studies was set up in a way that supported the needs of each student. I love how we were able to connect and experience Wesley's unique community virtually—that it wasn't a solo experience using blackboard alone. 
 This semester, considering the pandemic, I will return to campus remotely as I feel most comfortable connecting virtually," said Tomika.
Future plans for ministry:
"I plan to complete the Clinical Pastoral Education (CPE) process and become a hospital chaplain. Wesley is definitely preparing me for this next stage of ministry; the pastoral care classes and conversations with professors have provided context and guidance for this process," shared Tomika.
Something Tomika believes other people discerning following God's call and considering Wesley should know:
"Wesley is an experience. I would simply say, you have to try and 'see" Wesley for yourself. God is very much present in this place and has a way of confirming your call, whether to marketplace ministry or pulpit ministry. God will show up and illuminate Godself in classrooms with professors like, but not limited to Dr. Denise Hopkins, Dr. Josiah Young, Dr. Beverly Mitchell, and Dr. Veronice Miles. This experience allows you to 'taste and see' not just the interdisciplinary studies but a community of love between the students and staff," said Tomika.  #FacesofWesley
Join Tomika and our many students and graduates from across the US and around the world who have found in Wesley a seminary that supports students following their passion to serve God and others through ordained ministry and through many expected and unexpected ways.
Faces of Wesley is a weekly profile of one of the members of our Wesley Community - faculty, students, alumni, staff, administration and other friends of Wesley.  You can read it weekly on our Facebook or Instagram platforms or on our website's home page.