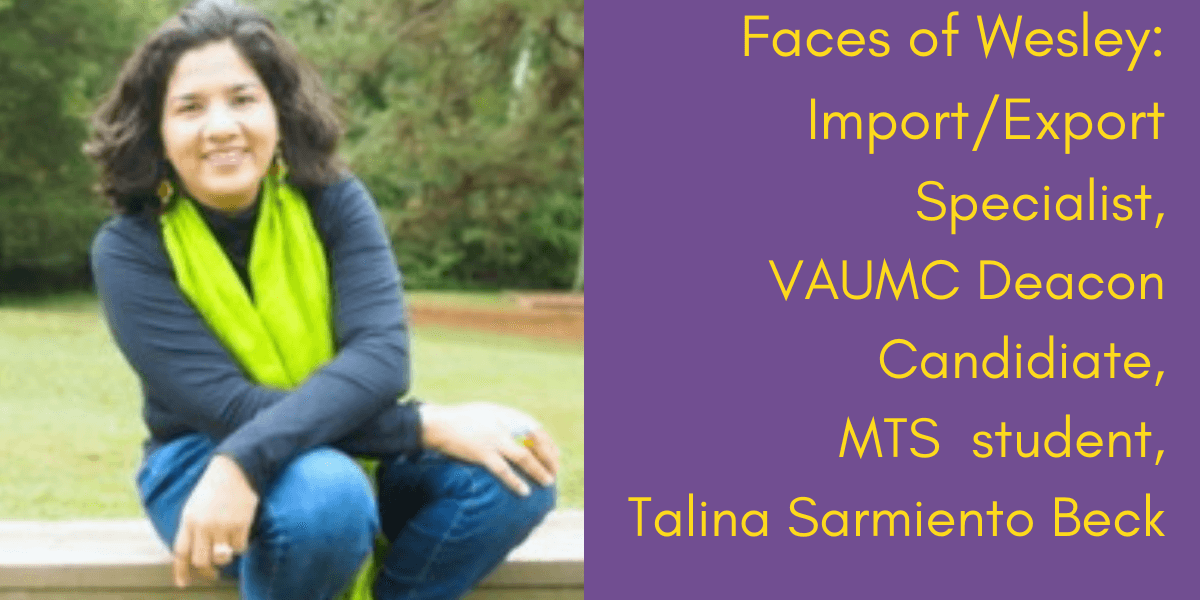 Meet 3rd Year WTS Master of Theological Studies student  and Gente Latinx Seminarians Association Co-President Talina Sarmiento Beck.
Talina is originally from Mexico City, Mexico, and is currently an ordination candidate as a Deacon in the Virginia Conference of The United Methodist Church. Talina holds a bachelor's degree in International Business Relations from Intercontinental University (Mexico City), and she has considerable experience in this field, with a career focused on import/export of equipment to/from Mexico.
What brought Talina to Wesley?
"As I pursued candidacy to become a deacon in the VAUMC, I knew that soon I would embark on my seminary journey. My heart is Methodist, and I admire the Methodist movement/Methodism, so going to a Methodist seminary was attractive to me. I'd heard so many good things about Wesley from my friends in the UMC, and when I visited, I felt at home! Wesley was warm and welcoming and offered me a diverse student body; I had not been to school in a while, so that experience was impactful," shared Talina.
Talina is currently attending WTS virtually from Richmond, VA, which affords her additional time to spend with her family.
"I love being in the classroom, exploring theological ideas with my seminarian peers, in person. I also enjoy theological formation online in Wesley's virtual space, which allows me to experience class without traveling long distances and staying close to my family!" said Talina.
Something we don't know about Talina?
"A little-known fact about me is that I enjoy puppeteering! I performed for the first time during the pandemic for the children at my church; everyone loved it, the children and the adults! I enjoyed preparing for that experience each week, and I hope to continue practicing and perfecting this craft. Puppets bring a lot of joy to young children and adults' inner children too," shared Talina.
Something that inspires Talina:
"A verse that is ever relevant to me is 1 Peter 4:8, which says, 'Love covers a multitude of sins.' That verse comes to me all the time; It helps me be more loving and forgiving with others and myself," said Talina.
As the celebration of National Hispanic Heritage Month in the US comes to a close today (September 15 -October 15), we asked Talina to open a window into her Mexican culture, and tell us what she treasures about it.
"As the Hispanic Heritage month comes to an end, I am reminded of the beautiful country I was born in, and I am thankful for it. I am proud of my roots and my culture. There is so much beauty and diversity in my country and all of Latin America. We truly are joyful, colorful, warm, and talented people. We love laughter, dancing, singing and, of course, food," offered Talina.
"At times, we don't see how much talent we have. Still, my prayer is that we can become more united and continue working together and encouraging one another as we walk towards the purpose that God created us to fulfill," shared Talina.
# Mexico # puppets #unity #FacesofWesley
Join Talina and our many students and graduates from across the US and around the world who have found in Wesley a seminary that supports students following their passion to serve God and others through ordained ministry and through many expected and unexpected ways.
Faces of Wesley is a weekly profile of one of the members of our Wesley Community - faculty, students, alumni, staff, administration and other friends of Wesley.  You can read it weekly on our Facebook or Instagram platforms or on our website's home page.