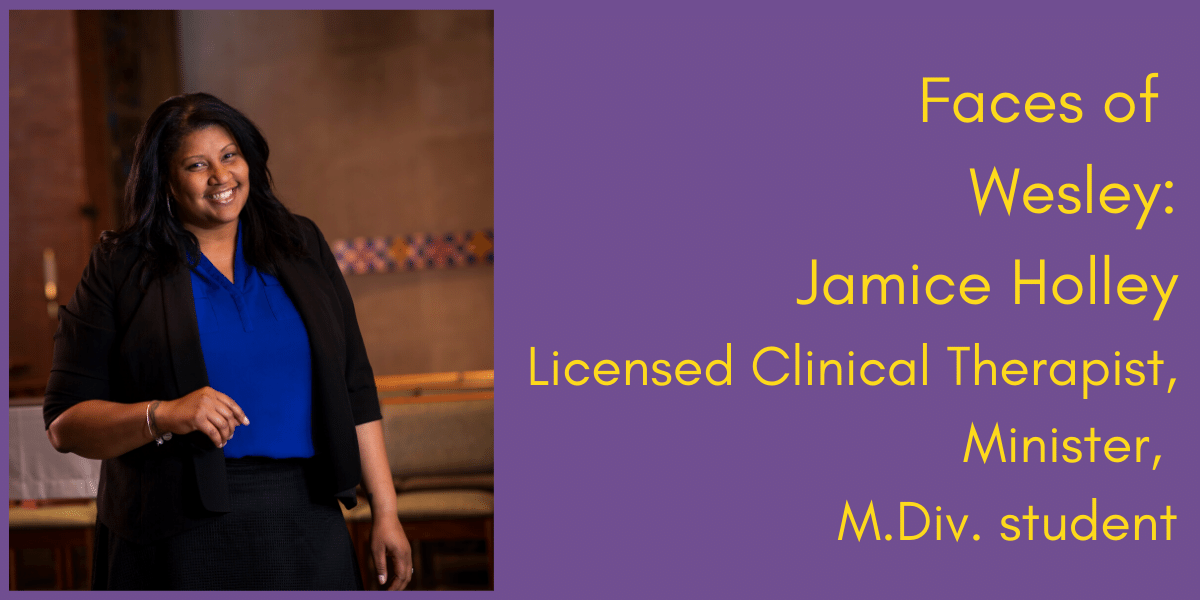 Meet soon-to-graduate Master of Divinity student and licensed clinical therapist Jamice Holley.
Jamice is a native of Charles County, Maryland. She earned a Bachelor of Science in Biblical Studies (Lancaster Bible College  I Capital Seminary and Graduate School) and  a Master of Science in Clinical Mental Health (Loyola University Maryland).
Jamice's journey to Wesley began with an invitation.  "Wesley found me," she shared. "I was headed toward the Ph.D. track to pursue clinical mental health when the school I was planning to attend closed. Coincidently, after finding out the news, my husband spotted a letter I'd received and it was a Christmas card from Wesley encouraging me to apply," she remembered. "Wesley found me, and since then,  I've been finding myself and God all at the same time," said Jamice.
Attending seminary is such a transformational experience for all students. It's a challenge both academically and spiritually, and there are often bumps along the way. Jamice experienced some of those challenges, and it was the caring of the Wesley Community that helped her through. "I almost quit seminary after Reading Week during my first semester. However, I later decided to stay committed to one class and that was Spiritual Formation, taught by Dr. Asa Lee. By the end of the semester, Dr. Lee had already written me back in for the next section of courses! If it weren't for Dr. Lee taking an interest in where I was in my walk at seminary, and God intervening, I don't know if I would have come back. I'm so glad I stayed," said Jamice.
It's no surprise to Jamice that Wesley has been selected as a Seminary That Changes The World. "Wesley gives a sense of boldness; there's a level of boldness here that Wesley allows to flourish.  The diverse community, an accepting environment and the encouragement to have authentic and bold conversations, even if it goes against the norm, is what makes Wesley a seminary that changes the world for me," said Jamice. 
As her studies come to an end with Commencement in May 2020, Jamice is finding that reality is bittersweet for her. "The nature of our everyday walk will change as we graduate and launch out into the world. It's leaving the connections and community at Wesley that have helped me thrive that makes me feel like I'm leaving a safety net!" said Jamice. "As we each connected over this experience, in a safe space of diversity and open and honest dialogue, it has allowed God to stretch us. It has been great!"
After graduation, Jamice, an ordained non-denominational minister, will be joining Walker Memorial Baptist Church as an associate minister. Her future plans in ministry are to integrate theological understanding and classic psychology in her counseling, in a way that best serves marriages.
Something we don't know about Jamice?  "Long before social media was a part of our everyday lives and everything was documented, I appeared on The Judge Mathis Show," Jamice laughed. "I was invited out to L.A. for the taping, it was a really nice experience, and I still have the DVD!" shared Jamice.
The Scripture that encourages her most is Proverbs 3:5-6, "Trust in the Lord with all thine heart; and lean not unto thine own understanding. In all thy ways acknowledge Him, and He shall direct thy paths." It reminds her that her understanding is limited, but God's understanding isn't. "It's helped me gain a larger view of who God is," added Jamice.
#ClinicalMentalHealth #CaringWesleyCommunity #Diversity #JudgeMathis #TrustintheLord #FaceofWesley
Do you feel called to build a theological or pastoral dimension to your professional life?  Find a seminary that supports students following their passion and call at Wesley. 
Wesley seeks to ensure your theological education can fit your studies into your busy work, family and professional life.
Courses are offered in ways to make study possible for all - online, hybrid (on campus/online), weekends and evenings. Complete  intensive one- and two-week courses for credit during our J-Term each  January.  Learn more and apply by going to https://www.wesleyseminary.edu/admissions/try-a-class-2/
We are currently accepting applications for Master of Divinity, Master of Theological Study and Master of Arts programs, as well as our Doctor of Ministry degree programs.
Faces of Wesley is a weekly profile of one of the members of our Wesley Community - faculty, students, alumni, staff, administration and other friends of Wesley.  You can read it weekly on our Facebook or Instagram platforms or on our website's home page.