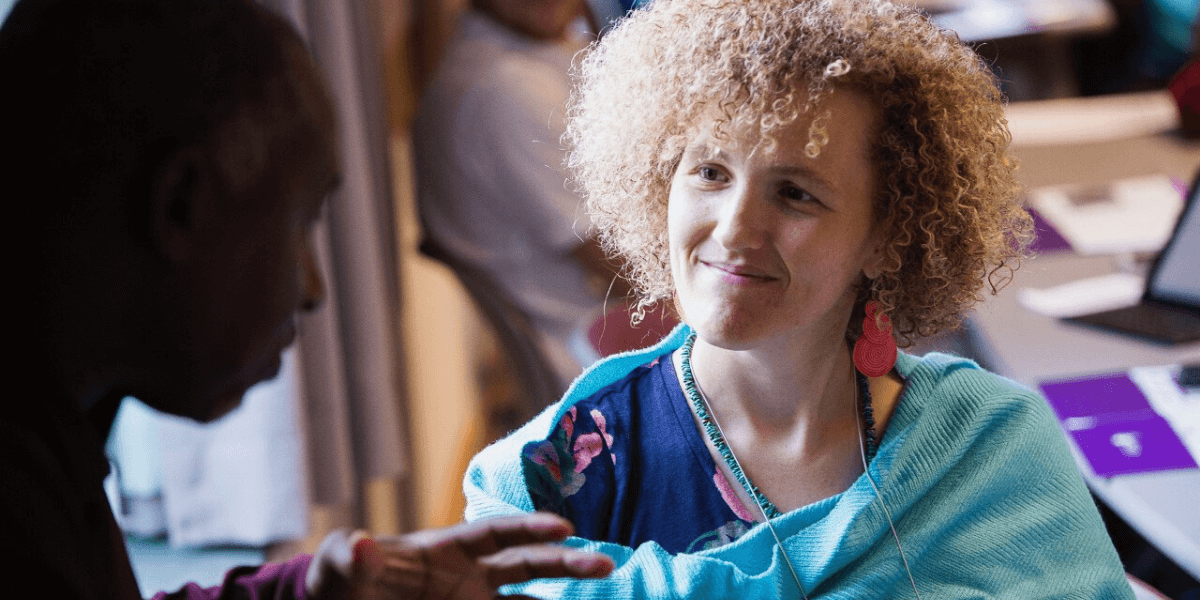 Faces of Wesley: Cassandra Lawrence, Peacebuilder, Student Council Officer, Non-Profit Communicator, M.Div. Student
Meet Cassandra Lawrence, Master of Divinity student, Wesley Student Council Secretary (2019-2020) and Communications and Project Associate at the Shoulder to Shoulder Campaign.
Originally from California, Cassandra has lived in San Diego, Sacramento and Santa Rosa. Cassandra earned a B.A in Religious Studies from University of British Columbia (Vancouver, Canada) and a M.A. in Comparative Ethnic Studies from Queen's University, (Belfast, Northern Ireland) where she completed a dissertation on Islamic Non-violence in Palestine and Pakistan.
Wesley's location in Washington, D.C., its diversity and dedication to academia and pastoral care drew Cassandra to Wesley. "I wanted to attend Wesley so I could stay rooted in my community in DC while continuing to work in faith-rooted peacebuilding, " Cassandra shared. "I was also interested in Wesley for its diversity. Wesley Theological Seminary has a unique blend of a diverse political/theological student body and a curriculum that is both academically rigorous and pastoral care focused." Cassandra said.
Wesley's commitment to Cassandra through scholarship support made it possible to juggle a professional and academic life. "The Bishop Oxnam scholarship from Wesley supported my schooling so I could keep working halftime with Shoulder to Shoulder and other interfaith justice organizations in DC."
"I've loved working while doing studies so I can actively practice integrating liberation theological frameworks and pastoral care into online engagement and justice work. It also gives me heart- breaking and hope -filled examples on how to spark Christians to live into the call for justice. Working with so many passionate faith communities - Muslim, Jewish, Christian, atheist and others -  has driven home for me the need for pastoral presence in justice work and for justice in congregational spaces," Cassandra shared.
The entire Wesley community has impacted Cassandra greatly, both personally and professionally.
"I've been influenced by the entire Wesley community that includes the faculty, staff and students. I remember being shocked at how helpful, warm and genuinely interested Diane Wogaman was in what was going on with me and other students, and by our professors who challenged our intellect and encouraged our pastoral call to interrogate cultural norms," Cassandra remembered.  "My fellow classmates have also influenced me by displaying what it means to live into ministry daily, even as we're all struggling to figure out what Moltmann (a reformed German theologian) means or how exactly to host a worship service over Zoom," said Cassandra.
Cassandra's future plans for ministry are to delve deeper in faith-rooted peacebuilding. "At the moment I feel certain in my call to continue grounding myself theologically and spiritually in the call towards peacebuilding. I am also committed to my current work of addressing anti-Muslim discrimination and violence through faith community engagement, racial justice at churches and interfaith organizing," Cassandra shared. Another interest of Cassandra's entails worship and arts ministry. "I see my imagination and spirit come alive designing community art and worship experiences to deepen, enrich and transform believers." Cassandra said.
 Something we don't know about Cassandra? "I grew up in a semi-rural area with friends who lived on cattle ranches, and rode horses. Even after moving away 20 years ago I still love singing loudly to country music."
Cassandra's favorite quotes to live by? "Freeing yourself was one thing, claiming ownership of that freed self was another" - Toni Morrison, Beloved "God cannot leave us. It is just that our soul is so vast, we do not always feel His lips upon the veil."  - St Catherine of Siena. #peacebuilding #racialjustice #interfaith #countrymusic #FacesofWesley
Join Cassandra and others who find in Wesley a seminary that supports students following their passion and unique ways to serve God and others.
PLEASE NOTE: Due to the COVID-19 crisis, Wesley Theological Seminary is currently offering online courses only until further notice. Please check back at this website for further information on class status.
We are currently accepting applications for Master of Divinity, Master of Theological Study and Master of Arts programs, as well as our Doctor of Ministry degree programs. If you would like to try a class, our all-online Summer term registration is now open, with some classes starting May 26.
Learn more and apply by going to https://www.wesleyseminary.edu/admissions/try-a-class-2/
For more information about any of Wesley's programs, contact Admissions at (202) 885-8659 or admissions@wesleyseminary.edu or chat with our Admissions staff via iChat on the Wesley website homepage, wesleyseminary.edu. 
Faces of Wesley is a weekly profile of one of the members of our Wesley Community - faculty, students, alumni, staff, administration and other friends of Wesley.  You can read it weekly on our Facebook or Instagram platforms or on our website's home page.