Online Education at Wesley Seminary
Wesley Theological Seminary offers online, weekend, evening and weekday courses.  All online courses can be found on our course schedule here 
All online courses use Blackboard which can be accessed using the following instructions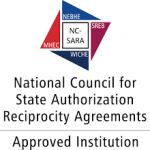 NC-SARA
Wesley Theological Seminary was approved for participation in  NC-SARA September 2016. 
The National Council for State Authorization Reciprocity Agreements (NC-SARA) worked with various states to develop the State Authorization Reciprocity Agreement (SARA). SARA allows participating colleges and universities to provide online courses and conduct certain activities outside of their home state without having to seek approval from state higher education regulatory entities. Forty-nine states and Washington, D.C., have joined SARA (SARA states). California has not. For more information, visit NC-SARA's website
Institutions of higher education are required to provide prospective and current students with contact information for relevant state entities tasked with complaint oversight. Find out more about complaint processes and contact information for relevant state entities.