Society of John Wesley Award of Merit
"To unite the pair so long disjoined - knowledge and vital piety."
These words penned by Charles Wesley are etched on the cornerstone of Wesley's library and capture the supreme task of religious institutions. This is especially the task of Wesley Theological Seminary and it is accomplished to some degree in every graduate. On occasion, the Holy Spirit empowers certain persons to embody these qualities in a unique way. Through sacrificial leadership in ministry, these persons exemplify a high standard of involvement in the ministry and mission of the church and in the life of the Wesley community. For those who have meant so much to Wesley and the church, the Society of John Wesley was founded and we honor these most deserving graduates with the Society of John Wesley Award of Merit. Each year, the Society of John Wesley Award of Merit is given to Wesley graduates who exemplify a high standard of commitment and devotion to God, to the church and to Wesley Theological Seminary.
Nominate a Graduate for the Society of John Wesley Award of Merit
Who Exemplifies The Spirit of John Wesley In Their Ministry?
Consider nominating a graduate for the Society of John Wesley Award of Merit.
Previous Award Recipients
2022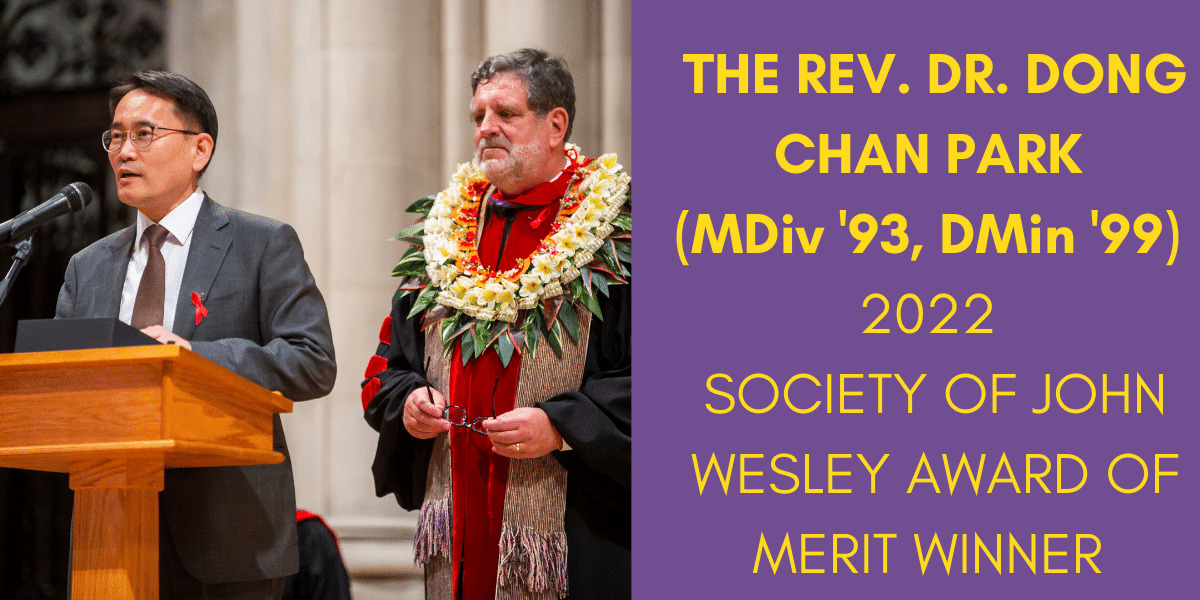 THE REV. DR. DONG CHAN PARK AWARDED 2022 SOCIETY OF JOHN WESLEY AWARD AT WESLEY THEOLOGICAL SEMINARY'S 140TH COMMENCEMENT
WASHINGTON, D.C. (May 11, 2022) – Wesley alumnus The Rev. Dr. Dong Chan Park, is the 2022 Society of John Wesley Award inductee. Wesley Theological Seminary President Rev. Dr. David McAllister-Wilson presented the award May 9 at the seminary's 140th Commencement, held at The Washington National Cathedral in Washington, DC.
The Society of John Wesley Award recognizes and honors the significant contributions of alumni through sacrificial leadership to God, the church and Wesley Theological Seminary. Any Wesley alum who graduated at least five years prior to the date of presentation is eligible for the award. 
"I have watched Dong Chan Park from the first day he came as a single, young student from Korea. His ministry is the reason the John Wesley Society Award was established, and I'm pleased to present his award before the Class of 2022 in the National Cathedral," said Wesley President David McAllister-Wilson.
The Rev. Dr. Dong Chan Park holds two degrees from Wesley: a Master of
Divinity (Class of 1993) and a Doctor of Ministry (Class of 1999).  A noted Christian leader in the Korean Methodist Church, Dr. Park is Senior Pastor at Ilsan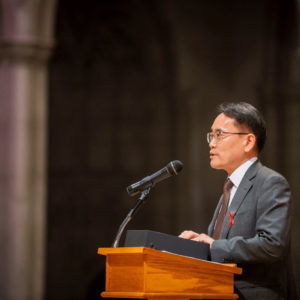 Kwanglim Church, Seoul, Korea. With its thousands of members, Ilsan Kwanglim Church  has become one of the largest and most thriving churches in Korea under his leadership. Deeply committed to mission work, Ilsan Kwanglim Church has funded hundreds of projects in Korea and around the world.  
Dr. Park also serves as President of the Wesley Korean Graduates' Association and as a member of the Wesley Asia Council, which provides generous financial support to the seminary to advance theological education in Asia and Kenya, including providing full scholarships to WTS students such as Doctor of Ministry student Joshua Kain.
Dr. Park is also part of Wesley's global classroom and partner faculty, having taught many Christian leaders around the world as a Wesley partner professor.
"The Rev. Dr. Dong Chan Park is an excellent role model for all pastors and missionaries. He provides a powerful example of Christian leadership that manifests integrity, faithfulness, excellence, and love.  Because of his influence,  many students have come to Wesley, and  Dr. Park has ensured financial support for many Wesley Global Doctor of Ministry track students from many continents," said Wesley Vice President for International Relations The Rev. Dr. Kyunglim Shin Lee.
2021 The Rev. Dr. Asa J. Lee, MDiv '07
2020 The Rev. Dr. Joseph W. Daniels, Jr. '00 The Rev. Rhonda VanDyke (Colby) '83
2019 Elsa Jeannette "Jane" Slocum Deland '96
2018 The Rev. Karen Bunnell '87
2017 The Rev. Dr. Timothy R. Baer '80 and '03
2016 The Rev. Dr. Charles Anthony Hunt '93
2015 The Rev. Dr. Malcolm Frazier '00 and '06
2014 The Rev. Dr. Kenda Creasy Dean '88
2013 The Rev. Dr. Chan Young Jang '00 and '04
2012 William Dale Aldridge Jr. '85 and '95
2011 James L. Gulley '71 Clinton W. Austin '83
2010 Marlin Snider '77, '89
2009 Bishop Peggy Johnson '93
2008 Brenda Girton-Mitchell '04
2007 Kenneth Arthur '61 Keary Kincannon '81
2006 Patricia Jelinek '73 and '80
2005 Robert L. Parsons '68 and '80 Thomas C. Short '61
2004 Lewis A. Parks '73
2003 Kyunglim Shin Lee '93 Frank Trotter '73 and '75
2002 Michael Terry Bradfield '78 and '03
2001 J. Gordon Stapleton '58
2000 W. McCarl Roberts '57 Larry O. Tingle '68 and '84
1999 William C. Logan '64 and '69
1998 Mary E. Kraus '80 Leonard F. Sjogren '76
1997 Walter Shropshire, Jr. '90 Charles A. Parker '91
1996 Jonathan E. Baker '75 and '79 Bishop Marcus Mathews '74 Carol Cosens Yocum '75
1995 Aimee W. Twigg '76 Edward H. Wright '53 Elizabeth A.S. Wright '85
1994 Terrie Rae Chattin '80 and '90 Joo H. Kang '82
1992 Bishop Kenneth L. Carder '65 E. Allen Stewart '77 Man-King Tso '71
1991 Bishop Warner Brown '74 Bishop Arthur F. Kulah '78 Ted and Shirley DeWolf '74
1990 David A. Balcom '59 Bishop Sundo Kim '70
1989 Bishop Susan M. Morrison '79 Lovett H. Weems '72
1988 Catherine A. Kapikian '79 Donald S. Stanton '56
1987 Robin M.L. Maas '78 Bishop Jose Gamboa, Jr. '64
1986 Roland Kirchner '51 Mary Alice Love '75
1985 Phyllis Tyler-Wayman '71 Bishop Cecil Bishop '60
John Wesley Award Recipients Pre-1985
Howard T. Brinton '44;
Douglass R. Chandler '29;
John H. Dawson '41;
J. Leas Green '19;
Nathaniel M. Harrison '18;
Paul E. Holdcraft '24;
Montgomery J. Shroyer '15;
Bishop James H. Straughn '01;
Paul F. Warner '21;
William F. Wright '12;
Yoshio Ito '29;
James M. McIntosh '43;
Frank L. Shaffer '29;
Theodore E. Landis '36;
Harold M. MacAdow '29;
Frank W. Stephenson '13;
J. Harry Haines '49;
Norman M. Parr '41;
John N. Link '23;
Herbert E. Hudgins '27;
Howard C. Emrick '32;
James L. Carraway '38;
Hartwell F. Chandler '30;
Paul Erb Myer '44;
John Bayler Jones '35;
Ferd Wagner '43;
Donzel C. Wildey '44;
Clarkson R. Banes '19;
William H. Revelle, Jr. '48;
Odell R. Carr '52;
James L. Duley '53;
Grantas Hoopert '50;
W. Kenneth Lyons, Sr. '33;
Merrill W. Drennan '53;
Obelia Scott Ross '60;
Frank S. Depro '40;
Carl E. Price '59;
Clifford A. Armour, Jr. '66;
Masuo Kaneko '60;
Laurence H. Stookey '62;
Vaudra N. Rushing '70;
Charles I. Wallace, Sr. '42;
Canaan S. Banana '75;
Hugh D. Crocer '56;
Robert K. Smyth '58;
C. Douglas Cooney '52;
Raymon E. White '59