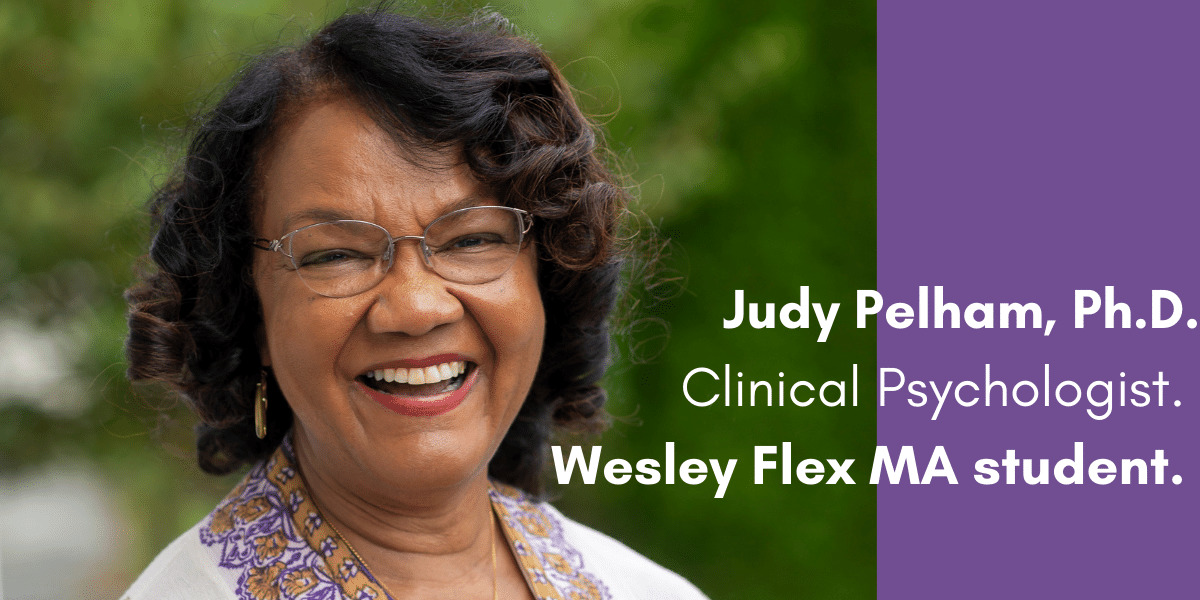 Several years ago, Dr. Judy Pelham, a licensed psychologist, noticed that clergy and ministry leaders were at risk for isolation and burnout. It was then that God called her to do something about it.
And that something involves Wesley Theological Seminary and its M.A. program.
"I have discerned my call to provide psychological services to clergy and ministry leaders," Pelham said. "I am a Ph.D. licensed psychologist and wanted to combine my psychology training with tenets from Christianity."
Pelham began looking for educational programs that would provide knowledge about the development and history of the church, a better understanding of Scripture, and a solid basis of theology. Wesley fit the bill perfectly, she said.
"I wanted to avoid predetermined curriculums," she said. She was "interested in online and in-person courses, with a preference for beginning online to determine if it was the correct direction for me."
Wesley allowed her to start with one class as a non-matriculating student.
"I had looked at a few programs," Pelham said. "I decided to try Wesley because I was aware of the quality of this seminary's program. My husband got his MDiv from Wesley, so I was very aware of the range and quality of courses offered. Also, watching him study for over three years, I watched his development as he raised questions, found answers, and developed a deeper connection with God."
The flexibility the Wesley M.A. program offers was also central to her decision.
"(The seminary's) flexibility allowed me to mix both professional and personal goals," she said. "Wesley also offered opportunities to study content consistent with my denominational identity as a United Methodist and offered diversity including students and professors from various other denominations and the global community."
Pelham also said that she wanted more grounding in the Bible, an understanding from theologians who have studied and written about Scripture, God, the Bible, and church history, and an appreciation for the academic content of those God calls and equips to be ministry leaders.
In short, Pelham said that her M.A. program helps to give her insights into what makes clergy and ministry leaders tick.
"I wanted to consider the type of training and pulls on clergy and ministry leaders as they seek to serve God," she said. "I'm about halfway through the program. I have been amazed that I am beginning to understand the internal structure of ministers who God calls to serve with their whole lives and being. When I see clergy and ministry leaders, I see people whose commitment to faithfully answering that call shapes their responses and desires, as well as their challenges."
Pelham would "absolutely" encourage anyone thinking about an M.A. at Wesley to apply.
"This M.A. program gives the learner the power to self-determine a direction with minimal constraints and tremendous opportunity," she said. "For the adult learner, this program is a goldmine. Taking such courses as Hebrew Bible, New Testament, Church History, or the reception of the Psalms in Music and Literature will enlarge anyone's view of the movement of God in establishing the kingdom."
Join Dr. Pelham and our many students and graduates from across the US and around the world who have found in Wesley a seminary that supports students following their passion to serve God and others through ordained ministry and through many expected and unexpected ways.