Only at Wesley: "Religion and the American Presidency" class attended Second Presidential Debate in St. Louis, MO
Wesley students joined Professor Mike McCurry for an opportunity to witness history in the making in St. Louis, Mo.  
"Religion and the American Presidency" students reflect on second presidential debate experience
Eleven students in Wesley's "Religion and the American Presidency" course traveled to St. Louis, Mo., for the second presidential debate on Oct. 9. The course is taught by Mike McCurry, Distinguished Professor of Public Theology at Wesley, and one of the co-chairs of the Commission on Presidential Debates. The presidential debate experience was a first for all participants and provided an experiential look at the intersections of faith and politics. 
"Religion and the American Presidency," is a Wesley course that examines chief executives of the United States and how they carried out their own religious commitments in their campaigns and presidencies. Class members representing Democratic, Republican, Libertarian and Independent points of view engage in weekly discussions and learning through a diverse civil discourse.
"We are a country that separates church and state as a matter of law, but it is hard to disentangle the religious faith of our presidents from how they governed and campaigned for office," said McCurry, a former White House press secretary.
Three of the students who attended the debate reflect on their experiences below.
LAUREN BENNETT said she does not consider herself an overly political person.  "I've never really consider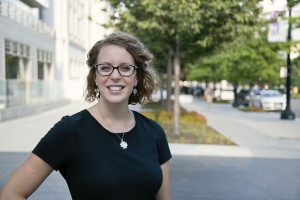 ed religion and politics before coming to Wesley. It's been an interesting journey to consider how those two intersect. It was interesting to come into this space (the arena where the debates were held) with that framework in mind. Saturday, we were talking about our democracy being unique because it was founded on these different beliefs coming together. And then to come here and watch each candidate bash each other repeatedly… it was difficult." Bennett said the trip to the debate taught her that progress takes intentional listening and the imagination to place yourself in another's situation to "consider their position from their point of view before making your own decision."
BRAD KENN said the trip was very educational for him.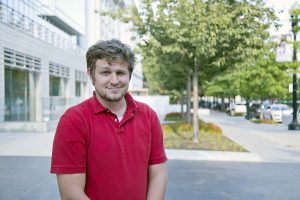 "We definitely have the separation of church and state, but I think what's interesting is that it's not 'church from state,' or 'state from church.' I think politics has always played a role in religion and vice versa." If people fail to examine the roles these two institutions play in and with each other, it is detrimental to the country." The weekend re-confirmed, for him, the need to vote with a moral conscience. "I wish we had better rhetoric from both sides. I know that a lot of my friends are disappointed in this election; they don't feel like they're represented by either party. That concerns me that a larger percentage of people feel like they're left out."
LAUREL FRASER said she could feel the tension in the debate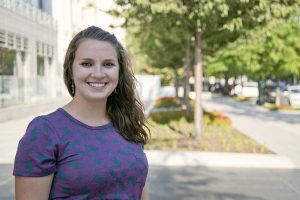 arena when she got to her seat.  "Hearing words of hate and mud-slinging during the debate, and hearing words of anger, was really unsettling for a person of faith, to feel like we were in this hopeless mess, and that was a dynamic I wasn't expecting." She said that sitting at home, watching the previous debate, was a different experience. "You can kind of relax, tune in and out. But here, I was in the middle of hearing all of these really distressing words. The only thing that helped me come back to the present and realize that I am here, in this historic moment and that I should enjoy it, is the idea that whatever comes from this election, there will be people who continue to talk about these issues. As a person of faith, I can only hope and pray that people will start to care for each other and for making that anger go away."
The new blended course from the Center for Public Theology, part of the Institute for Community Engagement at Wesley, is one of the many ways the Center creates programming and events that examine how faith traditions impact policy and politics.