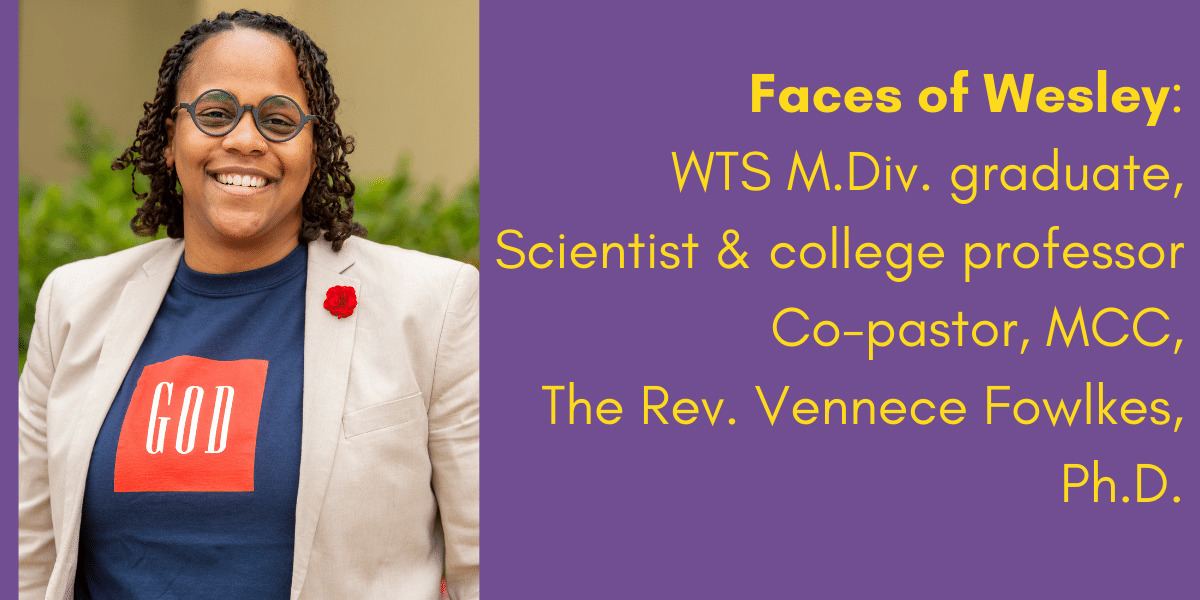 Faces of Wesley: Meet recent WTS Master of Divinity graduate, AACC assistant professor of Biology and, Metropolitan Community Church of Baltimore Co-Pastor,  The Rev. Vennece Fowlkes, Ph.D.
Vennece is originally from Hagerstown, M.D. Prior to completing her M.Div. at Wesley, Vennece earned a Bachelor of Science in Chemistry at Winthrop University (Rock Hill, S.C.) and a Ph.D. in Biomedical Science at the University of South Carolina (Columbia, S.C.).
The encouragement of a close mentor and a sure sign as an answer to a specific prayer led Vennece to Wesley.
"The truth is, prior to coming to seminary, I'd been encouraged by my spiritual mentor to follow Gideon's lead and 'throw out my fleece' (Judges 6) to see if I was supposed to go. If so, I needed God to make a way financially for me to attend seminary. I literally prayed to the Lord, "if you are calling me to go to seminary, you will have to make a financial way for me to be there."
Sometime afterward, I noticed that Wesley was having a Welcome Table Discussion, an open house for those interested in attending Wesley. It was there that I was given a free application submission, and after being accepted into Wesley, I received a scholarship that I never applied for. This is why I like to say, 'God chose Wesley for me, and I just listened to Her directions,'" said Vennece.
Something Vennece believes other people discerning following God's call and considering Wesley should know:
"One of the things I appreciate most about Wesley is the authenticity, wisdom and compassion of the professors. There are so many eclectic personalities and experiences they bring to the teaching moment and learning experience; no professor was alike. Wesley affirms its inclusive vision for missions and ministry, and they mirror that in the faculty they hire. Not all faculty are Methodist, which provides for various learning interpretations of the biblical doctrine, delivering ministerial liturgies and theological dialogue in general," said Vennece.
"At Wesley, the courses are challenging but not arduous. There was never a class I took where I left feeling that I hadn't learned something that I could use in ministry or implement into my normal life processes of spiritual growth and formation. My favorite courses were Prophetic Preaching, Spiritual Formation, and Systematics."
"The professors had a heart for social justice, inclusion, and God's people. We were encouraged to and pushed to interpret God, the Bible, and the current events (such as police brutality, racial violence, patriarchy, etc.) in light of our biblical and ministerial witness and calling," shared Vennece.
More on Wesley's community:
"There's a sense of community at Wesley that cannot be replaced. Though I was a part-time student, I never felt for one moment that I was left out of anything that the seminary provided. Here at Wesley, the community of students make a way for one another; it's a very caring environment. Throughout our learning experience, we would have difficult conversations and at times disagree, but we never left the space without turning to God for answers and courageous responses. At Wesley, I felt safe to speak and brave enough to listen, knowing that when we left the classroom, we would enter the pulpit and do our best to deliver a word that was founded upon unconditional love," shared Vennece.
Vennece shares more on Wesley and engaging ministry during today's social climate:
"There are some things seminary prepares you for and others, n0 matter how detail-oriented the seminary, life experiences will not align with. No seminary could completely prepare any of us for a pandemic like what we've experienced."
"What Wesley did for me as a new pastor was provide me with the tools that I needed to live in the moment of this crisis. Pastoring during this time was challenging, and I had no other experience of pastoring outside of a pandemic. I've learned how to create worship experiences that are theologically sound and solid sermons that focus on God's love, social issues, and what our responses as believers should be. I don't know that I would have been able to learn this without my theological training and ministerial preparedness as Wesley," said Vennece.
Vennece's future plans for ministry:
"I plan to continue in my leadership role as Co-Pastor as I work on ordination in the Universal Fellowship of Metropolitan Community Churches Denomination. I also seek to continue my work in the area of Diversity, Equity, and Inclusion, where I use my spiritual lens and voice of social justice to facilitate trainings and teachings to foster uncomfortable but much-need conversations. I address topics about race, biases and prejudices, gender identity, intersectionality, etc.; this work is an integral extension of the pastoring that I do in the church," shared Vennece.
Something we don't know about Vennece:
"I was inducted into the Hagerstown Community College's Hall of Fame for basketball in my hometown, and I have a sports award named after me that is given on an annual basis called "Girls' Private School Vennece Fowlkes Award Player of the Year" award. Also, as a youth, I played the drums in church!" said Vennece.
Scripture that inspires Vennece:
"My wife and I created a motto that combines two of our favorite scriptures that says, 'We can do all things through Christ  because we know the plans God has for us; 'to prosper us, not to harm us, to give us a hope and a future.' For us, these words are a constant reminder that no matter what we are going through, collectively or individually, we have the strength to get through it.
"At times, 'for our good' can be difficult to embrace when it doesn't seem to align with our current reality. However, we see it as a declaration that is grounded in hope proclaiming that because God is God, no matter what, we will get through, and subsequently, "good" must align with our reality," shared Vennece.
Join Vennece and our many graduates and students from across the US and around the world who have found in Wesley a seminary that supports students following their passion to serve God and others through ordained ministry and through many expected and unexpected ways.
For more information about any of Wesley's programs, contact Admissions at (202) 885-8659 or admissions@wesleyseminary.edu or chat with our Admissions staff via UChat on the Wesley website homepage, wesleyseminary.edu. 
Faces of Wesley is a weekly profile of one of the members of our Wesley Community - faculty, students, alumni, staff, administration and other friends of Wesley.  You can read it weekly on our Facebook or Instagram platforms or on our website's home page.