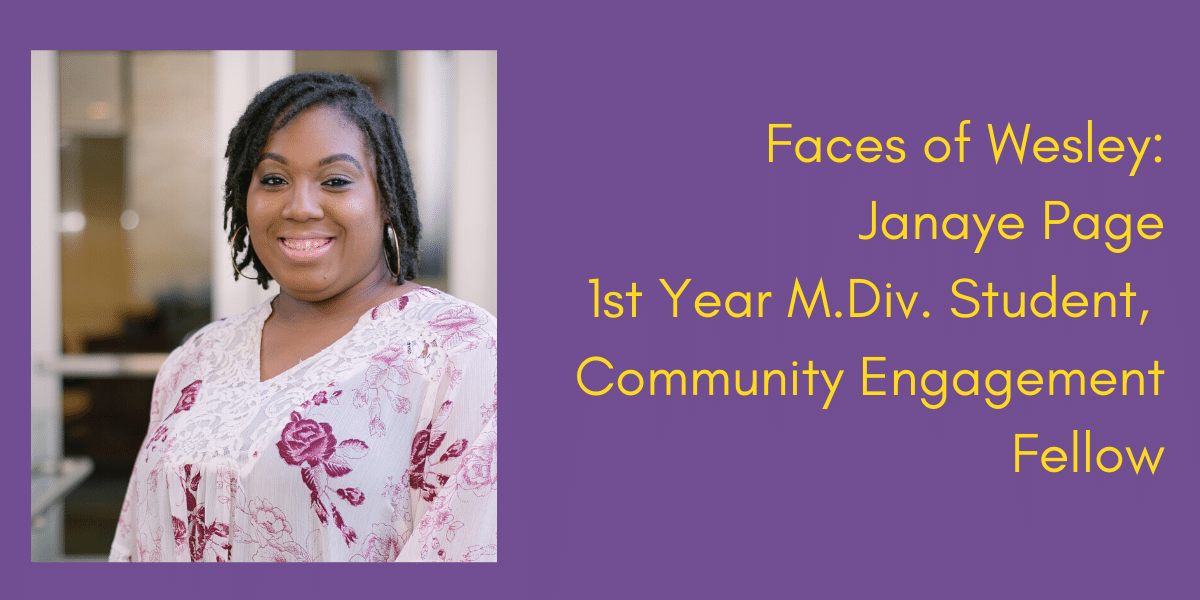 Meet 1st year Master of Divinity student and Community Engagement Institute (CEI) Fellow Janaye Page.
Janaye is a native of Capitol Heights, MD. She earned a Bachelor of Science in Rehabilitation Services from the University of Maryland Eastern Shore in 2011.
Janaye's journey to Wesley began early, after she revealed to her pastor, Wesley alumnus Reverend G. Sylvester Gaines, that she also wanted to be a pastor. "Over the years he gifted me with Wesley paraphernalia which reminded me of my former declaration," Janaye shared. It was those reminders and nudges from God that led Janaye to pursue the Missio Dei.
"I always knew that I wanted to further my education, I just didn't know which program to pursue. When my current pastor also recommended that I consider Wesley, I realized that it was finally time to stop ignoring God's nudge," said Janaye.
A "genuine" encounter with Wesley's Admissions Team at a Baltimore-Washington Conference of the UMC event that solidified Wesley as Janaye's seminary of choice. "I'd spoken with Sammy at the Wesley information table while attending a ministry exploration event and I'd appreciated her warm and inviting spirit as she encouraged me to apply and provided information on the Community Engagement Fellowship Program," Janaye remembered. "After my research, I was confident that this was the program for me! From Wesley Orientation Day forward, I've felt I'm in the place that I was destined to be, which is why I believe that Wesley chose me!" Janaye said.
The diversity of the CEI Fellowship and its kinesthetic learning environment was a draw for Janaye. "I was adamant about having a diverse seminary education experience and I knew that the program would offer tangible experiences both inside and outside of the classroom, while helping me to develop theologically. The Fellows program focuses on innovative ministry practices that help to transform communities and build bridges between the church and urban communities. This is the program for me as it prepares emerging leaders to engage complex issues that are facing urban communities today," Janaye said.
Janaye's belief in mentorship and personal development for youth has found expression in her Community Engagement project. "For my CEI Fellows project, I am developing a mentorship program for girls focusing on faith, freedom, fellowship, and fun. My vision is to create a sustainable program that advocates for spiritual, mental, and physical wellness," Janaye shared.
Janaye's future plans for ministry are directed towards her passion for Campus Ministry and Chaplaincy. "I will never forget the impact campus ministry had on my life during my undergraduate years, and I've made it one of my lifelong missions to pay it forward," said Janaye.
Something we don't know about Janaye? "My favorite hobby is thrifting. I love finding vintage pieces and preserving them. I would like to open my own thrift store in the future. I see it as a way to meet the needs of the community by providing quality items at affordable prices."
A quote that Janaye recently came across has been her inspiration as she and our nation copes with COVID-19. "While leaving work recently, I saw a quote written on the sidewalk that read, 'passion fuels purpose.' I was deeply moved by this quote, as this is an interesting time to be a seminarian and a healthcare professional, serving on the frontline during this pandemic."
"Restoring hope to the hopeless is my passion and that's what I'm fighting to do every day during these turbulent times," said Janaye. #transformingcommunities #mentorshipforgirls #CEIFellowship #FacesofWesley
Join Janaye and others who find in Wesley a seminary that supports students following their passion and unique ways to serve God and others.
The Community Engagement Institute is celebrating its 10th anniversary. Its centerpiece is the Community Engagement Fellows program, continuing the work of the Urban Fellows program, which offers students a $10,000 stipend to help them bring their innovative ministry project to life. Find out more about the Community Engagement Fellows program.
PLEASE NOTE: Due to the COVID-19 crisis, Wesley Theological Seminary announced on March 19, 2020 that all its courses will remain online for the remainder of the term, and will continue to offer online courses until further notice. Please check back at this website for further information on class status.
We are currently accepting applications for Master of Divinity, Master of Theological Study and Master of Arts programs, as well as our Doctor of Ministry degree programs. If you would like to try a class, our all-online Summer term registration is now open, with some classes starting May 26.
Learn more and apply by going to https://www.wesleyseminary.edu/admissions/try-a-class-2/
For more information about any of Wesley's programs, contact Admissions at (202) 885-8659 or admissions@wesleyseminary.edu or chat with our Admissions staff via iChat on the Wesley website homepage, wesleyseminary.edu. 
Faces of Wesley is a weekly profile of one of the members of our Wesley Community - faculty, students, alumni, staff, administration and other friends of Wesley.  You can read it weekly on our Facebook or Instagram platforms or on our website's home page.