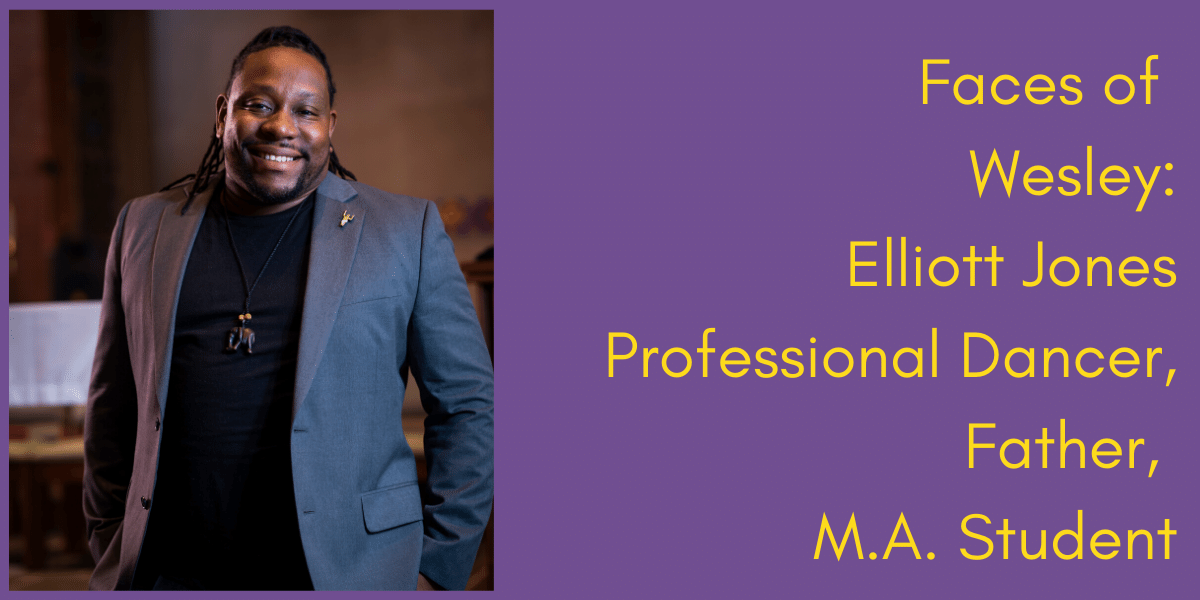 Meet soon-to-graduate Wesley M.A. student and professional dancer Elliott Jones.  
Elliott is a native of Brunswick, New Jersey. A creative at heart, Elliott was introduced to dance at the age of eight where he participated in an arts program for modern dance.  He earned a Bachelor of Science in Graphic Design at Full Sail University of Florida.
It was through dance that Elliott found God. A chance encounter with a legally blind man, whom he'd witnessed experiencing the presence of God through a dance performance that he couldn't see but feel, was transformative for him. "That's how I learned God was real," said Elliott.
Dance has been central in Elliott's life and has clearly been God's preferred method of instruction and growth, what propels Elliott forward.  It was by way of dance that Elliott found Wesley. "At one point, I'd stopped dancing. Between life's circumstances and my commitment to raising a family, I didn't dance for 10 years," Elliott remembered.  "I'd gotten the opportunity to pursue dance again with a company called Dancing by the Power: Movement Matters, and that's how I met Wesley's Dr. Josie Hoover."
Meeting Dr. Hoover was the connection God used to encourage Elliott's journey to seminary. "Dr. Hoover introduced me to Wesley and that's how I am here, by way of dance!"
He now sees the hand of God in the integration of theology and dance in his life. "I always knew that dance was my vocation. It's been a long journey but God never gave up on me, even when I at times gave up on God's plan for me."
Elliott has loved the art and theology integration at Wesley and his process of discovery. "I love that you don't have to come in knowing, but you come out knowing," said Elliott.  "I've learned that dance takes many shapes and forms, the way I think about movement has changed. I've learned that movement can impact lives, whether for a larger body of people or small, it's transformative …. Dr. Hoover and adjunct professor Sparks have taught me how to uniquely merge liturgical dance and professional dance. I consider it a great responsibility," he said.
Graduating from Wesley this year, Elliott is completing a self-directed study, where he will present his keystone project in the form of an evening of dance, entitled 'Suffering to Salvation,' to be presented in May 2020.
"I want to culminate my time here at Wesley and summarize my experiences within this body of work," said Elliott. Elliott hopes to build on this expression of his seminary experience as the first production of a new sacred dance company, Just One Spirit, where he plans to produce shows here and around the world.
With all his future plans, he knows his transformative experience at Wesley will always be with him. "The Wesley experience is tangible, it's engraved on those who experience it, woven into their makeup in a way that's very evident," Elliott said.  "Learning to look at and exegete text has had such an impact on me.  The way we are taught to look at Scripture with a different lens has encouraged me to look at things that are not overtly spiritual with that same perspective," Elliott said.
Learning to read scripture critically has even aided his social interactions. "As a person it makes me stop and think "why?" It challenges me to question, before sharing my own presumptions."
"Professors such as Dr. Works have taught me to give more thought to things, such as 'speed bumps' and to consider the context in which we read. This is very important."
Something we do not know about Elliott? "That worship experience I alluded to earlier regarding my encounter with the blind man? That's the same night that I met my wife!" Elliott shared.  "I look back over my experiences and throughout my matriculation at Wesley, and I realized she's always been there," Elliott remembered. Elliott's wife, Jasmine Jones, is also a dancer, and they share three children, one of which is on the way!
The verses of Scripture that inspire Elliott are Ephesians 4: 4-6; "There is one body and one Spirit, just as you were called to the one hope of your calling, one Lord, one faith, one baptism,  one God and Father of all, who is above all and through all and in all. "
"It's intriguing to me, thinking about how we each have different assignments and vocations yet we all have the same goal." Elliott said.  He often compares this pericope to dance as it relates to a body of work. "It's both interesting and inspiring, different parts but the same goal." Elliott shared. #dance #vocation #familyman #exegete #artist #FacesofWesley
Join Elliott and others who find in Wesley a seminary that supports students following their passion and unique way to serve God and others.
The study and expression of art and theology in a seminary setting is something found only at Wesley Theological Seminary. The Henry Luce III Center for the Arts and Religion and the Dadian Gallery are signs of that long-standing commitment.
Wesley and the Luce Center offers a range of options for those who wish to explore the interplay of art and theology: workshops, courses for both degree and non-degree students, a Certificate in Art and Theology and a Doctor of Ministry in Arts and Theology.
As well, Wesley seeks to ensure your theological education can fit your studies into your busy work, family and professional life.
PLEASE NOTE: Due to the COVID-19 crisis, Wesley Theological Seminary announced on March 19, 2020 that all its courses will remain online for the remainder of the term, and will continue to offer online courses until further notice. Please check back at this website for further information on class status.
Courses are offered in ways to make study possible for all - online (and usually) hybrid (on campus/online), weekends and evenings. Complete intensive one- and two-week courses for credit are offered during our J-Term each  January.  Learn more and apply by going to https://www.wesleyseminary.edu/admissions/try-a-class-2/
We are currently accepting applications for Master of Divinity, Master of Theological Study and Master of Arts programs, as well as our Doctor of Ministry degree programs.
Faces of Wesley is a weekly profile of one of the members of our Wesley Community - faculty, students, alumni, staff, administration and other friends of Wesley.  You can read it weekly on our Facebook or Instagram platforms or on our website's home page.