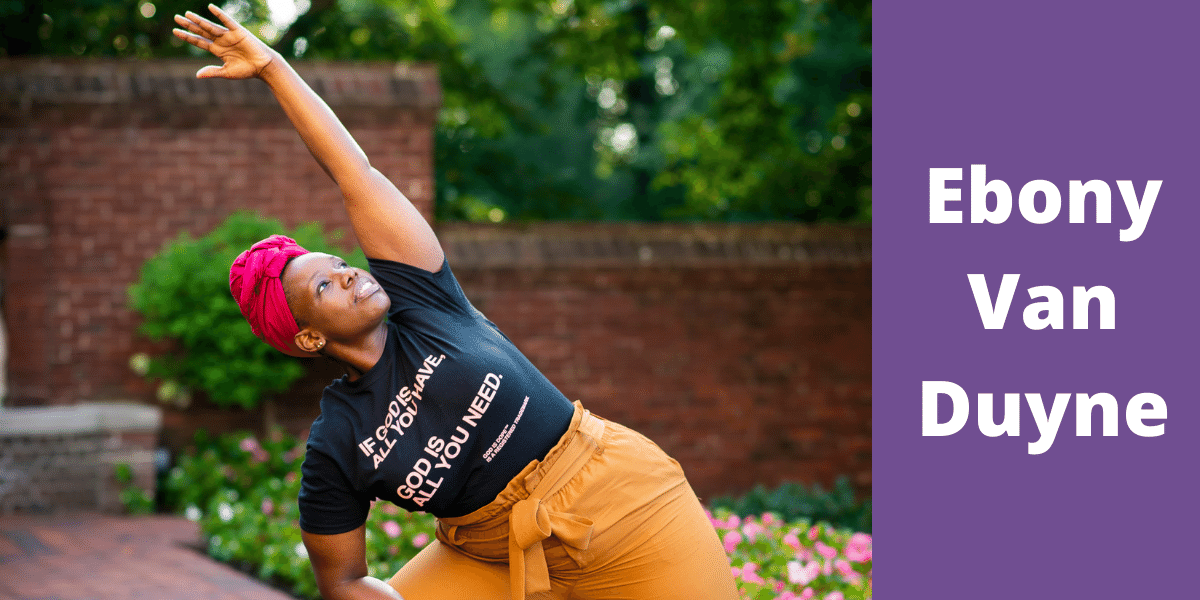 Faces of Wesley: Ebony Van Duyne, Non-Profit Creator, Certified Yoga Instructor, Master of Theological Studies  Student
Meet incoming Master of Theological Studies student Ebony Van Duyne. A New York City native, Ebony holds a B.A. in Criminology (John Jay College of Criminal Justice).
Though new to Wesley, Ebony has close familial ties to the Wesley Community. "Many of my church family have walked the halls and obtained degrees from Wesley" said Ebony.
In fact, it was the combination of those relationships and Wesley's innovative programs that inspired Ebony to pursue her theological studies at Wesley. "Wesley gave me no choice but to study here! " said Ebony. "The curricular span, ranging from Faith and Health to Pastoral Care and Child & Youth Advocacy, affirm that I will be well equipped by Wesley! These programs are literally my ministry, Wesley and I are evenly yoked!" said Ebony.
Ebony's seminary journey is just beginning, however she is no stranger to innovative ministry. Ebony is the founder of A Natural Ruby LLC, a popular program that seeks to inspire wholeness and well-being amongst adolescents through the practice of Yoga. "Our signature program, RubyGirls, is a wellness program for adolescent girls, where our primary focus is on their spiritual, mental, emotional and physical wellbeing," shared Ebony, a certified Yoga Instructor.
Something that we don't know about Ebony? Ebony enjoys community, but she readily admits that she is a little introverted. "Although I possess a vibrant, outgoing personality, I'm quite introverted," said Ebony.
Ebony is inspired by a quote that outlines characteristics she hopes will influence those who experience her ministry: "A beautiful woman uses her lips for truth, her voice for kindness, her ears for compassion, her hands for charity, and her heart for love. For those who do not like her, she uses prayer." -She-Rises. "This quote represents a small portion of many characteristics and lessons that I hope to teach and instill within my mentees," shared Ebony. #ANaturalRuby#yoga #wellness#FacesofWesley
Join Ebony and others who find in Wesley a seminary that supports students following their passion and unique ways to serve God and others.
PLEASE NOTE: Due to the COVID-19 crisis, Wesley Theological Seminary is currently offering online courses and limited hybrid courses (where applicable) until further notice. Please check back at this website for further information on class status.
We are currently accepting applications for Master of Divinity, Master of Theological Study and Master of Arts programs, as well as our Doctor of Ministry degree programs. If you would like to try a class, our J-Term class registration will open soon. January term classes are intensive 1-2 week courses taking place in January 2021.
Information will be announced soon at https://www.wesleyseminary.edu/admissions/try-a-class-2/
For more information about any of Wesley's programs, contact Admissions at (202) 885-8659 or admissions@wesleyseminary.edu or chat with our Admissions staff via iChat on the Wesley website homepage, wesleyseminary.edu. 
Faces of Wesley is a weekly profile of one of the members of our Wesley Community - faculty, students, alumni, staff, administration and other friends of Wesley.  You can read it weekly on our Facebook or Instagram platforms or on our website's home page.