2022-2023 Student Council Officer Election
It's time to elect the 2022-2023 Student Council Officers.  The candidate(s) are as follows:
Evan Taylor
Student Council President
Evan Taylor (she/her) is equal parts creative & technologist with a penchant for equity, education, and storytelling. As a Digital Minister and leader, she uses equity-centered design thinking and integrated technology to transform user-centered experiences and faith communities. She's called to the work of unearthing gifts, skills, and talents; coaching; promote healing and reconciliation; and creating pathways to leadership for youth and young adults. Evan is a Community Engagement Fellow, working on a project to start an interfaith middle school while pursuing her Master of Divinity at Wesley.
Allison Schwarz
Student Council Vice President
My name is Allison Schwarz. I am a first-year M.Div student living on campus. This year I have served on the executive, finance, and hospitality committees. I am passionate about building community and support for this unique journey of academic and spiritual formation. I look forward to serving Wesley next year through Student Council Leadership. 
Sam Armstrong
Student Council Treasurer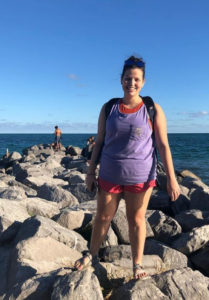 Hi everyone! My name is Sam Armstrong (she/her) and I will be a second-year MTS/MA Dual Degree student in the fall. I have served on the Student Council for one year already and love it. I am running for Treasurer because I love numbers, organization, and excel spreadsheets. Thus far, I have been helped organize the budget, update finance, and streamline processes on the Finance Committee. I hope to make the budgeting and finance systems easier to navigate next year. In my free time, I enjoy camping/backpacking, hiking, and visiting the National Parks. 
To vote, you must enter your student ID number and you can only vote once. Voting ends Monday, February 21 at 6:00 pm EST.