2018-2019 Student Council Executive Board Elections
Please find below information and pictures of the candidates. You may vote for one candidate for each position. You must enter your valid Student I.D. number in order to vote.
President
Kasongo Butler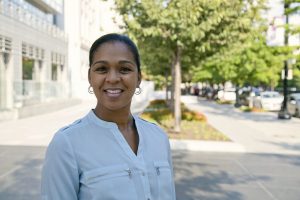 Kasongo Butler is a 2nd year Master of Divinity student and Urban Fellow.  Kasongo relocated outside of Florida for the first time to attend Wesley.   She has never regretted it –except for this semester's nor'easter!  Despite recent weather conditions, Kasongo feels blessed from all the opportunities Wesley has provided.  Through PM&M she interned with Congressman Al Lawson in the U.S. House of Representatives and took her first trip to Africa with the Liberia immersion.  She also currently serves as a Wesley Ambassador and Vice-President for Student Council.    
Prior to pursuing her call for theological education, Kasongo's career centered around policy and legislative matters, as well as, community engagement and leadership development. She presented her work before the Florida Legislature and Governor, as well as, state and local governing boards.  Some of her other professional capacities have been with the Florida Coalition Against Domestic Violence, the law firm of Thornton Williams and Associates, and the Florida Governor's Office of Planning and Budgeting.
Currently, you can see Kasongo during the weekly Tuesday morning worship services in her role as Deacon at the Table. Kasongo believes in being active in her community and in the Deacon at the Table role she seeks to create and encourage worship services that are reflective of the efforts, insights, enthusiasm and inspirations of our Wesley community. If elected as president, Kasongo plans to embody the same approach she takes as Deacon at the Table and extend it beyond chapel to all aspects of our community.
Vice President
Nicole Poland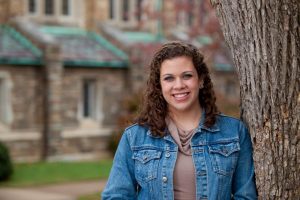 -What is your favorite aspect of the Wesley Community and why?
My favorite aspect of the Wesley Community is that it does, actually, feel like a community. I appreciate the relationships between students, staff, and faculty, and I believe that the nature of these relationships really makes Wesley unique. With this as one of our strengths, we are able to do more within our community–in regards to planning activities and addressing areas of growth.
-What is the greatest area of growth…
I believe the greatest area of growth needed in the Wesley community is continued and more developed space for diverse voices. In order to address this as an elected officer, I would listen and pay attention to the work already happening on campus, because there is a lot, and support that work in any way that might be needed. I would base this on dialogue and relationships. 
-What qualifications make you a great candidate for this position?
I have been on student council for the past two years, and I care deeply about the Wesley Community.
Treasurer
Shelly Ballard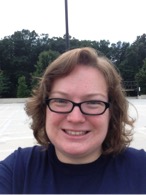 Hi, I am Shelly Ballard a first year MDiv student. I am from Northern Va. When I graduate I hope to be working towards becoming a chaplain in a hospital. I enjoy going to local coffee shops. Also enjoy being outside and crafting.
Secretary 
Paolo Ferro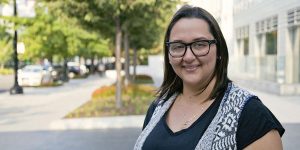 Paola is Guatemalan raised in the beautiful and warm city of Miami. Graduated with an Undergrad in Criminal Justice with the hope of working with at risk youth and young adults. For the past two years Paola has served as a Global Mission Fellow in Buenos Aires, Argentina in an Ecumenical non-profit. Now she is pursuing a Masters in Divinity with the dream to work with at risk youth in Latin Communities 
Olivia Warren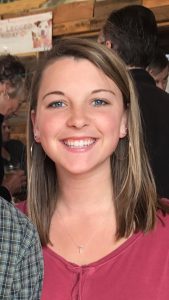 My favorite aspect of the Wesley Community are the people. I think it is a beautiful thing when people from so many stages and spaces of life come together to learn and to grow in one community. As I think about the greatest area of growth that is needed in the Wesley Community, I don't know if I can think of one area of growth. I think organization and community engagement is a process and a process that will never really end. I think that student council has an opportunity to be a voice for every student and I think engaging and communicating with students that are not on the council and not deeply involved is crucial for community development and growth. I am a very goos listening and mediator and I would like the opportunity to be present at the meetings and use my active listening to pay attention and write down what people say. 
LaMika Weiss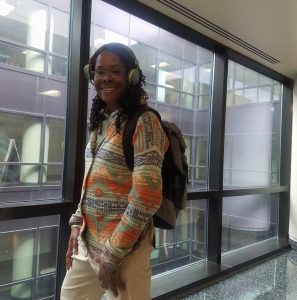 What is your favorite aspect of the Wesley Community and why?
My favorite aspect of our Wesley community is that I have the finest educators, ministry leaders and scholars equipping me with classroom and real life experience. Wesley prepares it students for ministry and offer training in various other ministry fields. Wesley is a community whose foundation is built on unconditional love, unity and serving; practicing sound biblical doctrine and principles that continuously challenge and transform me into the image of Christ. I enjoy being at Wesley especially being amongst the brave who are not afraid to stand up, speak out, and take action for social justice, equality, and political issues plaguing people, our community, and nation today; Wesley is geographically positioned and certainly empowered to bring the Kingdom here on earth.
What is the greatest area of growth needed in the Wesley Community and how do you plan to address this as an elected officer?
One thing we can work on as a community is communication and planning; keeping everyone informed while capturing all age brackets, full time, part time, commuter and campus students and less technical inclined students within the community; identifying and addressing needs, ideas and information exchange. I ideally will like to help create a platform where everyone can be heard. I would like to recommend perhaps doing censors to survey the community as a whole to address needs, suggestions, and gauge the morale. This will enable better planning of events and community engagement which may potentially lead to an increase in participation and serving in the community. Everyone in the community voice is important to me because I am serving you!
What qualifications make you a great candidate for this position?
The first qualification in which makes me a great candidate is I was called, I answered, and I am here to serve you and I promise to try my best. I have administration experience working directly for my executive officer and commanding officer for three years while serving in the military; during that time my job duties involved planning, scheduling, taking notes, logistical coordination, and networking within the organization to execute missions and GI parties. I possess top values such as loyalty, integrity, honor, selfless service, respect, personal courage and a heart full of love readily available
Vote Here: