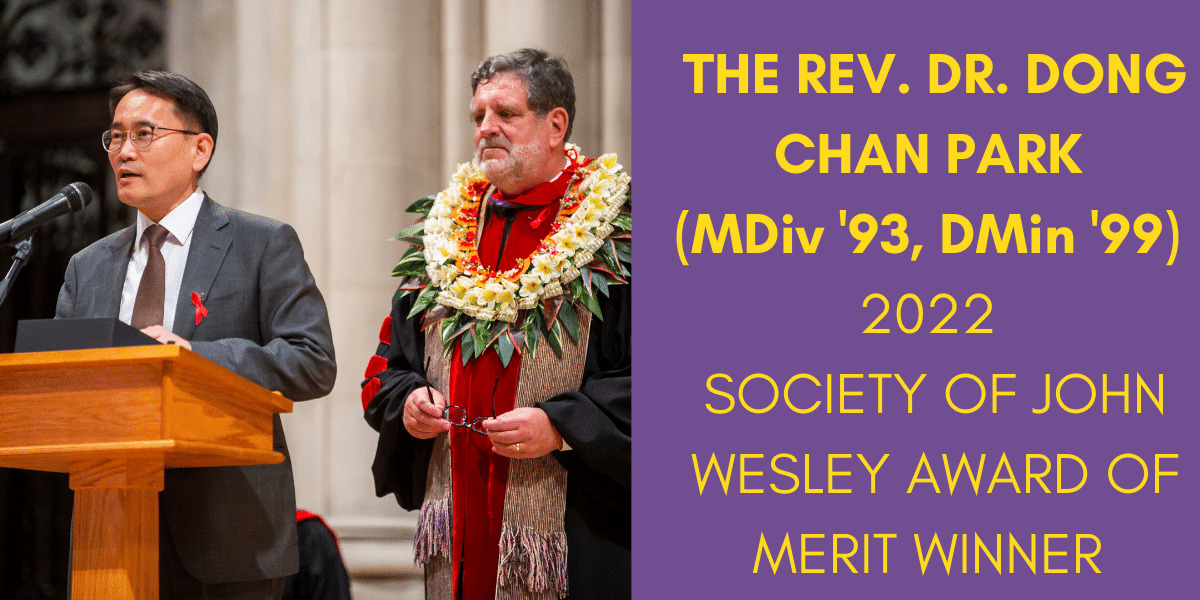 THE REV. DR. DONG CHAN PARK AWARDED 2022 SOCIETY OF JOHN WESLEY AWARD AT WESLEY THEOLOGICAL SEMINARY'S 140TH COMMENCEMENT
WASHINGTON, D.C. (May 11, 2022) – Wesley alumnus The Rev. Dr. Dong Chan Park, is the 2022 Society of John Wesley Award inductee. Wesley Theological Seminary President Rev. Dr. David McAllister-Wilson presented the award May 9 at the seminary's 140th Commencement, held at The Washington National Cathedral in Washington, DC.
The Society of John Wesley Award recognizes and honors the significant contributions of alumni through sacrificial leadership to God, the church and Wesley Theological Seminary. Any Wesley alum who graduated at least five years prior to the date of presentation is eligible for the award. 
"I have watched Dong Chan Park from the first day he came as a single, young student from Korea. His ministry is the reason the John Wesley Society Award was established, and I'm pleased to present his award before the Class of 2022 in the National Cathedral," said Wesley President David McAllister-Wilson.
The Rev. Dr. Dong Chan Park holds two degrees from Wesley: a Master of
Divinity (Class of 1993) and a Doctor of Ministry (Class of 1999).  A noted Christian leader in the Korean Methodist Church, Dr. Park is Senior Pastor at Ilsan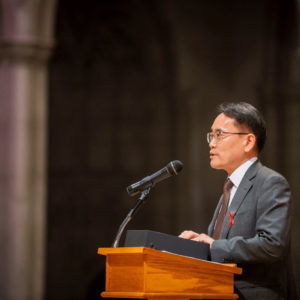 Kwanglim Church, Seoul, Korea. With its thousands of members, Ilsan Kwanglim Church  has become one of the largest and most thriving churches in Korea under his leadership. Deeply committed to mission work, Ilsan Kwanglim Church has funded hundreds of projects in Korea and around the world.  
Dr. Park also serves as President of the Wesley Korean Graduates' Association and as a member of the Wesley Asia Council, which provides generous financial support to the seminary to advance theological education in Asia and Kenya, including providing full scholarships to WTS students such as Doctor of Ministry student Joshua Kain.
Dr. Park is also part of Wesley's global classroom and partner faculty, having taught many Christian leaders around the world as a Wesley partner professor.
"The Rev. Dr. Dong Chan Park is an excellent role model for all pastors and missionaries. He provides a powerful example of Christian leadership that manifests integrity, faithfulness, excellence, and love.  Because of his influence,  many students have come to Wesley, and  Dr. Park has ensured financial support for many Wesley Global Doctor of Ministry track students from many continents," said Wesley Vice President for International Relations The Rev. Dr. Kyunglim Shin Lee.
For more information on the Society of John Wesley Award, visit
https://www.wesleyseminary.edu/Alumni/society-of-john-wesley/
###
Seated in the nation's capital and centered in the Christian tradition, Wesley Theological Seminary equips exemplary teachers, preachers and leaders to be prophetic voices in the church and the world.