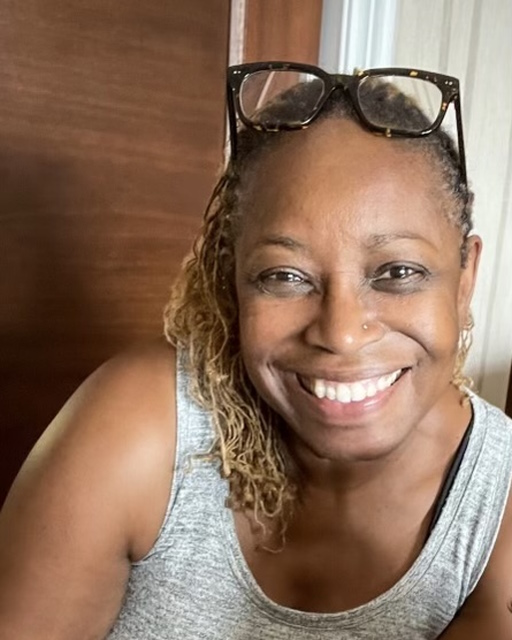 Community ConnectionsWTS MDiv 2020; Alpha Kappa Alpha Omega Pi Omega's President; member of Delta Kappa Gamma; National Educational Association, Maryland State Education Association; LifePoint Church
Best Advice ReceivedThere will be many disturbances in this life but you my child must always be determined to stand firm in your faith, hold fast to what is to come (hope), and never forget the greatest love.
NHS Blueberry Buckle

Proverb 31:14–15
"She is like the ships of the merchant; she brings her food from afar. She rises while it is yet night and provides food for her household and portions for her maidens."
NHS Blueberry Buckle
¾ c. sugar
2 c. sifted flour
¼ c. Crisco Shortening
2 tsp baking powder 
1 egg
½ tsp salt
½ c. milk
1-2 c. blueberries (fresh)
Preheat oven to 375 degrees.
Grease and lightly flour a 9" square or 9" inch round baking pan.
Place (measured) sugar and Crisco into mixing bowl.
Cream together using electric mixer.
Add egg and beat well.
Stir in milk with wooden spoon.
Place measured sifted flour back into sifter and add baking powder, and salt.
Sift into sugar mixture and blend well with wooden spoon.
Fold berries (that have been rinsed and blotted with paper towels).
Gently spread batter into prepared pan. (Clean edges of pan if messy!)
Crumb Topping
½ c. granulated
½ tsp cinnamon
⅓ c. flour
¼ c. butter
¼ c. margarine (½ stick)
Place sugar, flour, and cinnamon into mixing bowl and blend with whisk.
Using a pastry blender cut-in margarine. (Use an up and down motion).
**Mixture should be crumbly.
Sprinkle topping evenly over batter in pan.
Bake for 45 to 50 minutes or until Buckle test done with a toothpick.
Allow it to cool for 20 minutes on cooling rack.
Cut into squares or wedges.
Serve and enjoy.
Excellent snack with a glass of milk or ice cream.
Reflection Prompt: When I am able to take a little bit of this and a tiny bit of that, blend them together to create a dish that blesses the socks off of those who partake, my soul glorifies my creator for pouring into me so that I may pour out to others.  How do you pour into others?