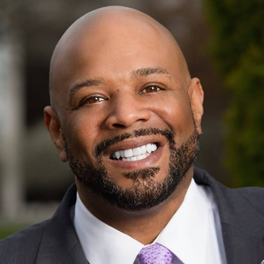 March 31, 2022
Rev. Lee Russell Brown, Jr., M.Div., M.Ed.
Community
Connections: 

WTS Office of Community Life Program Administrator; Itinerant Elder, African Methodist Episcopal Church, East TN Annual Conference

Movie Title:
God's Complicated Masterpieces
Can I Get A Witness? ~ John 5:30-47
Central to the black homiletic experience is that cultural artifact commonly known as call and response.  Within that vein is the historical exhortation and inquiry pronounced by the preacher, "Can I get a witness", because there is no greater testimony than that of a first-hand observer.  To Lead in These Times, we as Lenten observers, like Jesus, must pause to take inventory of the call to which we've responded and assess whether or not our works (our greatest witness) are inspired by the applause and approval of people or the giftings and graces of God.
Jesus says, "The works that the Father has given me to complete, the very works that I am doing, testify on my behalf that the Father has sent me.  And the Father who sent me has himself testified on my behalf."
So, it becomes incumbent upon us to adopt the discipline of yielding not to the temptation of performing to the beat of the crowd's drums but being assured that our greatest witness is the works – the evidence- the fruit of our labors, which have resulted from our adhering very closely to the sound of God's voice and discerning God's will for our lives.
Reflection: The witness we need most are the actions - the fruit - the works of our labors, the testimony of our response and obedience to the One who sent us.