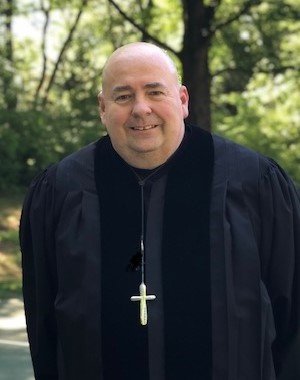 March 17, 2022
Scott Bach-Hansen
Community
Connections: 

WTS MDiv Student; WTS Student Council Member (current); Member of St. Matthew's UMC in Annandale, VA


Movie Title:

The Encourager, A Friends of Brad Covenant Group Film
Karma and Her Sister Grace ~ Luke 16:19-31
As I read this scripture, one word kept popping up in my mind and that word is Karma.  Now Karma is not a Christian term but instead one that is associated with Hinduism, and Buddhism, among others.  When I think of Karma, I think of a person getting what they deserve based on their actions.  Usually, it is where we may identify someone doing something to impact another person in a negative way and in return, receiving a similar fate.
In recent times, I have shifted my focus away from this negative meaning of what Karma brings and instead have sought to find God's Grace in these circumstances.  As we travel through this Lenten season, I would like for us to think about what Grace means to you.  When someone mentions Karma in my presence, I plan on sharing that instead, I will be seeking God's Grace for whomever is involved.  As Christians, and more importantly as leaders in our chosen paths of ministry, we can help set the example of what it truly means to offer Grace to others.  Even when others may not deserve this Grace based on their actions.  I mean, let's be honest have we always deserved God's Grace?  Or maybe we deserved Karma instead?  Let's change the mantra from "Karma is a…" well, you know and let us focus on her sister Grace instead.
Oh Lord, in times of uncertainty and frustration please use me to be an instrument of grace for you.  Allow others to feel your presence in me through my actions and response to others.
Amen.