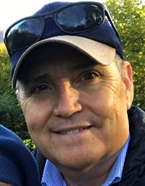 April 3, 2022
Rev. Dr. J. Maddox (Matt) Woodbery, Jr.
Community
Connections: 

WTS DMin, 2015; WTS Board Member; Wesley Council Donor

Movie Title:
A Journey of Discovery
Perceiving Great and New Things ~ John 12: 1-8
The scene that the Evangelist sets is almost comedic.  Over there is once-dead Lazarus, sipping his wine, and considering his miraculous second chance.  Over there is the brooding, sanctimonious Judas, looking around for ways to dampen the wonder that fills the room.  And then there is Mary, filling the air with her extravagant gift of perfume, in an act of gratitude and honor.  Her actions reflect what the Psalmist describes, "We were like those who dream.  Then our mouth was filled with laughter, and our tongue with shouts of joy. 'The Lord has done great things for them.'" (Psalm 126:1b-2, NRSV)  Mary bears witness to the wonder and power with the only fitting response: worship and service.
Judas rudely interjects into the dinner party conversation, "Why was this perfume not sold for three hundred denarii and the money given to the poor?" (v. 5.)  His question is practical.  It is realistic, a plain fact.  Nothing new.  Nothing imaginative.  Jesus' response confirms Judas' outburst, saying: "You always have the poor with you…." (v. 8a.)  Yet, despite New Things happening all around, Judas can't see the Greatest New Thing right in front of him.  He cannot perceive the possibilities being revealed in his midst, and his time is running out. "…but you do not always have me." (v. 8b.)
Reflection: Read Isaiah 43:19.  "[God is] about to do a new thing; now it springs forth, do you not perceive it?"  What habits of thought and practice limit my perceiving the Great and New Things God is always doing?  What disciplines do I need to adopt, and what attitudes do I need to change, to be present to the Great and New Things that God is doing in the world? In my life?  In my church or business?