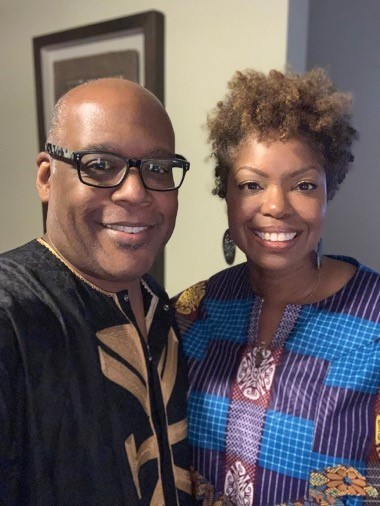 Holy Saturday
Day 46  -  April 03
Dr. Josie Hoover & Rev. Ashley Hoover
Community Connections: 

Josie: WTS MDiv 2008, DMin 2015; WTS Adjunct Professor, Dance; WTS Staff; Wesley Council Donor

Ashley: WTS MDiv 2008; Pastor, Jerusalem-Mt. Pleasant UMC, Rockville; Wesley Council Donor

Morning Theme Songs:

Josie: Off the Wall, Michael Jackson
Ashley: Wake Up Everybody, Harold Melvin & The Blue Notes
Remnant  ~ Romans 15:13
Our thoughts around the word "Remnant" can draw us toward a negative connotation.  The concept definition solely of "being left behind" draws the ear to a feeling of being forgotten.  In this season of Lent, let us reframe our understanding of a remnant and how it can be re-purposed for spiritual growth.
Consider the way in which people who sew use pieces of fabric (or scrap material).  They tend to keep extra fabric lying around just in case they need to make button covers or mend an area.  They often return back to the leftovers, or remnants to create once again.
What remnant(s) of our lives have we outgrown, no longer fits our perspective, or have we put in storage and have forgotten about?  Can we use them to mend any areas in our lives?  Will we allow them to shape and prepare us for the next steps in our lives, vocations, ministries, etc.?  Let us recreate a "new thing" for a greater good during this time of lent.
Quilts are formed from either cut pieces of fabrics to look like remnants or actual leftovers from previous projects.  The pieces are joined together and transformed into a beautiful tapestry.  May God work within us to become beautiful tapestries of God's love, peace and hope for tomorrow.   As we progress into this Lenten season, let us anticipate how God will use our remnants to birth masterpieces of elegant worth.  May we who consider ourselves as remnants, live again this Lenten season.