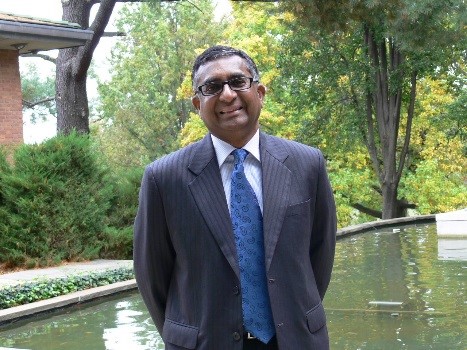 Day 44 - April 9
Sathianathan "Sathi" Clarke
| | |
| --- | --- |
| Community Connections:  | Bishop Sundo Kim Chair of World Christianity at Wesley Theological Seminary; Ordained Presbyter, The Church of South India; Assisting Clergy, The Church of the Epiphany, Washington D.C. |
| Superpower: | Passionately Christian and Compassionately Interfaith |
Sometimes the buck stops here with me ~
John 13: 21-32
Jesus' question echoes among us even today: "Very truly, I tell you, one of you will betray me."  And like the disciples, some of us might look "at one another, uncertain of whom he was speaking."  But others among us (I put myself in this camp!), will by force of habit quickly pass the buck of betrayal onto other Judas-like figures. It is easy to summon up several names and faces of those who pretend to be faithful disciples on The Way (keep in mind that Jesus was heading to the cross) but who conveniently take alternate paths when the demands are far too costly.  The chief problem with this routine of passing the buck is that it saves us from self-indictment that might spawn thoughts of repentance, the nudge to turn around and courageously walk the Jesus way (even if it leads to the cross).
On this Maundy Thursday, instead of passing the buck of betraying Jesus onto others, let me confess that I have joined in the betrayal:
Like John, I have claimed to be "the one whom Jesus loved" and yet my love has hardly flowed into loving others as I have been loved (Jn 13: 34);
Like Peter, I have enjoyed the honor of "reclining next to Jesus" and yet I have been reluctant to stretch out in service toward "the least of these brothers and sisters of Jesus" (Mt 25: 40); and
Like Judas, I have received the bread of life as a gift from Jesus and yet I keep wandering empty handed into the night to do what needs to be done (Jn 13: 30).
Forgive me, dear Lord, and receive me back into the fellowship of faithful followers of The Way you carve out to bring abundant life for the whole world.  Amen.