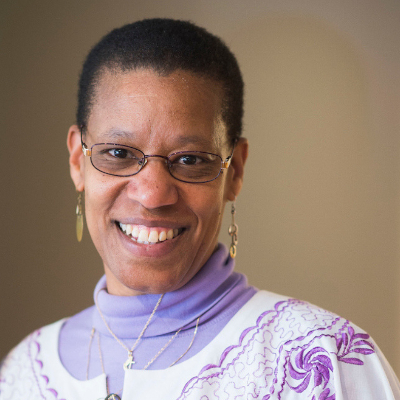 Day 43 - April 8
Debra M. Whitten
| | |
| --- | --- |
| Community Connections:  | Wesley Theological Seminary MDiv 2003; WTS Program Administrator for PM&M; member of the Greater New Jersey Annual Conference, serving as an extension minister at Wesley |
| Superpower: | Insightful and Care-ful Love |
Participatory Unity is Community ~
Galatians 5:14; Hebrews 12:1-3; Isaiah 50:4-9a
As I walked toward the church, surprisingly, 8-year-old Janet approached me.  Speaking to me seemed to be avoided previously.  In the parking lot, I greeted her, chatted for a few minutes, then, invited her to help prepare for practice.  My surprise?  She accepted.  We had a delightful time chatting, setting up, and talking about bells.
During rehearsal, we briefly talked about safe sanctuaries.  Not until my drive home, did I recognize my mistakes with Janet.  I created a rectifying plan, adjusted after receiving input from a wise counselor.
Often, we do something relatively harmless, moving on as if all is well.  Reflection showed me the potential damage done—safe sanctuaries unobserved, Janet's parental authorities overridden; and Janet more vulnerable to having fun with a relatively unknown person.  How should I correct the potential damage?
Do we holistically think about the effect of the little errors we make and move to correct them?  How do we continually fight against any action that creates disunity, disrupts harmony, potentially, takes another away from God's Path, or increases vulnerability to evil?  To enable unity and ensure healthy community, take time to reflect on actions, address unsound actions directly, seek needed guidance from wise ones, and take swift corrective action!
No matter how old the offense or whether we started or are heirs of it, we must be active participants in critiquing and correcting actions so that each person is empowered and enabled to learn from one another, grow, and be more like our Christ.