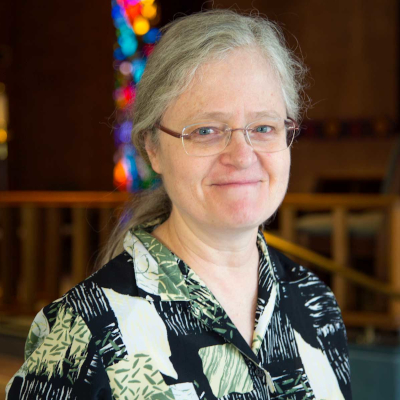 Day 41 - April 6
Diane J. Wogaman
| | |
| --- | --- |
| Community Connections:  | Wesley Theological Seminary Alum; WTS Staff; United Church of Christ |
| Superpower: | God |
Psalm 36:5-9 
Your steadfast love, O LORD, extends to the heavens,
your faithfulness to the clouds.
Your righteousness is like the mighty mountains, 
your judgments are like the great deep; 
You save humans and animals alike, O LORD. 
 How precious is your steadfast love O God! 
All people may take refuge in the shadow of your wings. 
They feast on the abundance of your house, 
and you give them drink from the river of your delights.
For with you is the fountain of life; in your light we see light.

I frequently have the privilege of escorting visitors throughout Wesley's campus.  Almost without exception, exclamations of surprise and delight are shared when they experience the beauty and peacefulness of the courtyard and grounds, as well as the art throughout the buildings.
The highlight is when we reach the chapel and our guests learn about its deliberate architectural design: the brick wall representing God's strength and protection and the windows looking out onto Massachusetts Avenue reminding us that there is a world beyond these walls. 
Psalm 36:5-9 reminds me of the chapel.  God is described as steadfast, faithful, righteous and a refuge who saves humans and animals alike; they feast in the abundance of God's house and in whose light they (we!) see light.
The surroundings of the campus do not make up THE community, its students, employees and many friends do.  However, we are fortunate to have such a place as Wesley to enjoy.
Prayer:  God, give us fresh awareness of beauty surrounding us daily as well as discipline to be Your fountain of life and light wherever we are in a hurting world.  AMEN