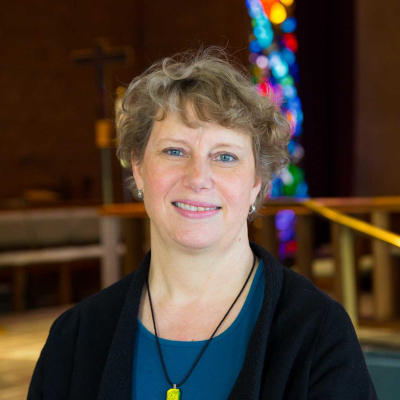 Day 27 - March 23
Sara Sheppard
| | |
| --- | --- |
| Community Connections:  | Wesley Theological Seminary Alum, 2012; WTS Director, Continuing Education; WTS Managing Director Course of Study School; WTS Program Administrator Doctor of Ministry Program |
| Superpower:  | Making art of all kinds |
Begin Anew ~ Isaiah 65:17-25
What does it mean to leave it all behind and begin anew?  The Lord says, "For I am about to create a new heaven and a new earth; the former things shall not be remembered." (Isaiah 65:17)
Would it only be that easy to let go of the past and start a new thing?  Letting go of past mistakes is hard.  Those "things" in life, personal and professional, that we desired but we were unable to attain.  In some instances, the choices we have made placed us on a specific path; for good or ill. Often these choices keep us up at night.  What are those things for you?  Do you go over in your head, on a sleepless night, the past that cannot be changed?
The past is done.  It cannot be changed.  And yet, because we are human it is always remembered. 
Here the Lord is promising to create a new heaven on earth.  A new Jerusalem full of joy, a bountiful harvest and peace between adversaries.  The Lord wants to assist us in moving past the past.  To live as Jesus lived helping our neighbor, feeding the hungry, being there when no one else will. God calls us to this work; to break through our disappointments, grief and humiliation to create a new, loving and supportive world.  The light shines in the darkness, and the darkness did not overcome it (John 1:5).  Be the light, not the darkness.