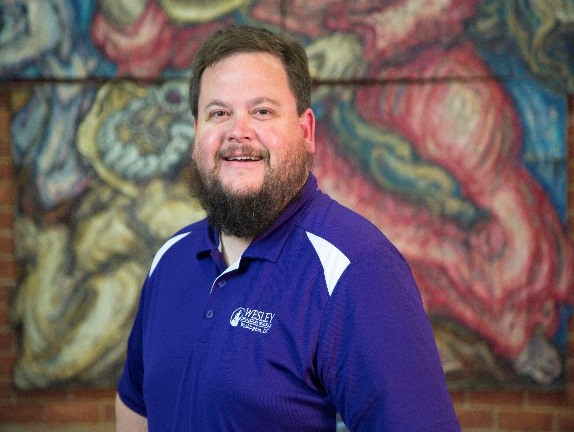 Day 15 - March 11
Nick Works
| | |
| --- | --- |
| Community Connections:  | Wesley Theological Seminary Alum, 2012; WTS staff since 2012, lately as the Assistant Director of the Practice of Ministry and Mission (PM&M) |
| Superpower:  | I possess (none). The best power I offer is the power of friendliness to all. |
GOATs ~ Mt. 20:17-28
The term GOAT (Greatest of All Time) has become popular in the last few years. Social media has encouraged us to proclaim our choice of GOATs, whether we are naming our GOAT singers, quarterbacks, and even GOAT theologians.  We can debate GOAT status between Beyoncé or Aretha, Brady or Montana, Jordan or Kobe, Serena or Federer, Pele or Messi, and even Hauerwas or (insert your GOAT theologian here!).
            The Gospel of Matthew tells a story about a mother who believed her sons qualified as GOAT disciples.  She requested that Jesus solidify their position as GOATs among the disciples.  GOAT status in the kingdom, Jesus proclaims, is based on different markers than the kingdoms of this world.  The princes and presidents we normally encounter measure greatness in terms of influence and power.  Jesus reminds us these rulers enjoy exercising authority over their subjects.  
            GOATs today are lauded as figures we look up to.  Children grow up wanting to be like them and wear their jerseys or seek their autographs.  I even have a special section on my bookcase where I have autographed copies of Hauerwas' and Moltmann's books. 
            Even in our academic community we have our own way to measure greatness.  We strive and seek for positions of honor and title.  We yearn for rank and status.  But I think we do well to remember that when it comes to our place in the kingdom of God and the community of Wesley seminary, we must heed the words of Jesus.  We must remember that we have only one option for greatness.  We must be committed to servanthood.  We are called to serve the church, the wider Wesley community and ultimately God's Kingdom.  That is the only path to GOATness!