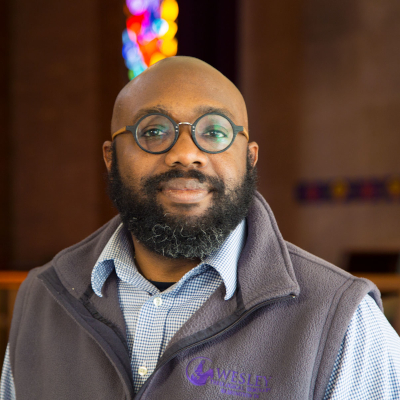 Day 10 - March 6
Asa Lee
| | |
| --- | --- |
| Community Connections:  | WTS Vice-President for Campus Administration; Associate Dean for Campus Life; Director of African American Church Studies; M.Div. ('05) |
| Superpower:  | Ability to see through walls |
The Perfect Partner  
Matthew 5:20 ~ For I tell you, unless your righteousness exceeds that of the scribes and Pharisees, you will never enter the kingdom of heaven.
Perfectionism  is  something  that  many  of  us  suffer  from.  We  set  professional and personal barriers high and work hard to attain them. There is nothing wrong with setting goals and working hard to reach them.  Perfectionism  is  a slippery slope. Goal setting is great, but perfectionism is dangerous. There is something even more dangerous about faith perfectionists—the practice of being a perfectionist when it comes to living as a disciple.  
Matthew's Jesus in this fifth chapter teaches to a gathered throng on the side of  a mountain. There he emphasizes the  importance of the law and the teachings of the prophets. Yet, Jesus is not setting up a pattern of perfection as most would believe. Instead, this teaching is about connecting this message of hope to the teachings of the Hebrew Bible. But Jesus is not a perfectionist. Nor is Jesus hoping that his followers become perfectionists. Instead he points to the power of grace—for no one can ever reach the goal of being more righteous than the Pharisees. Instead Jesus' sarcasm is meant to point us to him.  In him, Jesus, we  will come to know the grace that calls us, not to our own attainable righteousness, and that is the good news for you, there is release from the faith perfectionism.  
This Lenten season, I invite you to offer your sense of perfectionism. Let go of the high bars of your Faith and instead, embrace Jesus. It's his message, his witness, and his power that is able to transform you for the journey ahead.