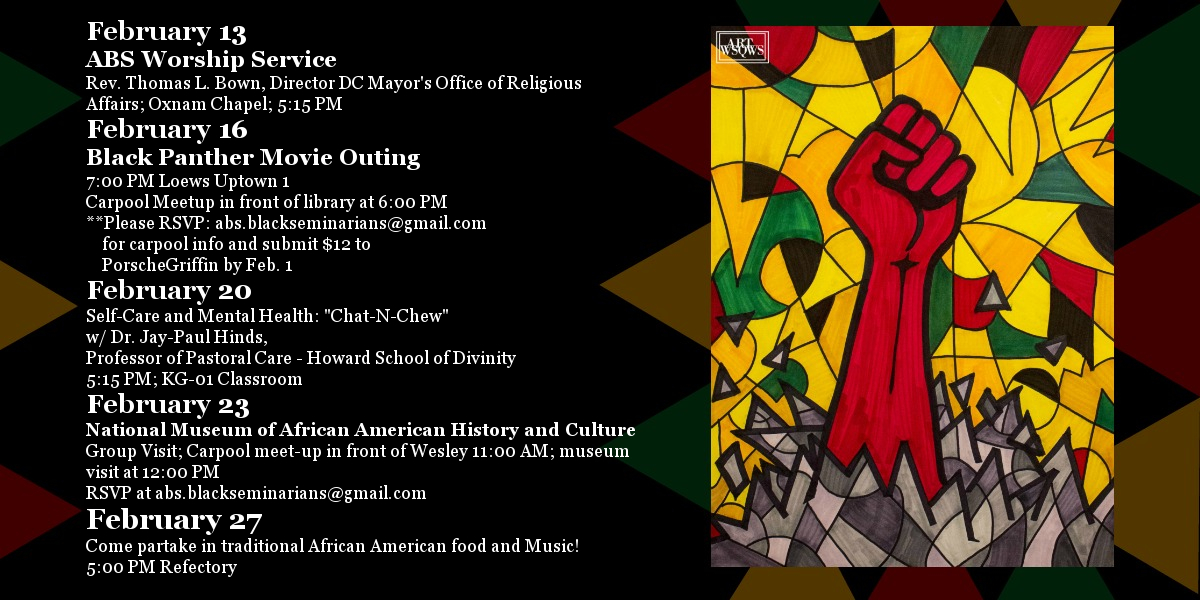 ABS Black History Month events to "cultivate a mindset that lets us holistically thrive"
Black History Month has historically been a time of great celebration at Wesley, thanks to the planning efforts of the Association of Black Seminarians (ABS). This year will be no different as the student-run organization focuses on a theme of "Surviving to Thriving." 
"Black History Month isn't just focused on the now, but also ties into the historical perspective," ABS President Miracle Worrell said. "We sometimes forget that there wasn't always an ABS at Wesley, there weren't always black women like me at Wesley. We want to celebrate how far we've come, but also always be in a posture of improvement as we continue to look for ways to love one another better."
The month-long celebration begins Feb. 6 in the KG-01 classroom at Wesley, with a workshop on financial freedom, led by ABS officer and student Rochelle Andrews. Andrews will lead a discussion on preventing financial crisis and the systems that perpetuate poverty among individuals in the United States.
"In a lot of the events planned for Black History Month, we are concentrating on breaking some of those taboos that we don't often talk about in the Black church," ABS Vice President Nila Curry said. "We want to cultivate a mindset that lets us holistically thrive, whether it's physically, mentally or financially."
ABS at Wesley has long been known for passionate worship services led by the ABS praise team. A special worship service will be held Feb. 13 at 5:15 p.m. in Oxnam Chapel with guest preacher Rev. Thomas L. Bowen, director of Washington D.C. Mayor Muriel Bowser's Office of Religious Affairs. Bowen is also the minister of social justice and community outreach at Shiloh Baptist Church in Washington, D.C.
"Rev. Bowen stands at the crossroads of faith and state and exemplifies how our theology can come alive," Worrell said. "I'm excited to hear not just a sermon, but to hear from someone who is living out the lessons we are learning in seminary."
Another "taboo" subject highlighted by ABS during Black History Month will be the focus of a self-care and mental health "Chat-N-Chew" on Feb. 20. This discussion will feature Dr. Jay-Paul Hinds, professor of pastoral care at Howard Divinity School, as he leads a workshop on maintaining one's mental health.
"In the Black church, we don't often talk about suicide or depression, but in this workshop, we want to provide seminarians with resources for the Black community and give them opportunities to focus on their own mental health," Curry said. That includes identifying coping mechanisms and de-stigmatizing mental health treatments like seeking counseling, she said.
"As ministers, how can you really minister to people and show them how to be whole if you aren't also taking care of your own mental health?" Worrell said. "Ministry is not just about the soul, but about the mind and body."
Other events to be held during Black History Month include a social outing to view the new film "Black Panther," a group visit to the National Museum of African American History and Culture, and a traditional Southern cuisine dinner with music provided by ABS.
"ABS is not just about worship services, although we do love to worship," Worrell said. "It's also about promoting academics, social activities and how the African American community can live out our unique experience."
Editor's Note: All ABS activities are open to the public and all are invited to participate. View the image that accompanies this story for specific dates and times and how to RSVP for events, if necessary.