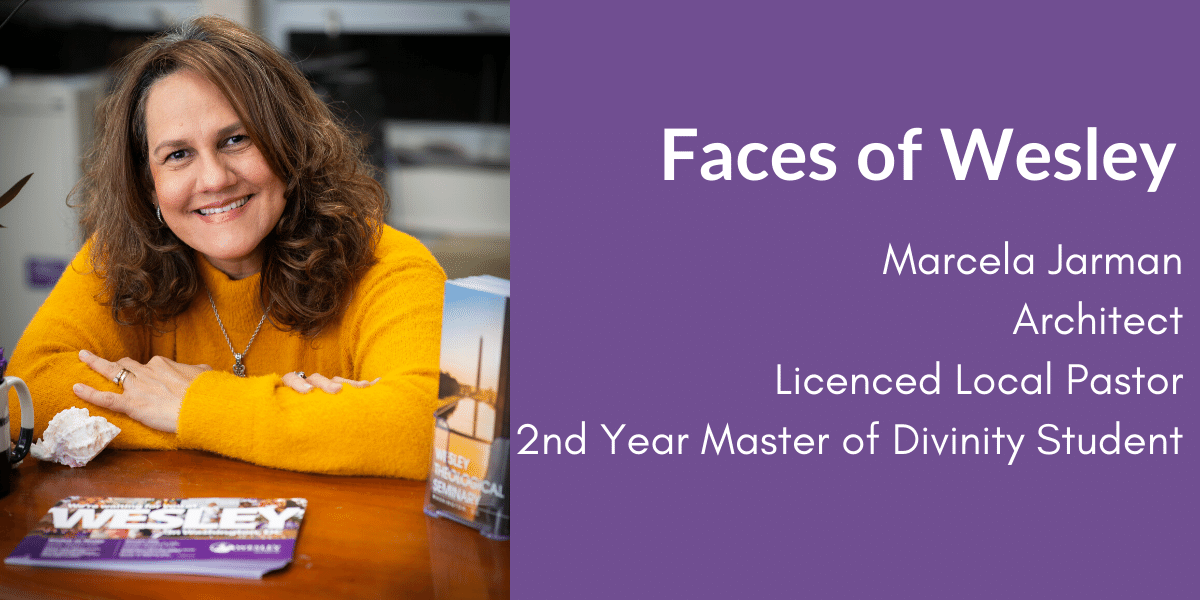 If you have stopped by Wesley's Admissions Office recently, you may well have been warmly welcomed by 2ndyear Master of Divinity student worker Marcela Jarman.
Marcela is also a Licensed Local Pastor, appointed as Associate Pastor of Sterling United Methodist Church in Sterling, VA. She is responsible for the church's Amigos' Ministry, serving the Latinx community with two Bible Study groups and a worship service in Spanish every Sunday. Her Wesley studies are part of her preparation for ordination as an Elder for the Virginia Conference.
The path to Wesley was an unexpected one for Marcela, as was her call to a second vocation. Born in Bogota, Colombia, Marcela grew up in Cali, Colombia. Her life-long love of drawing led her to earn a Bachelor of Architecture (University of San Buenaventura, Cali) and was working as a professional architect in Colombia when a trip to visit her cousin-a Wesley grad, Rev. Luz Marina Zuleta (M.Div.'10) in Virginia changed the direction of her life.  During that six-month visit, she met Todd, who would propose marriage to her just as she prepared to return to Colombia.
Her cousin, Rev. Zuleta, again played an important role in her path to Wesley, when Marcela, then a Roman Catholic, was looking for a church home with her husband Todd, a Methodist. Her cousin suggested a church she knew - Floris UMC, in Herndon, VA.  "We loved it and stayed a long time," she recalls of her church home where she converted to United Methodism. Her pastor was Rev. Tom Berlin, who is chair of the Wesley Board of Governors. Marcela soon found herself in charge of Latinx ministry at Floris, translating Rev. Berlin's sermons into Spanish during Sunday services. "I felt very called at those times to ministry. I sat and talked with Tom, about what I was feeling God was telling me." A book about discerning a call to ministry given to her by Rev. Berlin confirmed for her God's call on her life.
Further discussions led to talk of seminary, and Rev. Berlin recommended Wesley for her studies, but she was concerned about funding her studies. "One day, I received in the mail a letter that told me I have received the Wesley Governors' Scholarship, so I came to Wesley. I couldn't believe it. It made all the difference, as I didn't know how I would afford seminary," she recalled. "I had small children and I was thinking of paying for my children's college education, but then the letter said to me "Ok, God, you have really given me this path, to be educated, to see how we can build the Church in another language.""
Marcela's bi-national experience has informed her passion for Latinx ministry. "My call is to be a bridge between the two cultures (Latinx & American) because I live in two cultures – I married an American and I feel at home in the Latinx community -  I love them both, and I want each to understand the other culture, to know it and be part of it, "she said.
Marcela feels that in order to bridge the two cultures, we need to share common experiences, move beyond assumed stereotypes on both sides. "We need to get to know each other. To get to know each other's stories. What is it that you love? What is it that breaks your heart? What is it that makes you happy? What is your goal in life? It's about conversations, it's about relationships," said Marcela.
Something we don't know about Marcela? Discovering her first career as an architect may be news to some; yet another thing is that she loves to dance salsa.  "Cali, the city where she grew up, is the capital of Salsa dancing so I used to dance Salsa a lot!,' said Marcela.
The Scripture that inspires Marcela - 2 Timothy 1:7 - is found prominently in her email signature.  'Porque Dios no nos dio un espíritu de cobardía, sino más bien un espíritu de poder y de amor y de autodisciplina.' "For God did not give us a spirit of cowardice, but rather a spirit of power and of love and of self-discipline."When I was first beginning to study seriously to serve the Lord, I was afraid of what it meant to do what I was doing, so I have this in my email signature. It's often a struggle for me, but I know that the Spirit of the Lord makes me strong in all aspects of my life," said Marcela.
#Latinxministry  #crossingcultures #architecture #salsa #facesofWesley
 Join Marcela in pursuing a Master degree at Wesley. We are currently accepting applications for Master of Divinity, Master of Theological Study and Master of Arts programs. Wesley provides many scholarships to make seminary affordable - learn more here.
Faces of Wesley is a weekly profile of one of the members of our Wesley Community - faculty, students, alumni, staff, administration and other friends of Wesley.  You can read it weekly on our Facebook or Instagram platforms or on our website's home page.