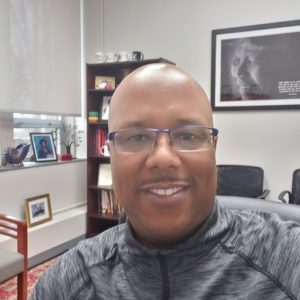 Rev. Benjamin J. Hall, MTS
Vice President of Admissions & Financial Aid
bjhall@wesleyseminary.edu
Benjamin is a native of Columbus, Ohio, and an ordained Baptist minister. He earned his BS in Business Administration from Ohio Dominican University and a Master of Theological Studies with a concentration in Ethics from Methodist Theological School in Ohio (MTSO). As a graduating senior at MTSO, he was awarded the C. Everett and Mary Milburn Tilson Social Justice Grant. In addition to over 15 years of admissions and financial aid experience in higher education, Benjamin also has over 25 years of ministerial experience, most recently serving as Lead Pastor of Family Fellowship Church, a non-denominational church in Gahanna, Ohio. Benjamin currently resides in Maryland with his wife Dana, and they are the proud parents of three adult children and a seventeen-pound shorkie named Zeke. He enjoys reading, studying history, going on dates with his wife.
Liz Pruchnicki received her B.A. in Public Relations & Spanish from Syracuse University in 2014 as well as an M.A. in International Relations in 2017. She is interested in the interaction between religion and politics, especially in using Christian ethics as a framework to evaluate multinational corporations and US foreign policy. Liz is a 2020 graduate of Wesley Theological Seminary with a Master of Theological Studies. She also works as the Director of Youth Ministry at Immanuel Presbyterian Church (USA) in McLean, VA. She seeks to serve those who are passionate about the Gospel and the Great Commission who have a desire to explore and walk into their calling.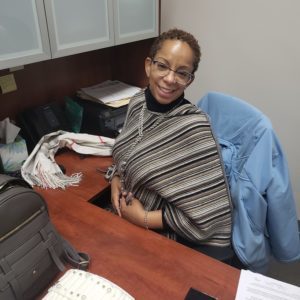 JaNice Parks
Director of Enrollment
jparks@wesleyseminary.edu
JaNice is an ordained elder in the Non-denominational tradition. She is a native of the DMV (DC, MD, VA) and has never been inside the White House. She is a 2014 master of arts graduate of Wesley. She loves the many venues for the arts in the D.C. area. She enjoys reading, traveling, shopping, and time with friends and family. Her most recent travels include Germany, an East Caribbean cruise, and the Holy Land.
Marci Matthews
Enrollment Counselor
mmatthews@wesleyseminary.edu
A self-professed life-long learner, Marci joined Wesley in 2015. She holds a Bachelor of Science degree in Social Science and joins the seminary with experience working in non-profits, elementary education, and higher education administration. When taking a break from encouraging prospective students to pursue their life, leadership, and vocational goals she enjoys dedicated time with her children, her family and friends, traveling, painting and being close to God. Her favorite scriptures come from Matthew 7 (particularly Matt. 7:12) and John 14. She is a 2020 Master of Arts graduate of Wesley Theological Seminary and recipient of certificates in Health Ministry and Theology & the Arts.