Wesley Theological Seminary - Lay Academy & Certification
To inquire about the Lay Certification and declare your intent to pursue certification, click here.
---
For admissions and program assistance please contact the Program Manager, Lisa Buffum, at BeADisciple@sckans.edu.
---
Earn a Lay Certification, or take courses a la carte (Updated 5/23/2018)
The seminary has partnered with the Richard and Julia Wilke Institute for Discipleship to make these courses available online (read more below about BeADisciple.com). The Institute for Discipleship, based at United Methodist-affiliated Southwestern College in Winfield, Kansas, has a 10-year history of making Christian discipleship courses available online, and traces their roots back to DISCIPLE Bible Study. More information about the Wesley Lay Academy and the certification in Wesleyan Studies can be found at http://www.beadisciple.com/wesley/.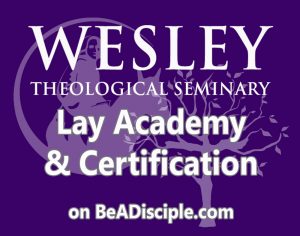 Laypeople can use these courses to earn a Wesley Theological Seminary Lay Certification. Students must complete 2 required courses and 4 elective courses to earn the certification.  There is no "starting course" — you may begin your work with any of the offered courses.
Alternatively, anyone — lay or clergy — can enroll in any of the courses available from the Wesley Theological Seminary Lay Academy.  BeADisciple regularly offers these courses using one of our own instructors (click the links below to enroll).  Churches can also host many of the Wesley Theological Seminary Lay Academy courses using their own course facilitators through BeADisciple's Congregational Partners program.
---
Christian Education Online
About BeADisciple.com
Christian Education Online
"When my folks, Richard and Julia Wilke, developed DISCIPLE Bible Study 30 years ago, one of their dreams was to help more people have access to the top scholars of our faith. The Wesley Lay Academy follows in that tradition," says Steve Wilke, executive director of the Institute for Discipleship."For Christians who are lifelong learners, the Wesley Lay Academy gives access to world class lectures and the opportunity to discuss topics with depth and meaning. If you're someone who always dreamed of sitting in on a seminary class to experience great professors and engaging discussion, this is your chance. And, you won't have to complete any papers or tests, and you can do it all without leaving your home," Wilke adds. "We need laity in every church who can ground their faithful living in a deep understanding of Wesleyan thought and think critically about the issues of our day."
All courses in the Wesley Lay Academy are available online at BeADisciple.com at a cost of $50.00 each.   More information about the Wesley Lay Academy and the certification in Wesleyan Studies can be found at http://www.beadisciple.com/wesley/.