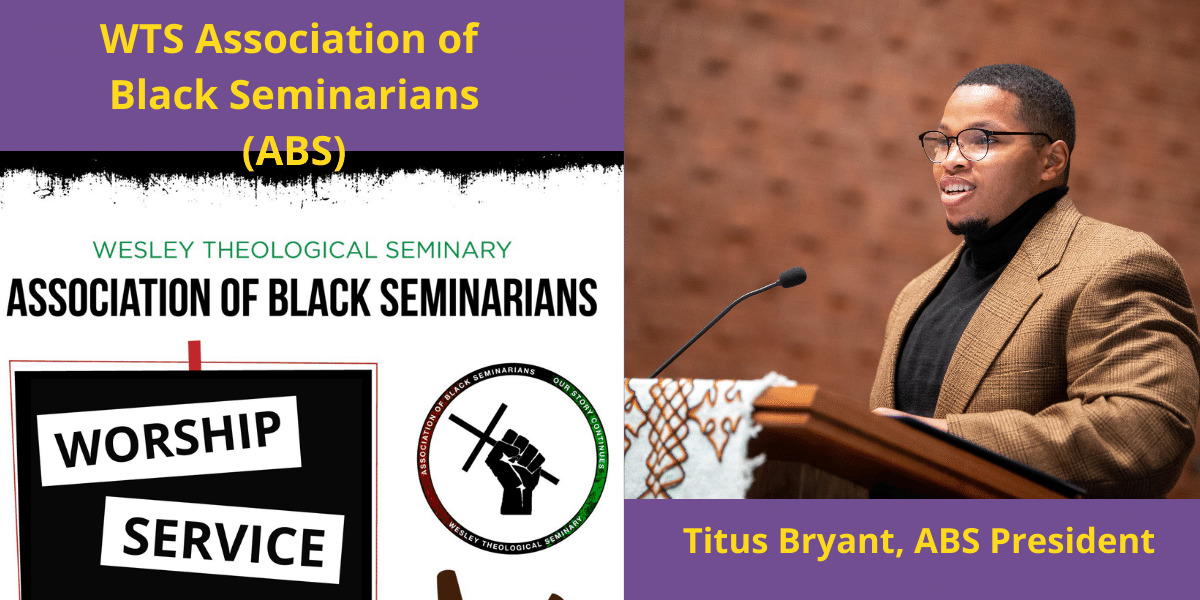 Meet A WTS Student Organization
ABS President Titus Bryant introduces us to Wesley's Association of Black Seminarians in the following interview.
WTS: Tell us about ABS and, if you know, how long this important student association has been at Wesley?
Titus Bryant: I believe ABS has been at Wesley since 2016. ABS or The Association of Black Seminarians at Wesley aims to create and maintain a healthy and nourishing community for African and African diasporic students at Wesley Theological Seminary. 
WTS: How many students are part of ABS? What are the goals of ABS? In addition to worshipping together, what other activities does ABS hold?
Titus Bryant: This year, we have been fortunate to have at least twenty students actively participate in the activities and work of the association, even amid a pandemic. One of our primary goals for this year is to create and maintain a safe space for the Black students in the Wesley community. I think we are doing this by holding a dialogue series entitled "Safe Space." With this, the Black students at Wesley come together to discuss the many ways in which we can maintain mental health as clergy and seminarians. Our amazing Treasurer, Rev. Jackie Prather, has been working diligently to ensure we have guests who can give us practical advice for maintaining mental health.
I proudly, but yet humbly, can say that ABS has some really good things going on. We are very excited about our "Fish Fry Fellowship" we will be hosting for the entire Wesley community after our "7 Last Sayings" service on Good Friday. 
WTS: The pandemic has made it very difficult for all our WTS student groups to stay connected. How has ABS been able to stay connected?
Titus Bryant: Facebook has become our best friend. We have used the platform to stay connected with students who do not have frequent access to campus. We are also staying connected by ensuring that there are plenty of opportunities for fellowship and discourse. 
WTS: You are ABS president, and I understand you see a new vision for ABS. Could you tell us more about that?
Titus Bryant: I think that the future of ABS must be envisioned with "new eyes", just as we as faith leaders must envision the future of the church. Doing this has guided me to see the future of ABS as a model of what it looks like for seminarians to advocate for one another and for their community. While this does indeed call for conversation, it means less conversation and more action. It means more deeds after discussion. 
WTS: What will organizational collaboration look like on Wesley's campus in the future?
Titus Bryant: I'd say that ABS believes that believes in the power of partnership and I think students will be better faith leaders after seminary after we have experienced this power while in seminary.