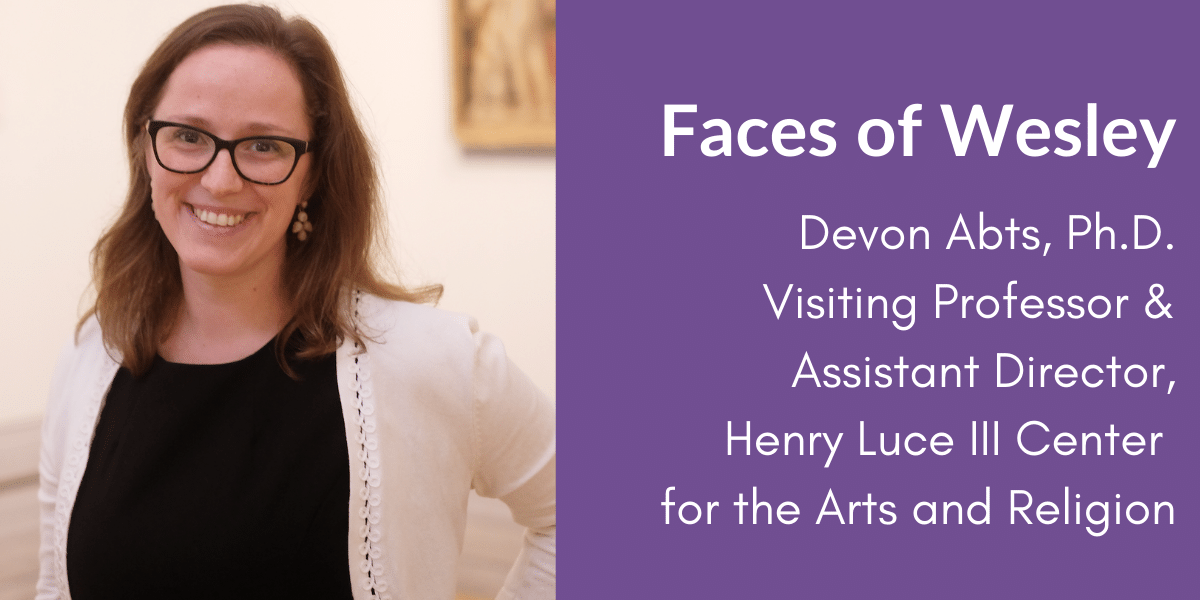 We are happy to welcome Devon Abts, PhD, our new Assistant Director and Visiting Assistant Professor at the Henry R. Luce III Center for the Arts and Religion (LCAR).
A native of Boston, MA, Dr. Abts earned a BA (honors) in English (Gordon College), an MA in Religion (Yale Divinity School), and a PhD in Theology (King's College London). Prior to arriving at Wesley, Dr. Abts taught select modules for KCL's joint-MA program with the London National Gallery.
Dr. Abts brings a theologian's insight to a new artistic expression for Wesley: poetry. "I am fascinated by the way poets compress so much moral and theological insight into the dense textures of their art," said Dr. Abts. "The process of unpacking a poem can be a spiritual discipline in that it demands a great deal of attentiveness, which in turn enables us to attend more deeply to the world around us, without evasion, self-interest, or fear."
"I am thrilled to be part of a community which takes the arts seriously as a vital resource for all aspects of ministry, from leading in worship to the pursuit of social justice," said Dr. Abts. She looks forward to "nurturing students in their theological formation by empowering them to use their God-given creative gifts in service of the Church and wider world.
In addition to teaching an upcoming course on "Visionary Poets," she will be working with the LCAR team "to develop new research initiatives and community outreach programs that build on the Center's existing strengths.
Dr. Abts' other passion? "I love travelling with my husband Ed and have spent a quarter of my life living abroad,  she noted.
One of her favorite quotes is from Geoffrey Hill: "What is grace? In one of its many dimensions it is the gift of vigilance in the midst of circumstance."
#poetry #LCAR #travel #FacesofWesley
The study and expression of art and theology in a seminary setting is something found only at Wesley Theological Seminary. The Henry Luce III Center for the Arts and Religion and the Dadian Gallery are signs of that long-standing commitment.
Wesley and the Luce Center offers a range of options for those who wish to explore the interplay of art and theology: workshops, courses for both degree and non-degree students, a Certificate in Art and Theology and a Doctor of Ministry in Arts and Theology.
Dr. Abts will be teaching a new class this Spring on poetry
Regular shows at the Dadian Gallery and Artist's Talks reveal insights into their process.
For more information, contact Admissions at (202) 885-8659 or admissions@wesleyseminary.edu or chat with our Admissions staff via iChat on the Wesley website homepage, wesleyseminary.edu. 
Faces of Wesley is a weekly profile of one of the members of our Wesley Community - faculty, students, alumni, staff, administration and other friends of Wesley.  You can read it weekly on our Facebook or Instagram platforms or on our website's home page.