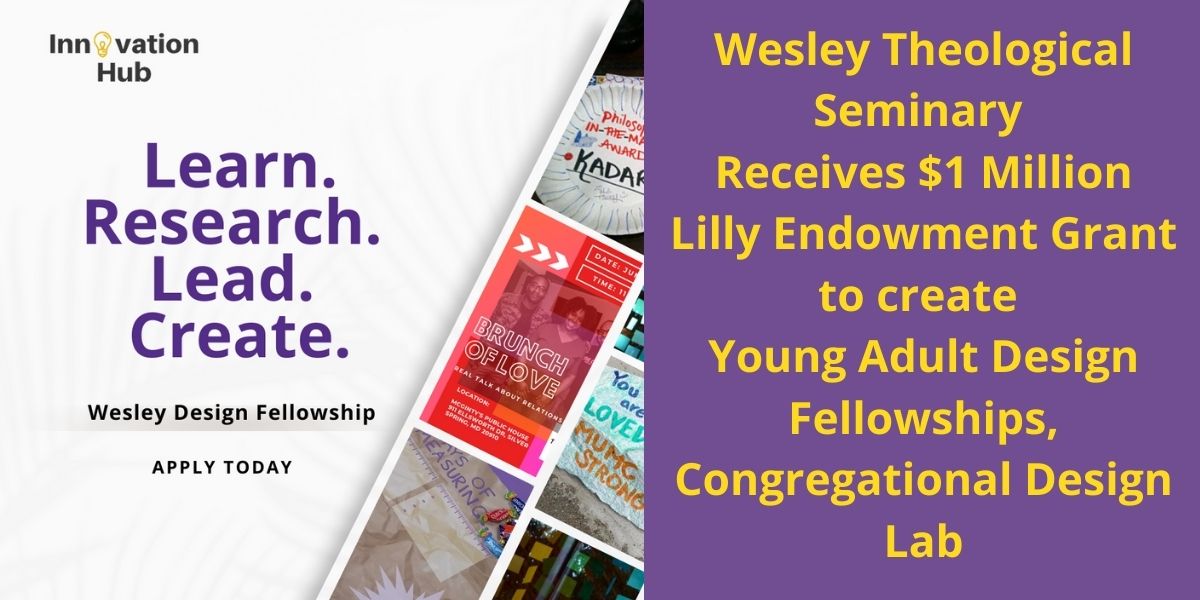 Washington, DC (December 13, 2021)—Wesley Theological Seminary has received a grant of $1.25 million from Lilly Endowment Inc. to mobilize and connect young adult faith leaders and innovative congregations.
The project is being funded through Lilly Endowment's Young Adult Initiative, which aims to help congregations develop and strengthen ministries that build relationships with young adults, nurture their religious lives and foster their engagement with religious communities.
Wesley's project is grounded in previous research, funded by the first phase of the Young Adult Initiative, that showed the transformative power of using human-centered design thinking, an empathy-based creative framework, to help churches better understand, connect with, and create ministry with young adults. The new project will have two main foci: a one-year Design Fellowship to equip young adult leaders and the Wesley Design Lab, featuring both in-person and online curricula, training, and other resources for congregational innovation. Through these efforts, young adult leaders and congregations will learn and practice design thinking for ministry, help solve real-life young adult ministry challenges in church contexts and connect with a broad network of creative leaders.
"Over the past five years, the Wesley Innovation Hub has worked with local churches to develop resources to foster congregational innovation with young adults," said Rev. Dr. Beth Ludlum, Vice President of Strategic Initiatives and Enrollment at Wesley and co-director of the Wesley Innovation Hub. "We are excited to take what we have learned to a broader level – to impact more churches, more denominations, more young adults, and more seminarians – as we seek to live into God's dream for the world."
The Design Fellows application is now open for young adults (ages 23-29) who are interested leading new ways to connect young adults and churches. The fellowship includes community formation, spiritual direction, graduate-level courses in design thinking for ministry, a stipend, and hands-on experience leading innovation in congregations. Wesley will also be seeking creative persons of faith to be "Innovators in Residence" at Wesley and churches who have interesting challenges or opportunities for young adult ministry. Interested persons and congregations can contact innovation@wesleyseminary.edu to learn more.
About Lilly Endowment Inc.
Lilly Endowment Inc. is an Indianapolis-based private philanthropic foundation created in 1937 by J.K. Lilly, Sr. and his sons Eli and J.K. Jr. through gifts of stock in their pharmaceutical business, Eli Lilly and Company. Although the gifts of stock remain a financial bedrock of the Endowment, it is a separate entity from the company, with a distinct governing board, staff and location. In keeping with the founders' wishes, the Endowment supports the causes of community development, education and religion and maintains a special commitment to its founders' hometown, Indianapolis, and home state, Indiana.  The primary aim of its grantmaking in religion, which is national in scope, focuses on strengthening the leadership and vitality of Christian congregations in the United States. The Endowment also seeks to foster public understanding about religion and lift up in fair, accurate and balanced ways the contributions that people of all faiths and religious communities make to our greater civic well-being.
                          ###