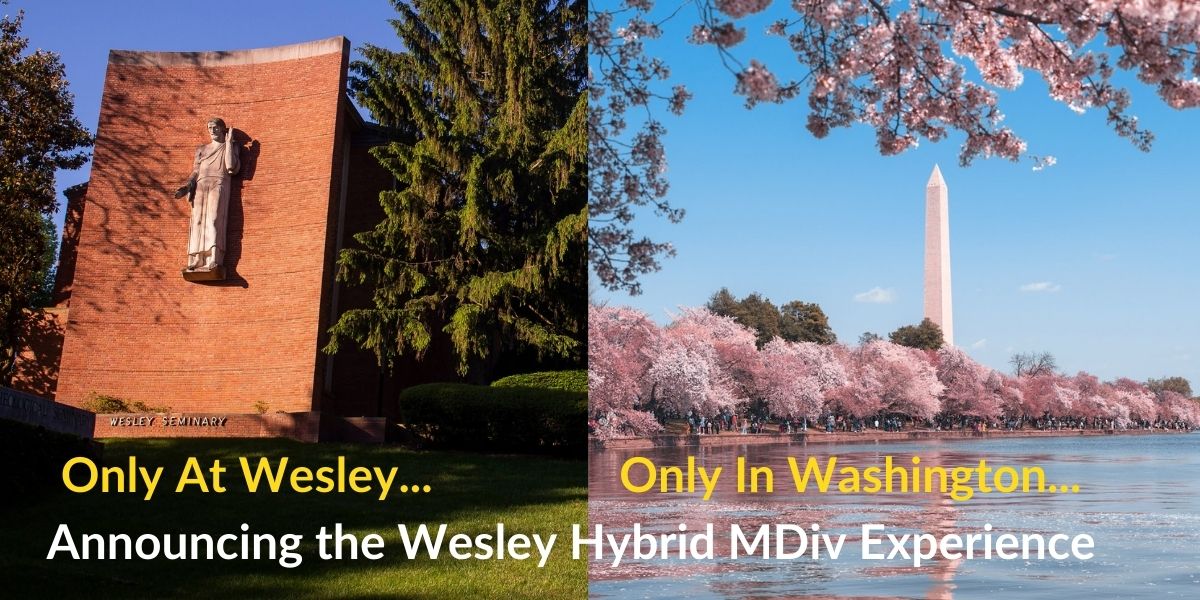 Wesley announces the Hybrid MDiv Experience; offers the seminary's first non-residential degree pathway for ministry
 (Washington, DC) February 11, 2022 -  With its tradition of innovation in theological education, Wesley Theological Seminary announces the launch of the Wesley Hybrid MDiv Experience; a new degree pathway that provides short, immersive, Washington, DC-based experiences coupled with online learning in Wesley's first non-residential degree program.
 Building on a model similar to its highly successful Doctor of Ministry program that features short, cohort-based residencies,  the Wesley Hybrid MDiv Experience will enable students to complete a 4 year Master of Divinity degree via eight total hybrid intensive weeks on campus (2 weeks per year, one per semester) alongside online courses taken throughout the academic year (one class each fall and spring term, as well as online J-term and summer courses). The Hybrid MDiv Experience will be offered alongside Wesley's signature residential MDiv pathway, which engages on-campus and regionally based students in community-based learning, worship, and ministry.
 "For decades, students have come to Wesley in Washington for the unique experience of our diverse community and context in the nation's capital. Now, we're excited to also extend that experience of Wesley's community and context to students who need to remain in their home contexts, wherever that may be," says Wesley President David McAllister-Wilson. "Through the  Wesley Hybrid MDiv Experience, we will engage new student cohorts in our rich spiritual learning community while responding to the current and emerging needs of our society, church and world."
 "Through classes, worship, community, and context, Wesley degree programs engage and transform the whole person," says WTS double graduate The Rev. Dr. Beth Ludlum, VP of Strategic Initiatives at Wesley. "The Wesley Hybrid MDiv Experience will continue that multi-faceted formation, providing immersive seminary experiences where students come to campus for week-long intensives that foster community, tend to spiritual formation, and stimulate intellectual growth through a planned set of courses. Those in-person community building experiences will connect and serve the students well as they integrate learning, ministry, and life together."
 "We want students to have a formative experience that encourages building relationships with faculty and peers and feeling renewed spiritually, during their on-campus intensive weeks," said Ludlum.
 As part of the innovative process, Wesley piloted the Hybrid MDiv Experience during the 2021-22 academic year and has integrated feedback from students and faculty in the pathway's design.
 The new Wesley hybrid MDiv Experience has proven popular with students. "I chose the hybrid course option because it conveniently suited my evolving, personal circumstances and experienced outstanding learning engagement through the combined modality of online and in-person instruction, " said pilot hybrid study student The Rev. Gordon Pleasents. "This combined learning option allowed time to encounter, absorb, and reflect on the received meaning and values inherent in the quality pedagogy."
 "I enjoyed affirming relationships with the well-credentialed faculty  and met some enormously compassionate, creative, and talented students who share a similar spiritual adventure as myself. All in all, I feel this hybrid learning option is a most legitimate means of Christian ministry preparation."   
Interwoven into the two intensive weeks of coursework will be daily chapel and other community building opportunities, making full use of the seminary's unique placement in the heart of the Nation's Capital. Sharing experiences such as visiting places related to coursework – the Capitol, the National Cathedral or the Smithsonian National Museum of African American History & Culture  - or fun activities only possible in DC – such as viewing  the national monuments illuminated at night – will form memories and connections that support the educational experience and build Beloved Community.
Applications are now being accepted for both the Wesley Hybrid MDiv Experience, with classes beginning in Fall 2022, and our hallmark residential MDiv degree program. For more information, please go to https://www.wesleyseminary.edu/mdiv/  and click on the Q & A section for specific answers to your questions or contact our Admissions Team.
###