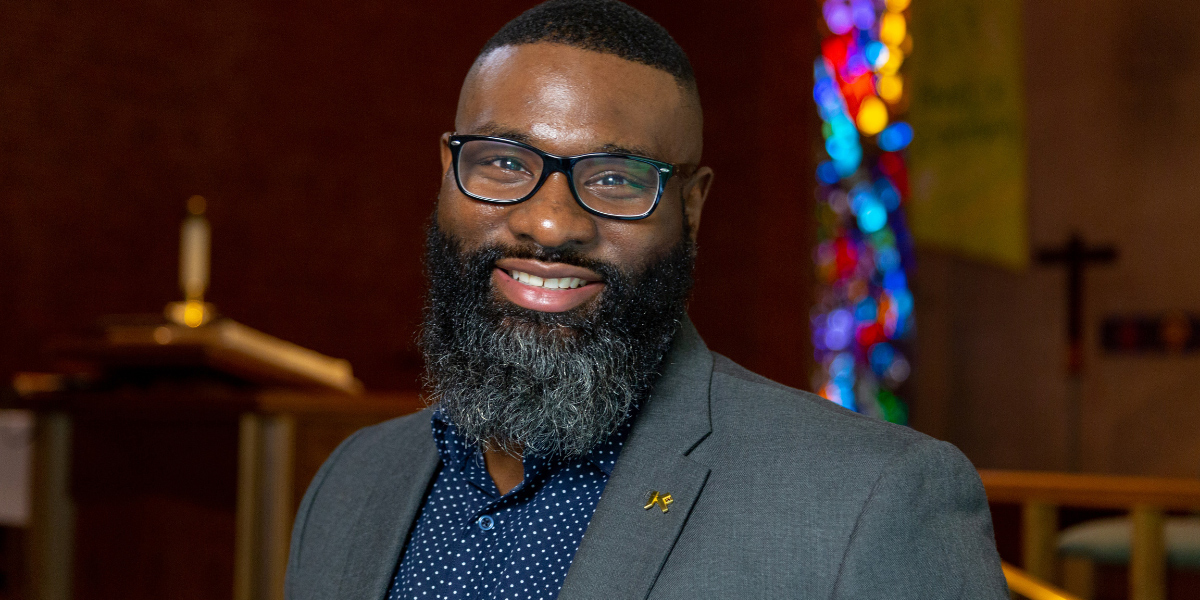 Wesley Visiting Professor Receives Prestigious Post - Doctoral Fellowship to Study African American Religion and Public Issues
Dr. Michael R. Fisher, Jr., Wesley Theological Seminary's Visiting Assistant Professor of Religion & Society, has been selected as one of two Post-Doctoral Research Fellows in African-American Religion and Culture at the Center for the Study of African American Religious Life (CSAAR) at the Smithsonian National Museum of African American History and Culture. He will be engaged with this prestigious research opportunity while working with Wesley's Community Engagement Institute (CEI) and its Community Engagement Fellows over the 2019-2020 academic year.
The one-year research post-doctoral fellowship will enable Dr. Fisher plans to use the time for projects for the CSAAR as well as his own research. "One of the things that CSAAR is interested in is looking at the complex history of African American religion in the Americas and how those religious experiences have been able to speak to and engage in the debate around public issues like racial justice and religion in public life," he said. 
"My colleague and I will be working as a team to dive into that complex history and tease out some of the highlights that African American religion has contributed to the world, particularly in the American context."
This project will be in partnership with the Howard University School of Divinity and under the mentorship of Dr. Brad Braxton, current Director of CSAAR.  "I'm really excited to be working with this team of scholars to really dive deeply into what is one of my own areas of interest, which is African American religion," said Fisher.
The fellowship research will underpin a new book in development by Dr. Fisher. "In the spring, part of my time will be engaged in working on my first book project, tentatively titled Urban Exiles: Economic Development and Black Displacement in U.S. Cities," he said.  "I will be looking at redevelopment in poor black areas under the doctrine of 'Creative Destruction', first identified by Joseph Schumpeter, an economic theory that talks about the evolutionary character of capitalism.  This doctrine, when applied to areas such urban redevelopment, can have a particular impact, particularly when applied to real estate redevelopment, often means destroying the old to bring about the new," he said.
When asked whether this would also be called gentrification, Dr. Fisher explains: "'gentrification' is a rosier way of saying displacement.  Cities across the United States are targeting neighborhoods with high poverty to redevelop them into mixed income neighborhoods.  Developers paint a very rosy picture of what communities can look like after redevelopment.  The problem is that poor people who were dislocated don't actually get to return to the communities once they're redeveloped," he said. 
 "Poor black communities are frequently the victims of the destructive part of Creative Destruction and rarely get to participate in the creative parts of redevelopment," a theme that will be explored in his upcoming book.
When asked about the role of the Black church in mitigating this situation, Dr. Fisher explains, "There are churches who are heavily into urban issues such as Covenant Baptist United Church of Christ in southeast DC.  They have long been involved in advocacy and activism to help propel forward a religious, moral vision forward of a DC that is equitable for all, particularly the disadvantaged."
One of the ways that this work can help communities work toward fair and equitable society is by decoding the language of urban renewal.  Dr. Fisher shares that "the challenges of engaging in redevelopment is really kind of decoding the language. Terms like 'revitalization' and 'urban renewal' - these are terms that on their surface sound positive in nature, but we need to go below the surface to see what's really going on."
For Dr. Fisher, this and other examples show that "regarding urban development, there are many people in religious communities that already have some sort of engagement, that have a solid knowledge base.  For someone who interested in the role that religion can play in these type of initiatives, it's about seeing how religion can fill the gap," he said.
 "One of the things that I'm constantly trying to search for in my work is how to build bridges with specialists and non-specialists on these issues that affect everyone. When we're talking about redevelopment in urban space, it impacts all of us, so I'm really trying to highlight the nature of our interconnectedness.  We all need to be engaged, in one way or another, in this issue, particularly as religionists and in realizing the moral worth of every human being."
How can this research be best utilized in day to day advocacy work? "I do think that there's a need to figure out ways of making sure that this information is accessible so that people can get involved in building those important bridges and creating robust partnerships," he notes.
When asked about the role that CEI plays in his work, Dr. Fisher shared: "I'm really excited about working with Dr. Lorena Parrish and the Community Engagement Fellows.  The fact that there is an urban ministry concentration is one of the things that really excites me about the upcoming year.
In CEI and its Community Engagement Fellows' program, you have people who are interested in these types of issues. Wesley's CEI is a wonderful incubator and interlocutor to bounce these ideas off," he said. 
"If you talk to Dr. Parrish you see that she's very passionate about the 'on the ground' issues that concern people who live in urban spaces.  So, the Community Engagement Institute and some of the faculty members who are already engaged and interested in this area will provide a wonderful environment to be able to think through these ideas in the coming months."
Learn more about Wesley's Community Engagement Institute and its Community Engagement Fellows here.