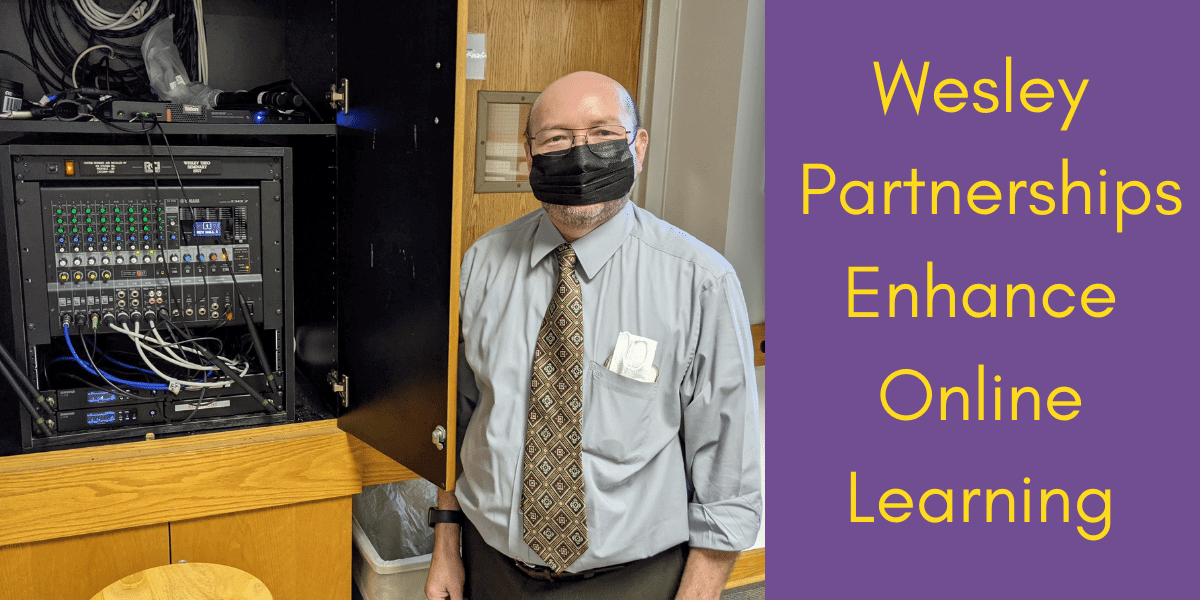 Wesley Educational Technology Support Specialist Nehemias Molina shows off new sound equipment in KG-01 which will allow for clear, rich audio in the classroom and via streaming. Photo by Matt Lyons.

While Wesley's physical campus in Washington, D.C.  opened on August 16 for the first time since its pandemic-mandated closure on March 16, 2020, Wesley's virtual campus continues to be strengthened and updated with new technology. This ensures that Wesley's long-standing commitment to distance learning will provide students with the best possible online learning experience. It all is made possible by partnerships across the seminary and beyond, committed to each playing a role to make it happen.
Just five days after the pandemic closure, Wesley's faculty moved quickly to adapt their classes and move the whole Spring term curriculum online.  Faculty had been training in the use of online teaching tools for several years, not knowing they were preparing for this.  Since then, Wesley has been operating as a fully online seminary to ensure the safety of students, faculty and staff.
As students move into their first full week of the Fall semester, attending both on-campus and hybrid classes - which offer limited in-person class time with most coursework completed online - many students are continuing to take online classes. To enhance their online online experience, tech upgrades to key classrooms have been made possible. Oxnam Memorial Chapel, central to worship and learning at Wesley, is also preparing to live-stream chapel services and other programs in that space. 
Special thanks to a generous donation from Floris United Methodist Church in Herndon, Virginia, as well as technical assistance from their accomplished Worship team, for making these classroom upgrades possible.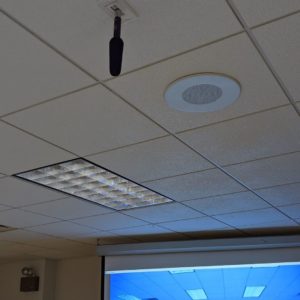 With the upgrades, Wesley not only supports the safety and continuity of learning for online students but ensures students will continue to experience Wesley community as they study. The new technology will empower students to Zoom into classes and be part of the live experience, to ask questions directly to the professor, or comment on fellow students' observations.
Photos: (right) New multidirectional microphones installed in the ceiling of KG-01 will allow streaming viewers to clearly hear student questions and conversations in the classroom. (below)  Nehemiah Molina inspects the new panning camera installed in KG-01. The camera will automatically track and follow professors when they move left and right at the front of the classroom. Photos by Matt Lyons.
Academic Dean Phil Wingeier-Rayo, Ph.D. commented on Wesley's adaptation of classes to meet the needs of students in and beyond the pandemic.  "Wesley is offering a broader array of classroom modalities than ever with approximately two-thirds of our fall courses being online or hybrid."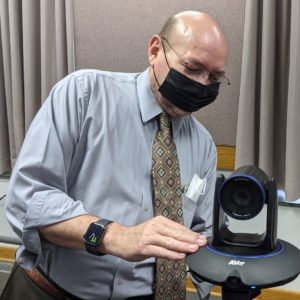 "The pandemic has accelerated lifestyle changes in every aspect of our lives, and theological education is no exception. This new classroom technology allows our faculty to be innovative and reach students who previously would not have been able to study. This technology makes theological education accessible and opens our imagination to the future," said Dr. Wingeier-Rayo.
Associate Dean for Community Life, The Rev. Antoni Sinkfield, Ph.D. adds, "Our goal is to enhance the communal and educational experience of each of our students. With the addition of the significant technological enhancements shared with the seminary by  Floris United Methodist Church, the Community Life Office has found a major partner and co-laborer, who joins our efforts in Community Life by empowering Wesley theologians to have real-time access to their courses that would have normally been greatly hampered or prevented by the persistent presence of the Coronavirus pandemic," said Dr. Sinkfield.
"Furthermore, this technology affords Wesley to be forward-thinking and on the cutting edge of what theological education could possibly look like in the future--even beyond the pandemic! This is, indeed, a blessing to the Wesley Theological Seminary community!"
Curious about seminary life? Interested in trying an online class at Wesley? Find out more about our upcoming Spring Term classes and J-Term - shorter, intense courses offered in January 2022 - at https://www.wesleyseminary.edu/admissions/try-a-class-2/