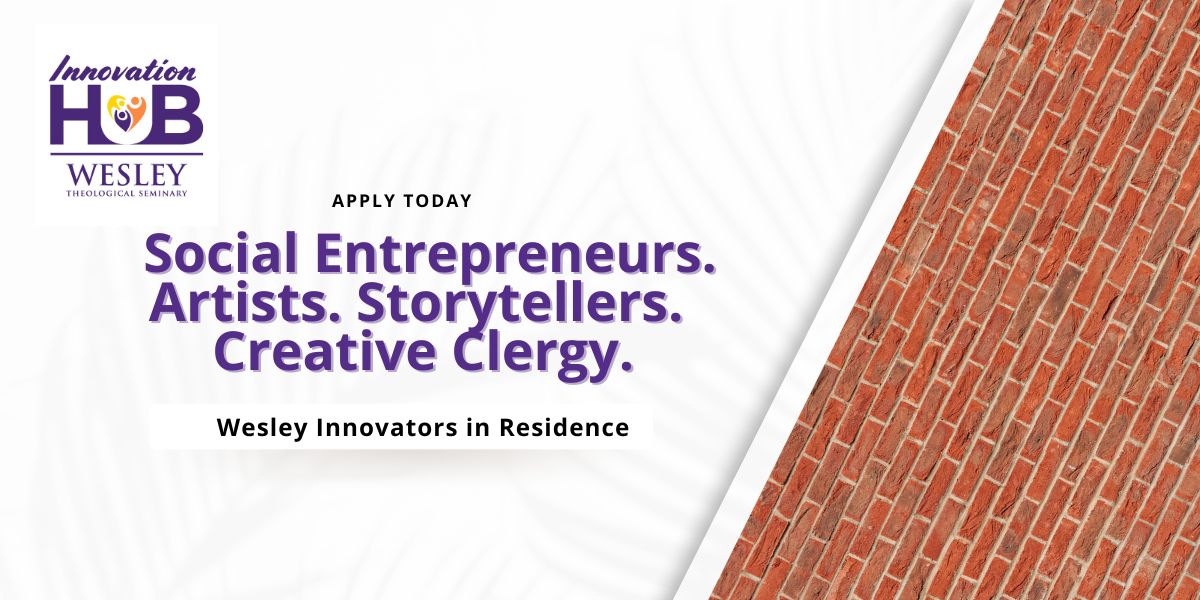 The Wesley Innovator-in-Residence program is a teaching and learning experience for ministry innovators interested in sharing their creative spark with seminarians and church leaders. Innovators will help shape Wesley's developing space for holy imagination, The Wesley Innovation Hub, where persons of faith can learn, research, and lead new ways of connecting young adults with the whole church. 
$2,000 honorarium: to be used as the Innovator sees fit (e.g., transport, supplies, meals, etc.)
Lab space: The Wesley (Ministry) Design Lab (physical and online) will be open for anyone to use.  We encourage Innovators-in-Residence to set up shop in the space so our community can see creative practice at work.
Housing: One-bedroom apartment on campus; parking space and Wi-Fi included (or a $2000 travel/housing stipend).
Learning: Ability to audit up to 2 classes at Wesley, with instructor's permission.
Publicity: Publicity in Wesley's social media, website, and media releases; public promotion of workshops/training; and active role in the virtual Wesley Design Lab.
Library: Study space and borrowing privileges at Wesley's library.
Application deadline: May15, 2022.
The Wesley (Virtual) Innovation Hub:
The project is being funded through the Lilly Endowment's Young Adult Initiative, which aims to help congregations develop and strengthen ministries that build relationships with young adults, nurture their religious lives and foster their engagement with religious communities.
Our vision is to bring together ministry innovators, young adults, and church leaders to expand the definition of ministry and Christian practice so that we might connect more deeply with God and each other. 
The Hub is home to young adult Ministry Innovators interested in learning, leading, researching, and creating space for intergenerational collaboration. 
Workshops: Each Innovator will offer 2 workshops, trainings, or panels for Wesley students and/or the broader community during residence.
Create:  Develop at least one video, blog, or podcast for the virtual Design Lab.
Presence: Be present on campus at least twice during the semester (including either October 7-8, 2022 or November 11-12, 2022), to meet with Ministry Innovation fellows and to be a guest lecturer in Innovative Ministry by Design, a fall Masters level course. 
We want to hear from you! email us or scroll down to apply: 
Ready to be a Wesley Innovator- in- Residence?
Answer three questions and upload your profile, resume, or CV here: