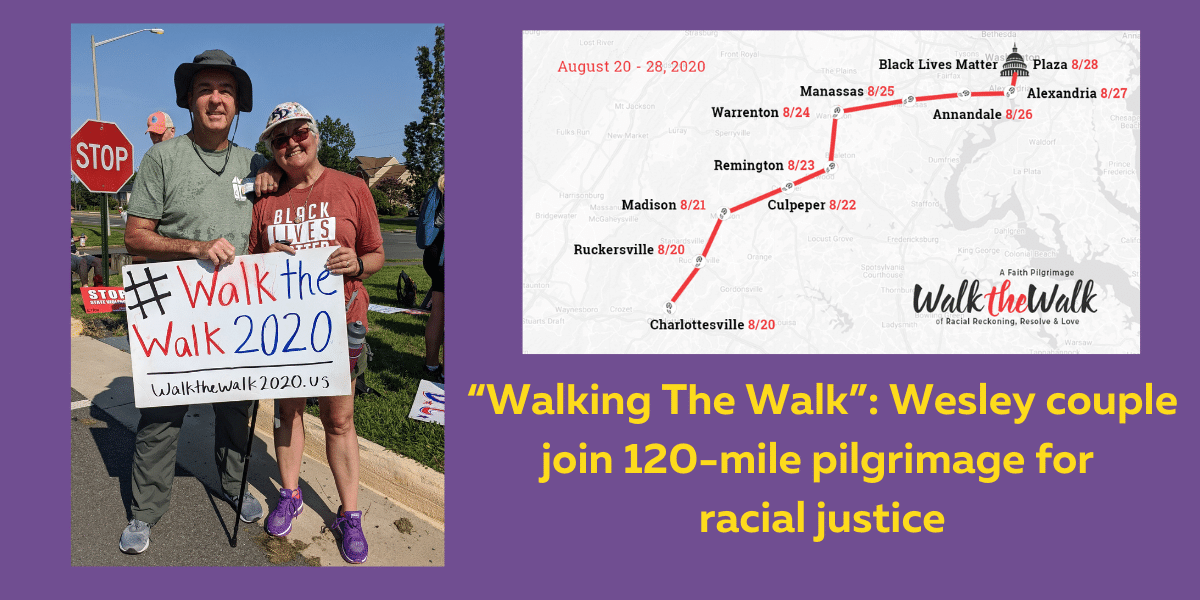 A Wesley couple recently decided to "walk the walk" and not just "talk the talk" on racial justice - literally.  
Current Wesley MA student Jacki Stranathan and her husband The Rev. Dr. Malcolm Stranathan (D.Min. Class of 2019)  were participants in the "Walk the Walk 2020: A Faith Pilgrimage of Racial Reckoning, Resolve & Love," a 120-plus mile pilgrimage over nine days last August. The group walked from Charlottesville, VA to Washington, DC, ending their pilgrimage at the Lincoln Memorial to participate in the "Commitment March: Get Your Knee Off Our Necks" protest against racism and police brutality, on August 28, 2020. The August march marked the 57th anniversary the 1963 March on Washington and civil rights leader Martin Luther King's historic "I Have a Dream" speech delivered at the Lincoln Memorial.
Jacki Stranathan follows Shane Claiborne and the Red Letter Christians on Facebook, she said. It was there that she first learned about the pilgrimage.
"He put out this 'Walk the Walk 2020' and I started investigating it," said Jackie. "Three different organizations … came together in June and really thought about how faith leaders have not 'been a headlight' in any kind of action but have been more like 'a taillight.'"
Jacki encouraged her husband to go on the walk. The Rev. Dr. Malcolm Stranathan serves as lead pastor at Westminster UMC in Westminster.
"It sounded good to me and I thought, 'well, I go on little walks and go around the neighborhood, but I've never done something this big," said Jacki. "I talked to the main organizer and said, 'I'm going to do it!' I kept talking to Malcolm and saying 'you ought to come; it's for faith leaders. Malcolm said, 'Let's do this!'"
Their early experiences convicted the couple to take a stand against the systemic racism and injustice experienced by African Americans. "Jacki and I grew up in Columbia, Maryland, and the high school we went to … in the late 70's was a fully integrated school in that it was 50% persons of color and 50% white. At that time, those types of percentages were unheard of. So, we've always been a part of a more multi-racial experience, pretty much until we got into church work," said Malcolm.
The core group of approximately 25 walkers started in Charlottesville, Virginia, and made several stops there on the first day, including the place where the Unite the Right Rally (August 2017) took place.
One of the stories the Stranathans heard in Charlottesville was of a woman who had to take sanctuary in a United Methodist church.
"She wants to remain in this country, has been productive in this country, paid taxes in this country and then was being deported by ICE," said Jacki. "So, she took sanctuary and has been living in this church and the quote we heard was 'it's a shame that she has to be in a prison to be free' and the church is her prison."
As they continued along their route, they were encouraged to learn as much as possible about the many aspects of oppression. One book they were encouraged to read was "White Too Long: The Legacy of White Supremacy in American Christianity," by Robert Jones. In fact, it was read aloud to the group during their pilgrimage.
"That was an eye-opening experience in and of itself," Jacki said. "You're walking along, hearing these stories about the complicity of the American church in white supremacist viewpoints and actually advocating for it in some cases, both in North and South churches."
Jacki said the event was very well organized, including support vans, which were important.
"I was able to walk about 88 of the miles but, when you got too tired, you could just hop in the van and could rest for a while, especially since it was so hot," she said.
While there was a lot of support during the walk, with people honking and waving as they passed by, there was some resistance and people shouting, "get a job and other less kind things," Jacki said.
These reactions extended to their daily lunch stops. The group would stop at various abandoned strip malls or other parking lots along the way, but one day, they were supposed to stop at a particular church, Jacki said. However, when they found out what the walk was supporting, the church disinvited the group.
"We had to set up at a highway rest stop," Jacki said. "Luckily, a Methodist church did redeem the situation because they offered their property to us at a later date."
The Stranathans said that they made friends from around the country on the walk. They also complimented the work done by the state police escort who were "very polite and professional and really worked to keep us safe."
In addition to the core group of pilgrims who completed the 120 mile walk, there were also "day pilgrims" – individuals and groups who joined in for a portion of the walk. A story from one of the day pilgrims made a lasting impression on Jacki.
"Later in the walk, one of the councilmen from the Manassas area walked with us and, at the end of the day, he explained that the shopping center, where we had lunch that day, had two cemeteries adjacent to each other," Jacki said. "One of them was a white cemetery and the other was a slave cemetery, related to the plantation that existed in that area. When it came time to build the parking lot, they disinterred all the white folks and reinterred them at the local church BUT, they just paved over the slave cemetery."
That was in the early 60's, Jacki said.
"We realized that this act was a covering over of history, which is a lot of what we were dealing with. As well, we're listening and reading books along the way, and you're starting to discover a side of our history that most of us would rather not focus on."
Jacki said that the experience of the pilgrimage will affect her work at Wesley. "This has been a life-changing experience," she said. "I will use the walk in my MA project."
When she graduates, anticipated May 2021, she hopes to work in the area of criminal justice and reconciliation. That focus came about, she said, because of "who I am and because I went on a pilgrimage with Dr. Hunt (Wesley adjunct faculty The Rev. C. Anthony Hunt, PhD) to Alabama – about the Civil Rights Movement and that kind of kicked it off. I also hope to do something with the Juvenile Justice Services in D.C.," she said.
Jacki and Malcolm are part of a worldwide Wesley Community of students and graduates working for social justice. Come to Wesley if you seek a community and theological formation that will prepare you for effective ministry that seeks justice for those marginalized by society.