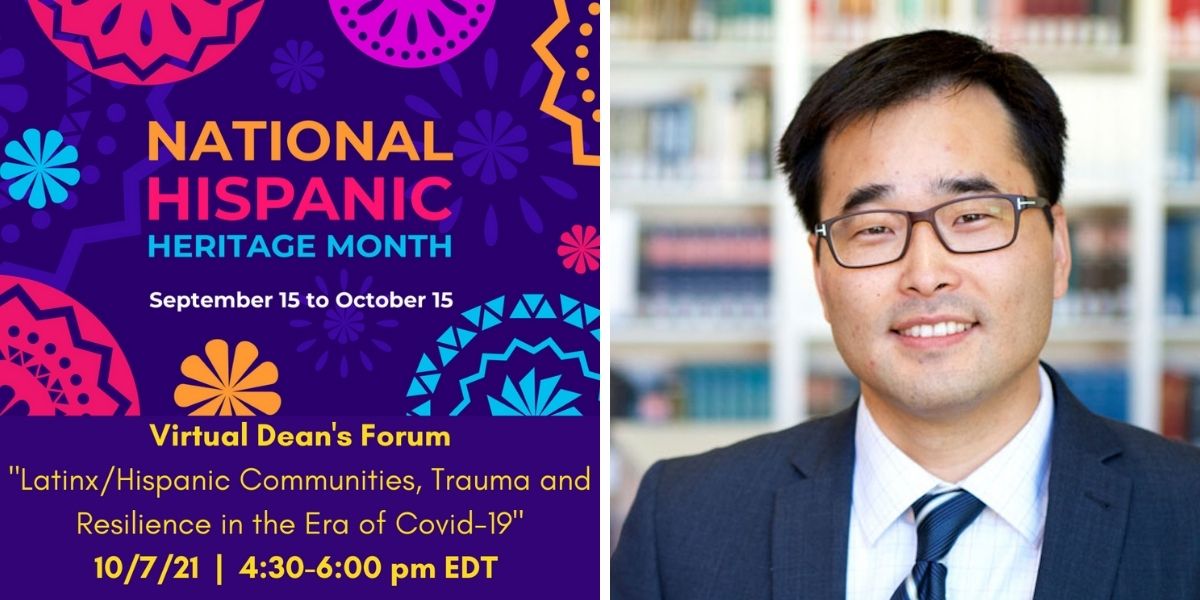 Wesley Theological Seminary faculty members Denise Dombkowski Hopkins, Ph.D., Michael Koppel, Ph.D. and Paul K.-K.Cho, Ph.D., are advancing theological scholarship in the area of trauma studies. They are recipients of the American Academy for the Advancement of Science Grant to conduct research and teaching in trauma studies.
In coordination with Academic Dean Phil Wingeier-Rayo,Ph.D., these professors are planning a total of three free virtual webinars on trauma in the coming months. 
The next free webinar will take place Friday, October 29, 2021, 9:00 a.m. - 4:00 p.m. Eastern. To register for Zoom access, please go to https://www.toward-wholeness.com.
 In this second part of an  interview with Dr. Paul K.-K. Cho, we will learn more regarding the focus of the October 29th webinar. 
WTS: We have you, Dr. Koppel  and Dr. Dombkowski Hopkins to thank for three upcoming virtual webinars dealing with the issue of trauma in different contexts. What is your definition of "trauma" for this discussion? Does context impact that definition?
Dr. Cho: The concept of trauma resonates at multiple levels, and I want to honor all those resonances. At the same time, I do want to provide more technical definitions of trauma for specific discussions. For example, trauma when we are talking about post-traumatic stress disorder (PTSD) might highlight certain psychological symptoms, such as hyperarousal or constriction. Or trauma for a sociologist may refer to the constructed narrative about a group trauma.
At the same time, we may casually describe an event as traumatic when it might be more appropriate to call it a potentially traumatizing event (PTE), since trauma, strictly speaking, is not an event but refers to the wound the experience of such an event may inflict. So, yes, context matters. And it will be important to provide working definitions of trauma, especially in public discussions like the ones Wesley will be hosting in the coming months.
WTS: You have been conducting research in this area over the past several years? What surprising insights have you learned in your research? What do you hope to accomplish with your trauma studies?
Dr. Cho: I am fascinated by the connections among trauma, the body, and language. The relationship between trauma and language—specifically language as that human faculty that facilitates the construction of meaning-making systems—has been a point of interest for nearly two decades and continues to fascinate me. More recently, I have come to appreciate the profound connection between trauma and the body.
Paying attention to the body, among other things, helps us recognize the different bodies that experience trauma, whether we are talking about gendered bodies or racialized bodies. (I say gendered and racialized in recognition that these are in whole or in part socially constructed identities.) And paying attention to language, again among other things, helps us recognize the cultural embeddedness of trauma. Yes, trauma afflicts all human beings, has since time immemorial; but those who are afflicted are particular bodies who live and have their being in particular cultural contexts. The framework defined by the three terms (trauma, body, and language) has guided the programming for our grant from AAAS: "Moving Toward Wholeness: Traumatized Texts and Bodies" and is the reason that we have engaged in bringing attention to the textual as well as the embodied realities of trauma.
WTS: What has your research shown that enables individuals and communities to find healing and resilience? What should we know to make ourselves more "trauma resistant" or, if not possible, more able to recover from trauma? And how can we help those we care about, our community, our society?
Dr. Cho: Judith Herman identifies three steps in the road toward recovery from trauma: establishing safety for the victim, reconstructing and lamenting the trauma story, and reconnecting with supportive friends and family.
I would like to underline that churches and other religious congregations can participate in establishing a safe and supportive environment in which a trauma victim can be and reconnect with persons and groups.
I would also encourage anyone, or any congregation interested in working in this area, to seek professional guidance to better understand what safety might mean for trauma victims and for the congregation, especially for those who are most vulnerable among us, such as children. It has also been shown that being a part of a supportive and connected group builds resilience.
WTS: The second webinar is  "Moving Toward Wholeness: Traumatized Texts and Bodies," to be held October 29, 2021. What particular insights are the four academics involved in this webinar bringing to the table? 
Dr. Cho: We have an exciting panel of speakers for the all-day conference. The speakers are leading academics and practitioners, and they will touch on various types of trauma and offer diverse insights about how we might move toward wholeness. I encourage all who are interested to check out the website (www.toward-wholeness.com) and to register for the event. It will be a day of deep learning and inspiration.
Join us for the free virtual conference, "Moving Toward Wholeness: Traumatized Texts and Bodies," on Friday, Oct. 29, 2021, 9 a.m.– 4 p.m. Eastern. To facilitate recovery and resilience, the conference will explore the intersections among trauma studies in psychiatry and psychology; ancient experiences of trauma in the Bible; and vicarious, minority, and gender trauma today.
 Learn more now and register at toward-wholeness.com. (https://www.toward-wholeness.com )