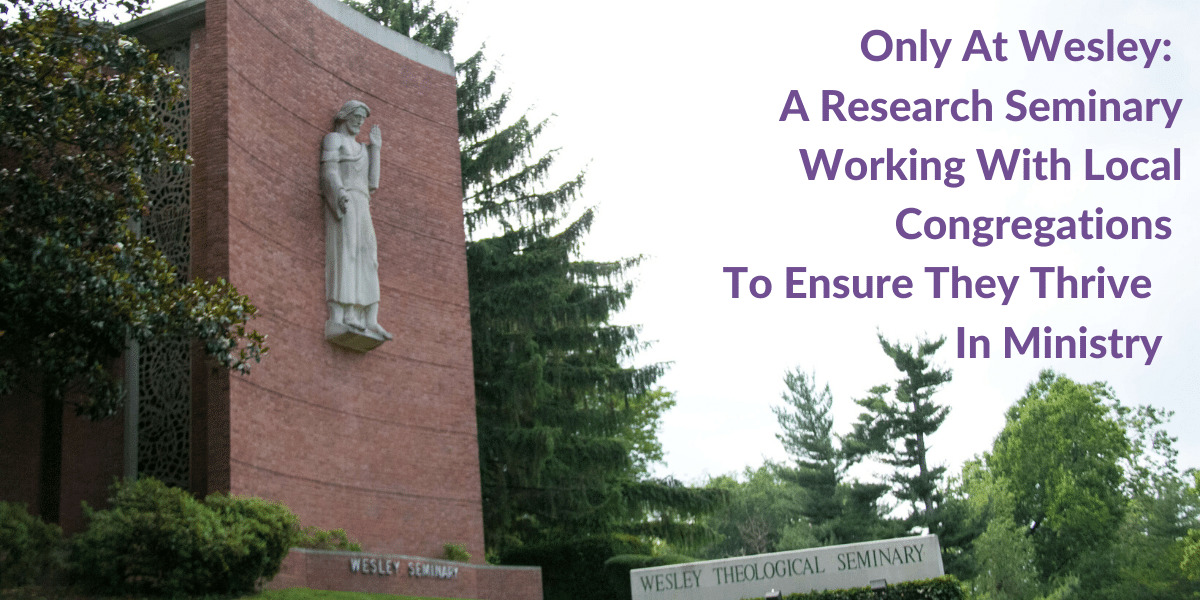 1 MILLION DOLLAR LILLY ENDOWMENT INC. GRANT ADVANCES WESLEY THEOLOGICAL SEMINARY'S RESEARCH SEMINARY ROLE IN STRENGHTING LOCAL CHURCHES
Wesley Theological Seminary in Washington, D.C. has received $1 million from Lilly Endowment Inc. for its Thriving Congregations Initiative, which Wesley will employ to empower United Methodist congregations who are "ready and eager to take the next faithful step towards vitality," said project leader and spokesperson, the Rev. Dr. Beth Ludlum.
This is part of Wesley's strategic efforts to ensure that local congregations thrive in ministry, even as it partners with UMC leaders considering the denomination's future at the May 2020 General Conference.
"During this time of uncertainty in the UMC, we are excited to work with congregations as they clarify and pursue what it means to thrive. While we are engaged with clergy and lay leaders in the denomination's future, we especially seek to follow Jesus in the 'ground game:' focusing on local churches faithfully transforming lives in their local communities," said Ludlum.
This grant supports Wesley's role as a leading research and development seminary for the whole church. Building upon historic work through the Lewis Center for Church Leadership and the Heal the Sick community health ministry program, the Thriving Congregations work will complement other Lilly Endowment-funded projects that are focused on congregational vitality.
The Religious Workforce Project is an expansive study of the current and future nature of religious work, particularly in local congregations, so as to understand what opportunities and constraints may exist in the future and to adapt resources and training accordingly. Through the Young Adult Initiative, Wesley has worked with 18 congregations in the greater Washington area to understand young adults outside their churches and implement a process of experimentation and learning to develop ministries with those young adults. Now the Thriving Congregations project will help Wesley use its best resources in community asset mapping, congregational visioning, and change processes to impact more local congregations. Together, these projects forge insight into future ministry and local church development, influencing the way students are trained in master, doctoral, and course of study education, but also informing workshops, podcasts, articles, and training for church leaders across the country.
These projects and the resulting resources fuel what Wesley President David McAllister-Wilson describes as Wesley's ever-growing service to the church.
"We are honored and excited about this new program to help congregations learn to thrive, not merely survive, in their time and place," McAllister-Wilson said. "As one of the few institutions that can be called a 'research seminary' analogous to a 'research university,' Wesley is poised to bring the notable research of our faculty to serve all aspects of church life – including leadership and innovation within congregations." 
Dr. Ludlum, Wesley Vice-President for Strategic Initiatives, and the Rev. Dr. Doug Powe, Director of the Lewis Center for Church Leadership, spearheaded the project design team, which also included Wesley faculty and staff as well as UMC pastors and annual conference leaders. The proposal was supported by episcopal leaders of the surrounding annual conferences.
"Wesley Theological Seminary is uniquely poised for this work," said Bishop LaTrelle Easterling of the Baltimore-Washington Conference of The United Methodist Church. "In this time of ecclesial and social division, Wesley has a proven track record of implementing ground-breaking initiatives that truly impact the local church and their surrounding communities."
For 138 years, Wesley Theological Seminary has been a Methodist-affiliated seminary committed to serving leaders from all Christian denominations for the future of God's church. In light of new proposals for The United Methodist Church's future, the seminary remains firm in that commitment.
"We are committed to forming leaders for the United Methodist Church and for new forms of Methodism that may arise, working with students, faculty, and supporters across the Wesleyan and Christian spectrum as we pursue our mission: to equip persons for Christian ministry and leadership in the church and the world, to advance theological scholarship, and to model a prophetic voice in the public square," said McAllister-Wilson.
For more information on the project,  please contact Dr. Beth Ludlum at
innovation@wesleyseminary.edu
***
Lilly Endowment Inc. is an Indianapolis-based private philanthropic foundation created in 1937 by three members of the Lilly family - J.K. Lilly Sr., and his sons Eli and J.K. Jr. -  through gifts of stock in their pharmaceutical business, Eli Lilly and Company. While those gifts remain the financial bedrock of the Endowment, the Endowment is a separate entity from the company, with a distinct governing board, staff and location. In keeping with the founders' wishes, the Endowment supports the causes of community development, education and religion and maintains a special commitment to its hometown, Indianapolis, and home state, Indiana. The principal aim of the Endowment's grantmaking in religion is to deepen and enrich the lives of American Christians, primarily by seeking out and supporting efforts that enhance the vitality of congregations and strengthen the pastoral and lay leadership of Christian communities.
Seated in the nation's capital and centered in the Christian tradition, Wesley Theological Seminary and its centers of excellence – The Lewis Center for Church Leadership, The Henry Luce III Center for Religion and the Arts, the Community Engagement Institute and the Center for Public Theology - equip exemplary teachers, preachers and leaders to be prophetic voices in the church and the world.