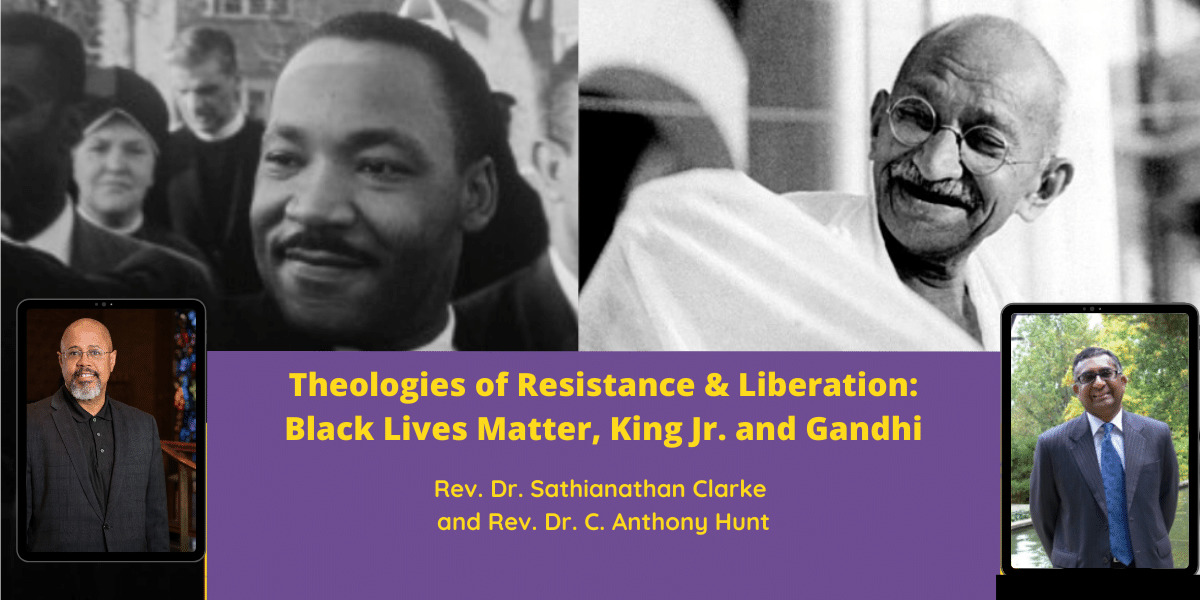 "Theologies of Resistance and Liberation: Black Lives Matter, King Jr. and Gandhi:" online course this Fall at Wesley
T

his new and timely course offered online this Fall at Wesley will be taught by the Rev. Sathianathan "Sathi" Clarke, ThD, and the Rev. C. Anthony Hunt, PhD. 

Dr. Clarke serves as Wesley's Bishop Sundo Kim Chair in World Christianity and Professor of Theology, Culture and Mission.
Dr. Hunt is a member of Wesley's Adjunct Faculty. He serves as Senior Pastor of Epworth Chapel UMC in Baltimore, MD and is Professor of Systematic, Moral and Practical Theology, and Dunning Permanent Distinguished Lecturer at St. Mary's Seminary and University, Baltimore.
"

Course participants will learn how the principled approaches to nonviolent resistance worked for Gandhi and King, and will see how Black Lives Matter is being similarly and divergently shaped as a resistance and liberation movement, said Dr. Hunt in his 

explanation of the course.
Wesley interviewed the professors on questions regarding Gandhi and King, Jr.  and the upcoming course.
WTS: If Gandhi was alive today, what would his reaction be to this current moment in the US, and the broad-based calls for recognizing #blacklivesmatter by ending brutal policing, systemic racism and injustice?
Dr. Clarke: Gandhi would be both delighted and troubled by #BLM.  He would be delighted by the mobilization of communities of the oppressed demanding justice, dignity, and freedom in a world of hatred, injustice, and inequality. He was always trying to get people together to collectively resist unjust laws that devalued the dignity of human beings. He built a movement of subjugated peoples across all of India to resist British colonialism and attain freedom.  
Gandhi, however, would be troubled by #BLM's indifference to the necessity of embracing the "unchangeable creed" of and "ever wakeful" training in nonviolence. Gandhi said, "Non-violence is not a garment to be put on and off at will. Its seat is in the heart, and it must be an inseparable part of our being." 
Dr. Hunt: I believe both King and Gandhi's reactions would be at least three-fold.  First, they would be alarmed by the widespread nature of racism, xenophobia, economic inequality, nationalistic tendencies, and political discord found in so many parts of the  world today. 
I believe they would also want to leverage their own agency to effect outcomes with the current global health pandemic to save as many lives as possible.  Finally, it's my sense that both would affirm the demands being made by the Black Lives Matter movement, and they would encourage peaceful protest as a form of resistance and means of effecting systemic change in areas like police reform, economic equality, and access to affordable and accessible healthcare.
WTS: What can we learn from Gandhi and King  Jr. as a promoter of non-violent resistance to inform lasting systemic change in America?
Dr. Hunt: We can learn from Gandhi and King that nonviolent direct action is a valid and powerful form of resistance, and based on how it has worked in cases like India's fight against British colonialism, the American Civil Rights movement, and the anti-Apartheid movement in South Africa, many of the principles that underlie it could be deployed in emerging movements today.
Dr. Clarke: We can learn three important lessons from Gandhi to guide our movement for systemic change in the United States:
First, one should be prepared to die for the cause for which you are fighting. This is because resistance was rooted in truth. Satyagraha (sat=Truth + graha =force) was a method of non-violent resistance rooted in truth and one must be ready to lay down one's life for Truth.
Second, one must be willing to suffer the consequences of "non-cooperation" with the benefits of belonging to the existing system. This is not easy for us who live in the wealthiest country in the world!
Third, non-violence as a strategy for resistance must be built into the person, the community, the nation state, and the world order. If not the leaders of the new order will not know how to lead without the logic of violence. 
 WTS: The course title speaks of "theologies of liberation and resistance." What was "liberation" for Gandhi?  
Dr. Clarke: Gandhi's notion of swaraj is an equivalent to "freedom" or "liberation".  It functions on all levels from individual freedom to community swaraj to national swaraj and even to international or global swaraj. And these different levels of swaraj interact and are interconnected.
Freedom starts with the individual in relation to oneself, one's family, and intimate community: "Real swarajya consists in restraint. He alone is capable of this who leads a moral life, does not cheat anyone, does not forsake truth and does his duty to his parents, his wife, his children, his servants, his neighbor." (1908)
Freedom also involves the nation (especially the por and oppressed) and the "world family" (MLK Jr): "It may be that all of us do not mean the same thing by swaraj. To me it has but one meaning; the eradication of the poverty in India and the freedom for every man and woman. Ask the starving men and women of India. They say that their swaraj is their bread." (1924)
WTS: What was "liberation" for the Rev. Dr. Martin Luther King, Jr.?
Dr. Hunt: Both were similar, in that King borrowed much of his approach to resistance and advocacy from Gandhi.  King spoke of this early in his ministry at Dexter Avenue Baptist Church, as he led the Montgomery Bus Boycott. 
Both men saw nonviolence as the most effective means of resistance and the best way to bring about liberation.
WTS: For those who take the course, what new aspects of King Jr. and Gandhi will we learn about?
Dr. Hunt: Course participants will learn how the principled approaches to nonviolent resistance worked for Gandhi and King.  We will also see how Black Lives Matter is being similarly and divergently shaped as a resistance and liberation movement.
Dr. Clarke: We will learn from Gandhi about the relationship between the theology and practice of truth, non-violence, and freedom/liberationWe will learn about effectively mobilizing people from different religious and ideological beliefs to be committed to the common objective of challenging unjust systems to live together in freedom. 
PLEASE NOTE: Due to the COVID-19 crisis and a rise in cases nationally,  this course will now be offered

 online only.  
This course is open to non-degree and degree students. Fall 2020 registration is now open  - learn about our online and hybrid courses and apply by going to https://www.wesleyseminary.edu/admissions/try-a-class-2/ 
Wesley is currently accepting applications for Master of Divinity, Master of Theological Study and Master of Arts programs, as well as our Doctor of Ministry degree programs.
 For more information about any of Wesley's programs, contact Admissions at (202) 885-8659 or admissions@wesleyseminary.edu or chat with our Admissions staff via Chat on the Wesley website homepage, wesleyseminary.edu.