Help Light the Way: The Luminary Scholarship Effort
Heureuse Kaj Ayukwend: Wesley scholarship "makes a difference in my country"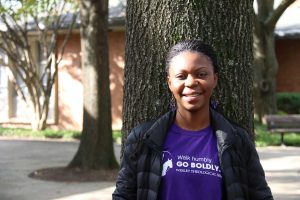 Heureuse Kaj Ayukwend, a first year Master of Divinity international student and Missional Fellow, is from the Democratic Republic of Congo (DRC), a country with a deeply entrenched culture of male dominance and gender discrimination, she said. It is in that culture that Heureuse first felt called to minister to women and girls who have been victims of sex trafficking, domestic abuse, rape and poverty. Her time at Wesley is helping her learn how to confront those issues back in the DRC, or wherever God leads her in the future.
Heureuse served in Japan for a year and a half as a Global Mission Fellow with The United Methodist Church before coming to Wesley. In that role, she worked with women and girls who had been victims of the same issues she saw happening in her country.
"I'm really interested in gender justice in my own country," Heureuse said. "I come from a place that is very male dominated with a lot of injustice happening against women. Many women in my country need someone to listen to their story, offer counseling and help them work through their trauma."
Wesley offers Heureuse a place to study and explore how to improve the lives of women and girls in urban environments like Kinshasa, the capital city of the DRC.
Heureuse came to Wesley for three reasons, she said. She felt called to social justice ministry through the local United Methodist church, wanted a degree that would be accepted in ministry settings worldwide and felt Wesley's geographic location would help her learn how to do ministry in an urban environment.
"I wanted to know how churches in an urban area like Washington, D.C. respond to issues like this," she said. "This helps me learn ways to respond to these kinds of issues in my own area."
Heureuse's dream of working with woman and girls would not be possible if not for a theological education only made possible through her Wesley scholarship. As the first in her family to pursue a master's degree, Heureuse feels grateful for the scholarship that makes her education possible.
"I don't come from a rich family, so there's no way they could help pay for my school, so it is really a great opportunity to have this scholarship," she said. "It doesn't only make a difference in my life because I'm able to reach my goal, but it makes a difference to my family and to my country because wherever I go, this school will make an impact."