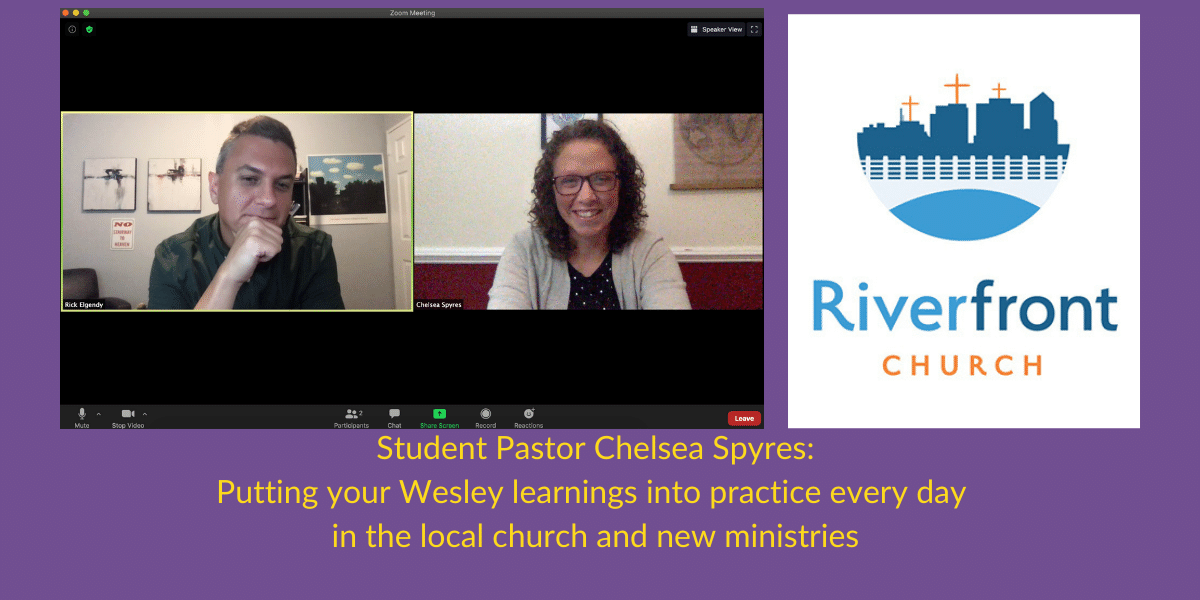 (above: Chelsea Spyers in conversation with Wesley faculty member Dr. Rick Elgendy on the Riverfront Church podcast)
Life is busy for Wesley student pastor Chelsea Spyres.  
Chelsea, who is projected to graduate with her Master of Divinity degree in May of 2021 ,is currently a Co-Convening Pastor at Riverfront Church, a partnership between Grace United Methodist Church of Wilmington, DE, where she is also Pastoral Resident for Community Engagement and the Newcastle Presbytery. Additionally, Spyres hosts a regular podcast for Riverfront that has included among her guests Wesley's  own Dr. Rick Elgendy, Associate Professor of Christian Ethics and Public Theology.
A native of Newark, DE, Spyres is excited to be back on native soil after her time in Washington, DC, particularly in this setting.  
"Riverfront Church is an ecumenical church plant that was begun three and a half years ago", she said. "Riverfront grew out of a vision from Pastor Edwin (Rev. Edwin Estevez – Senior Pastor, Grace United Methodist Church and Co-Convening Pastor at Riverfront Church) and the Newcastle Presbytery and Grace, being connected in the Wilmington area heard about it early on and said 'we support that work, we want to be invested'".
"Up until now, Edwin was solo pastor, leading Riverfront Church and had his work at Grace but, as Riverfront and Grace have continued to grow ,the Riverfront board discerned that we needed somebody else on the team, somebody else putting in some hours from a staff perspective so, last June (2019) Edwin and I sat down for the first time and really started discerning what that position might look like and if it was the right move for me."
Having previously served as a Student Pastor at St. Matthew's UMC in Bowie, MD, she explains "I worked at St. Matthews for a year before I started seminary and, when I began seminary, they expanded my role there. I really loved my time, the community and my work at St. Matthew's but there was this piece of community engagement, of mission and outreach, this piece of the justice work being more intertwined with my ministry than could really happen at St. Matthews."
"As Edwin approached me, he explained , "we are still in the startup phases but here are some of the projects that we are working on, here's some of what's already going on, here's this partnership between a pretty traditional, downtown city church and this new community that it has helped birth."
As the conversations continued, Spyres concluded that "it was really the right time for a move and I wanted to join this team." When asked about how this partnership worked, she said: "It's a little complicated in structure sometimes but it's a lot of fun. Rev. Edwin is Presbyterian but is appointed to Grace UMC."
Spyres, who is a Certified Candidate for Ordained Ministry in the Peninsula-Delaware Conference of the UMC, in addition to her ministry work at Grace and Riverfront, is involved with several projects that include a Kitchen Incubator Program. "Grace has the great benefit of a lot of space with a pretty large kitchen and social hall area and, like a lot of church kitchens, is not licensed for commercial use. Yet, there is a need in the Wilmington community, especially in the neighborhood of West Center City where the church is located, for commercial kitchen space that is affordable," she noted.
In thinking about that, Grace realized that, while their need for the space was limited to church functions such as funerals, fellowship dinners, etc. ,they believed that the space could be used more effectively. 
"Riverfront, in partnership with a non-profit called Wilmington Alliance, began applying for grants and has already received significant grant money to do renovations to that kitchen space, so that low income entrepreneurs, who are currently cooking out of their own kitchens and trying to start up food businesses, could have commercial kitchen space. Rather than doing it on the side and in unofficial capacities, they would have a commercial space," said Spyres.
 "Wilmington Alliance has been working on this Kitchen Incubator for about five and a half years and did feasibility studies and, for a while, were going to build a brand new space but, when Grace and Riverfront became part of the conversation, we discerned that Grace's kitchen would work and that together we could launch this program."
Since officially becoming a member of the Grace/Riverfront Team in January 2020, much of Spyres' time has been dedicated to the Kitchen Incubator Program. "I have become grant writer, the person who meets with mechanical, electrical and plumbing engineers and, while not an expert yet, I'm soon to become an expert at city and state construction permitting. All of which will lead to this kitchen being used close to 24/7."
Turning to the subject of her time at Wesley, Spyres noted "more than anything else, it was the notion that church and ministry is outside the building and is worship but it is also much more than that. I really loved the Public Theology specialization and, while I am not technically in the specialization, I have done most of the requirements."
How has  Wesley been supportive of her? "Wesley really is an intentional community as a whole," she said. "The professors really support you and, if you communicate what's going on in your life,  they're going to work with you in order to make sure that your time at Wesley is successful."
"I also like the solidarity you find in the Student Pastor program where we all realize that it's not just theory that we're learning about but we're actually living it. That's what I was looking for when I was looking at schools and I'm glad that hope has been realized."
Reflecting on those professors who have helped her time at Wesley be successful, Spyres shared "To start with, I was really excited to invite Dr. Elgendy on the podcast! I've just really appreciated his mentoring in my life and the ways that he was an active discernment partner as I was trying to decide whether I was going to move. We've also had a lot of conversations about how the church responds to moments of crisis but also how the church responds in the ordinary, day to day of politics."
"I'll also never read scripture the same way again thanks to Dr. Dombkowski Hopkins! ," said Chelsea."As well, I'm really grateful for Dr. Peck and her expertise around Christian Education and Youth Ministries. She's also one who I really trusted with my discernment in the move. I'm grateful for her truth telling. I'm also grateful for Dr. Sandra Wheeler who, in addition to her teachings in Christian Ethics, was there for me with pastoral care with COVID and the move and also with helping me deal with the death of two people in my extended family with whom I was very close. There's hardly a week that goes by where she doesn't send an email or call to check in."
"I've also been really thankful for Dr. Powe and the Evangelism class. That class was one, in the beginning of the semester I was really unsure about but he was reassuring and really affirmed my writing and my pastoral voice. I could really go on and on about the professors at WTS."
Join Chelsea and others who find in Wesley a seminary that supports students following their passion and unique ways to serve God and others.
The Student Pastor Program may be ideal for you, if you wish to complete your theological training while working in a local church.To learn more about the program, go to https://www.wesleyseminary.edu/practice-in-ministry/student-pastor-program/entering-the-spp/
PLEASE NOTE: Due to the COVID-19 crisis, Wesley Theological Seminary is currently offering online courses and limited hybrid courses (where applicable) until further notice. Please check back at this website for further information on class status.
We are currently accepting applications for Master of Divinity, Master of Theological Study and Master of Arts programs, as well as our Doctor of Ministry degree programs. If you would like to try a class, our J-Term class registration will open soon. January term classes are intensive 1-2 week courses taking place in January 2021.
Information will be announced soon at https://www.wesleyseminary.edu/admissions/try-a-class-2/
For more information about any of Wesley's programs, contact Admissions at (202) 885-8659 or admissions@wesleyseminary.edu or chat with our Admissions staff via iChat on the Wesley website homepage, wesleyseminary.edu. 
Faces of Wesley is a weekly profile of one of the members of our Wesley Community - faculty, students, alumni, staff, administration and other friends of Wesley.  You can read it weekly on our Facebook or Instagram platforms or on our website's home page.