Student Council Vice President Special Election
Due to the resignation of the Vice President, the Student Council is holding a special election for this position. The candidate(s) are as follows:
Kasongo Butler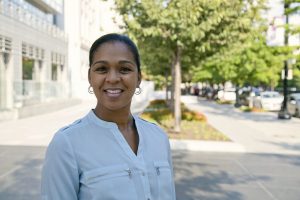 Kasongo Butler is a second year Master of Divinity student. She moved from Florida to Washington D.C. to explore the intersection of faith and politics.  Her professional responsibilities in Florida were primarily public policy focused in the areas of higher education, domestic violence and strategic planning.  In addition to being an Urban Fellow at Wesley, Kasongo is a student Ambassador, Deacon at the Table for Wesley's weekly chapel services, and a member of Plumbline and Student Council.  
To vote, you must enter your student ID number and you can only vote once. Voting ends Wednesday, February 13, 2018 at 6:00 p.m.
Please vote below